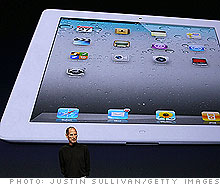 Which companies have the best reputations? Apple tops the list for the fourth year in a row. See who else made the top 50 this year.
More

More

More

The true test of respect is approval from the competition. See how 350 top companies rate in 9 key areas.
more

California is home to the most corporations on this year's list. See the top-rated firms near you (including interactive maps).
More

After the U.S., Japan has the most companies (25) on this year's list. See Most Admired companies by country.
more

What makes a company well-regarded? See the 10 most - and least - admired for...
More

After the Great Recession, it's a Great Shakeout. This year's list of Most Admired Companies has more changes than at any time since the survey's inception.
More