2 of 15
McKinsey & Co.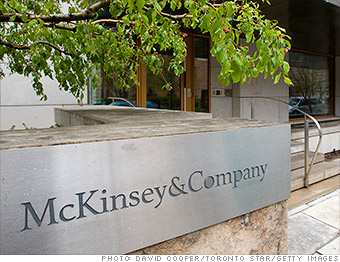 2
% of MBAs who want to work there
: 16.58%
Headquarters
: New York, NY
What makes it great: McKinsey is a training ground for future big-business leaders. Alumni have gone on to serve as CEOs at multibillion-dollar companies like Boeing, IBM, American Express and Morgan Stanley.
MBAs are encouraged to grow personally and professionally, says Brian Rolfes, Partner, Global Recruiting. "Mentorship is part of our firm's DNA," he says.
And while the consulting lifestyle can be grueling, McKinsey makes a point of offering programs that allow for flexible working arrangements and extended time off so employees can enjoy some work-life balance.
What they're looking for: Problem-solvers who excel at communication, work well with others, have a record of achievement and demonstrate strong leadership and entrepreneurial skills are in demand.
McKinsey doesn't reveal hiring figures, but Rolfes says the firm's North America offices will host more interns than last summer.
First-years who didn't land an internship but still hope to join the firm should pursue something personally meaningful this summer, rather than something they think McKinsey will want to see, says Rolfes. "That will impress recruiters," he says.

Get the complete lineup of ideal MBA employers, in an exclusive CNNMoney.com list.
Search All Jobs from Across the Web
Think of it as a popularity contest for companies: Every year research firm Universum USA ranks the most desirable employers in the world, based on where MBA candidates say they'd most like to work.
More