9 of 15
Deloitte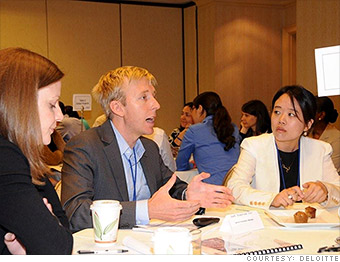 9
% of MBAs who want to work there
: 9.78%
Headquarters
: New York, NY
What makes it great: Deloitte is committed to community: Last year it pledged to provide $60 million in pro bono services to nonprofits over a three-year period.
It's also known for helping MBAs develop all aspects of their career, having invested heavily in its state-of-the-art learning facility Deloitte University.
"There's a commitment to ongoing opportunities for leadership development," says Andrea Hampton, who manages MBA recruiting at Deloitte. "It's a unique experience from what they would get joining other firms."
What they're looking for: Growth in Deloitte's consulting business has driven a surge in MBA hiring over the last three years. The professional services giant has hired about 230 first-year MBAs for summer internships, and expects to bring in as many as 500 MBAs from this year's graduating class.
Deloitte looks for strong, well-rounded generalists, but demand also is strong for specialists in health care and life sciences, supply chain management and business analytics, says Hampton.

Get the complete lineup of ideal MBA employers, in an exclusive CNNMoney.com list.
Search All Jobs from Across the Web
Think of it as a popularity contest for companies: Every year research firm Universum USA ranks the most desirable employers in the world, based on where MBA candidates say they'd most like to work.
More