Like this job? Now Like CNNMoney on Facebook for career tips, plus the latest business news and features on Personal Finance, the Economy, Markets, Technology, and more.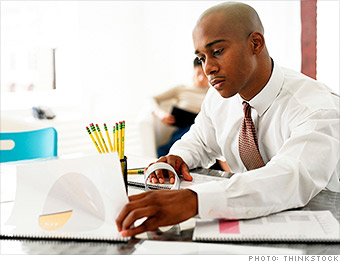 Median pay: $136,000
Top pay: $208,000
10-year job growth: 26.7%
Total jobs*: 21,700

What they do all day?
Insurance companies rely on actuaries to figure out the chances of your house getting hit by a hurricane or how long you're likely to live. Actuaries make these forecasts by taking a hard look at all the statistics out there and analyzing them -- for both risk and financial liability. They then create probability tables that insurance companies use to figure out how much to charge customers.
--J.A.
Quality of life ratings
:
| | | | |
| --- | --- | --- | --- |
| Personal satisfaction | Low stress | Benefit to society | Flexibility |
| B | C | C | B |