Like this job? Now Like CNNMoney on Facebook for career tips, plus the latest business news and features on Personal Finance, the Economy, Markets, Technology, and more.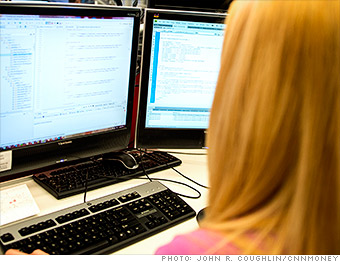 Median pay: $84,200
Top pay: $121,000
10-year job growth: 24.6%
Total jobs*: 3,426,000

What they do all day?
From the games in a smartphone to the tools that map a genome, software developers write the programs that run our lives. The work runs across all levels of the process -- research, design, writing and testing -- and all the way to the final product.
How to get the job?
Most developers have some sort of degree in computer science, but it's a field that welcomes self-starters with practical experience and the right certifications. Check with local colleges to get going.
What makes it great?
A developer can fly solo as a freelancer or work for a company as part of a team. And with a technology boom that sees no end in sight, firms are having a hard time filling positions.
What's the catch?
Those positions aren't always in the U.S. In the search for talent (and to cut costs), more companies are heading overseas for their development needs. It's also an ever-evolving field that requires a constant keeping up on what's new.
--T.Z.
Quality of life ratings
:
| | | | |
| --- | --- | --- | --- |
| Personal satisfaction | Low stress | Benefit to society | Flexibility |
| B | B | C | B |