Like this job? Now Like CNNMoney on Facebook for career tips, plus the latest business news and features on Personal Finance, the Economy, Markets, Technology, and more.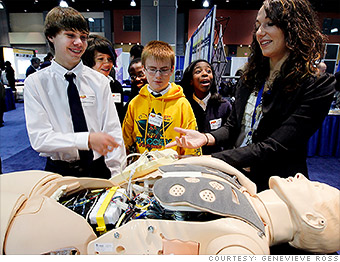 Median pay: $79,500
Top pay: $124,000
10-year job growth: 61.7%
Total jobs*: 15,700

What they do all day?
Science fiction is a little less fictional in the day-to-day work of biomedical engineers, who design prosthetic limbs and artificial organs or regenerate tissue. They also create drug formulations, develop pharmaceuticals or collect and analyze biological data, among other work. In this field lies the intersection of biology and engineering skills, which helps crack tough problems in medicine and health.
How to get the job?
A bachelor's, master's or Ph.D. in biological engineering will get prospects in the door, but engineers with more traditional degrees -- such as electrical, mechanical and chemical -- are also a good fit.
What makes it great?
Not only is it one of the highest-paid engineering jobs, it's a career that gives back to society by helping to improve world health. It's also highly flexible, with positions in universities, hospitals, labs, industry and regulatory agencies.
What's the catch?
Rapid technological changes mean engineers have to work hard to stay abreast of new developments -- so this isn't the field for those looking to coast through their careers.
--Kate Ashford
Quality of life ratings
:
| | | | |
| --- | --- | --- | --- |
| Personal satisfaction | Low stress | Benefit to society | Flexibility |
| A | B | A | B |