The Fixers: Tough love for union town
Cindy Pasky, owner of a big Detroit-based tech staffing firm, says the area's workers need to raise their skills and lower their expectations.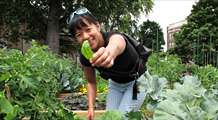 Detroit faces huge challenges but locals here say that they'll soldier on. From community gardens to tech start-ups, here's some of what's keeping the city going.
DETROIT (CNNMoney.com) -- Cindy Pasky loves Detroit.
A native Detroiter, she's headquartered her 1,600 employee, $160 million-a-year multinational tech staffing agency in the city. She sits on the board of at least a half-dozen local charities. And she'd be the first to point out that the city has some of the brightest engineering minds in the world.
But she thinks Detroit's workers have a problem, and they're going to need to get over it before this city can mount a true turnaround.
"A lot of these individuals worked in the old corporate world where they had no need to upgrade their skills and could expect a raise every year," said the former computer programmer, who now runs one of the region's fastest growing companies. "They have a skill set that's not current, and a salary that's not current."
Harsh words for a city the prides itself on establishing America's middle class. The auto industry, and the high wages it paid, is credited with letting people with a basic education achieve a comfortable lifestyle.
But Pasky certainly isn't the only Detroiter who feels skills and wages are out of whack. And auto workers aren't the only people afflicted with this problem.
There are a lot of people in this country that probably get paid more than their work is worth. With so many others worldwide quickly gaining the skills necessary to compete in the global economy, the need for Americans to retrain and maybe rein in their material consumption is hardly limited to auto workers.
"We've created a whole set of people living beyond their means," said Pasky. "It's the fundamental thing that has to shift for the United States to be great again."
This may sound a little preachy coming from a well-dressed woman taking breakfast at the posh Detroit Athletic Club, but Pasky has every right to talk.
When she was sixteen her father woke up one morning and refused to get out of bed, victim of an apparent breakdown. Her mother, a longtime alcoholic, was of little help in running the household. So instead of packing up the station wagon and heading off for four years of dorm life like many or her classmates, she got a job right after high school. Four of them at once, actually.
"I was right out of high school, and that was it," she said. "What do you do? How do you take care of the house? How do you make sure they don't shut the electricity off?"
Her first break came from one of her employers at the time, a local pharmacist. The pharmacist knew a fellow at R.L. Polk, a big data provider. Aware of Pasky's plight, he got her an interview.
Pasky aced the entrance test, so instead of getting file clerk work the firm put her on track to become a computer programmer.
"My only question was how much did it pay," she said. It was 1979, and she got $11.75 an hour.
Over the next two decades or so she worked for a few area companies and gradually worked her way up to a project manager.
But she had a problem with the company-think of the time.
"If it wasn't in the box, we didn't do it," she said. "I realized you could make a lot more money if you were flexible, creative, and gave back to your community."
So in 1990, with only three employees, she started Strategic Staffing Solutions, specializing in providing technical employees to firms in the finance, healthcare, energy, insurance and communication fields.
Now the firm has 25 offices across the country and two in Europe. Her employees make between $45,000 and $150,000 a year. At the headquarters in Detroit, the office walls are lined with awards from local organizations and the financial press nationwide.
As for turning around Detroit, Pasky says she isn't quite sure what will get people to sharpen their skills and perhaps accept fewer wages, other than to say it might be "painful."
She's a fan of community colleges, which she says are faster and more flexible than traditional schools.
She also says state and city leaders need to bring in the jobs, so there's a reward for people who do retrain. She believes it will happen, pointing to the area's many chief executives that are working to bring those jobs to town.
"We're going to be the city people write about and say 'we're not sure how they did it, but they did it,'" she said.
That's a sentiment heard from a lot of people working to improve this city: They may not have all the details worked out, but they have 100% confidence in Detroit.