(Business 2.0 Magazine) -- Mark Hall, a former executive with RealNetworks, fell in love with online video two years ago, thanks to an ultrafast broadband connection in his London home. When he returned to San Francisco last year, he decided to address the growing need in online video: a way to find just the good stuff and skip the junk.
His self-funded startup, VodPod, was born in San Francisco in June and so far shows a lot of promise. VodPod allows consumers to build their own "pods," which is Hall's rather fancy term for online video channels. The idea is that you grab the videos you like from any of the other 100-odd video-sharing sites already online - say, every bird-watching vid you can get your hands on - and build a channel called the Birding Pod. Anyone can watch it, and anyone can add videos to the channel.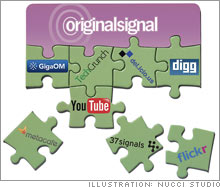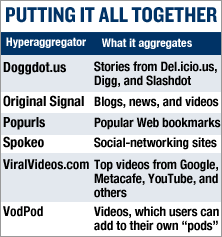 This is one of the hot opportunities in new new media: hyperaggregation. If aggregation is what we've seen so far on YouTube and Flickr, hyperaggregation is aggregating the aggregators. The way of the Web is to go meta - a website is born and covers politics, then another, and another, and that leads inexorably to ... a blog that covers all the websites that tackle politics.
Smart sites evolve, that is, from aggregators to hyperaggregators. To see what I'm talking about, take a look at another hyperaggregator, ViralVideos.com, which simply lists the most watched videos from the most popular sites, such as YouTube and Metacafe.
A more sophisticated example is Original Signal (originalsignal.com), which takes a dozen of the biggest Web 2.0 tech blogs and puts their headlines on one customizable page. On the site each blog is known as a "signal." You can change the order of the signals displayed, have any signal delivered to your cell phone or RSS reader, or even hyperaggregate the signals on an Original Signal widget that you can add to your own blog.
So why is hyperaggregation of the moment?
Since the dawn of the Web, we've been plagued by too much information and too little time to consume it. It's impossible to keep up with dozens of social networks, millions of videos, and thousands of blogs. Hyperaggregation is simply a way to do in the new-media world what old media has done for centuries: neatly package information.
The value of a newspaper, after all, is not the information inside as much as the carefully considered layout of the front page. At a glance you can see what's important. Smart new companies are finally figuring out how to do this online, where there's too much content and not enough packaging.
Perhaps the biggest opportunity in hyperaggregation is for the biggest traditional Internet companies - the AOLs (owned by Time Warner (Charts)), Yahoos, and MSNs (a Microsoft (Charts) unit) of the world. They already have massive user bases that can do all the hyperaggregating for them.
But so far they've been wasting their time trying to build new YouTube clones and MySpace copycats. Instead they should be leveraging their audience and getting users to find and curate all the good bits on the Net. That's something even Google isn't doing. Yet.
Om Malik runs the technology blog GigaOm.

To send a letter to the editor about this story,
click here
.