(Business 2.0 Magazine) -- What could be more American than a recreational vehicle? How about an 18-wheel semi that, at the press of a remote control, "pops up" into a motel with room for nearly four dozen people?
Surprisingly, however, this supersize RV is being made not by a U.S. company, but by a Spanish one. Hotelmóvil is the brainchild of Fernando Saénz de Tejada, the 36-year-old CEO of SuiteMóvil. He got the idea three years ago on a pilgrimage to a shrine of the Virgin, where he and thousands like him had to sleep outdoors. "In the events sector," Saénz says, "the principal inconvenience is the lack of infrastructure."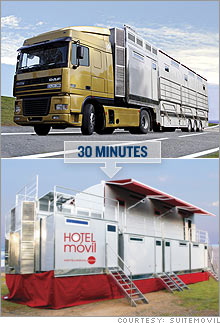 A Hotelmóvil arrives at the site - campground, beach, woods, etc. - looking very much like a standard semi. You simply detach the cab and press "Play" on a handheld remote to start the 30-minute hydraulic unfolding process. Four legs lower to the ground to stabilize the structure, the second story rises to a height of 20 feet, and the first-floor rooms slide out, Transformer-like, to the side.
When all is finished, you have 11 bedrooms with private bathrooms and a second-floor outdoor terrace. The rooms come with hardy wood-and-metal furniture bolted down inside; bunk beds can be added to sleep as many as 44. The hotel includes perks such as heating, air-conditioning, flat-screen TVs, and Wi-Fi. The first five units will roll out of the factory in Italy in early 2008, and Saénz says he's already received inquiries from hospitals, travel companies, and even the Formula One racing circuit. The standard Hotelmóvil will sell for $500,000 or rent for about $8,000 a weekend.
Hotelmóvils might be good news for the U.S.'s $15 billion RV industry, swollen by retiring baby boomers seeking more luxurious ways to hit the road. Linda Profaizer, president of the National Association of RV Parks and Campgrounds, says Hotelmóvil could appeal to a fair number of today's 33 million campers and RVers. "There is a growing trend where people tend to like to travel in groups," she says. "This could be popular for everything from club outings to family reunions."

To send a letter to the editor about this story,
click here
.