6 of 15
Bain & Company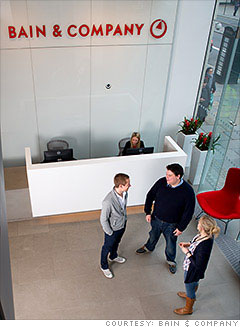 6
% of MBAs who want to work there
: 11.63%
Headquarters
: Boston, MA
What makes it great: The consulting bastion known for its results-driven approach gives B-school grads a chance to make a difference, whether through social impact or a company's bottom line.
Bain & Co. found itself in the spotlight during the 2012 election, since Republican candidate Mitt Romney worked there before leaving in 1985 to co-found private equity firm Bain Capital. The two companies are separate entities but Bain & Co. isn't a stranger to the world of private equity. It's the largest consulting practice serving buyout funds -- a big plus for MBAs who want to break into the private equity industry.
Roughly 15% of Bain's alumni work in the sector and its Private Equity Group rotation provides consultants with a deep dive into the business, exposing them to research, deal structures, modeling and due diligence.
What they're looking for: Bain looks for candidates with sharp problem-solving skills, a track record of making things happen, strong leadership experience and solid people skills.
"We look for people who have shown they're good listeners and who have a desire to be a partner with organizations, because that's what it takes to create change," says Russ Hagey, the firm's chief talent officer.
Bain's been hiring at a record pace. The firm recruited nearly 400 MBAs for full-time positions during its last round and Hagey expects hiring to be "north of 400" for the class of 2014.

Get the complete lineup of ideal MBA employers, in an exclusive CNNMoney.com list.
Search All Jobs from Across the Web
Think of it as a popularity contest for companies: Every year research firm Universum USA ranks the most desirable employers in the world, based on where MBA candidates say they'd most like to work.
More