Sin City's racecar-loving serial fraudster Glen Burke first came under federal investigation in his early 30s.
Before he made it to his 40th birthday, Burke had become the target of eight different federal and state government agencies, racked up big-time financial penalties and even earned a lifetime ban from telemarketing.
And that was just the beginning for Burke, who would eventually go on to become one of the federal government's most wanted consumer fraudsters. Now 56 years old, according to public records, Burke was recently hit with $20 million in judgments for allegedly stealing millions of dollars from victims. And just this week, Burke was arrested by federal authorities after being indicted on 24 counts of mail fraud and other charges.
His schemes started out in the '90s with Wolf of Wall Street-style boiler rooms in Las Vegas that hawked everything from water purifiers to investment opportunities with 500% returns. He later focused on lottery schemes, convincing often elderly victims that they had won new cars, millions of dollars, or other flashy prizes -- all they had to do was send in money.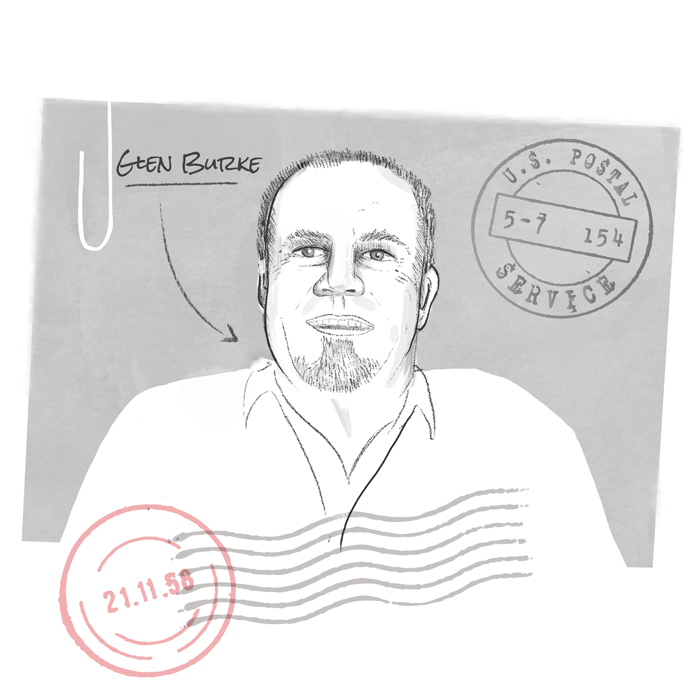 And to get his hands on all the payments sent in by victims, officials say he got creative: using a cadre of individuals and companies around the world, and ultimately relying on a little-known payment processor named PacNet.
Exposed: The secret powerhouse processing millions in global fraud
PacNet has claimed to have no knowledge of Burke's illegal activities while processing payments for the scheme, and that it strengthened its compliance program after learning of the case against him. But as part of our months-long investigation into the company (which introduced us to the colorful Las Vegas conman), we found that PacNet has facilitated payments for an alarming number of fraudsters.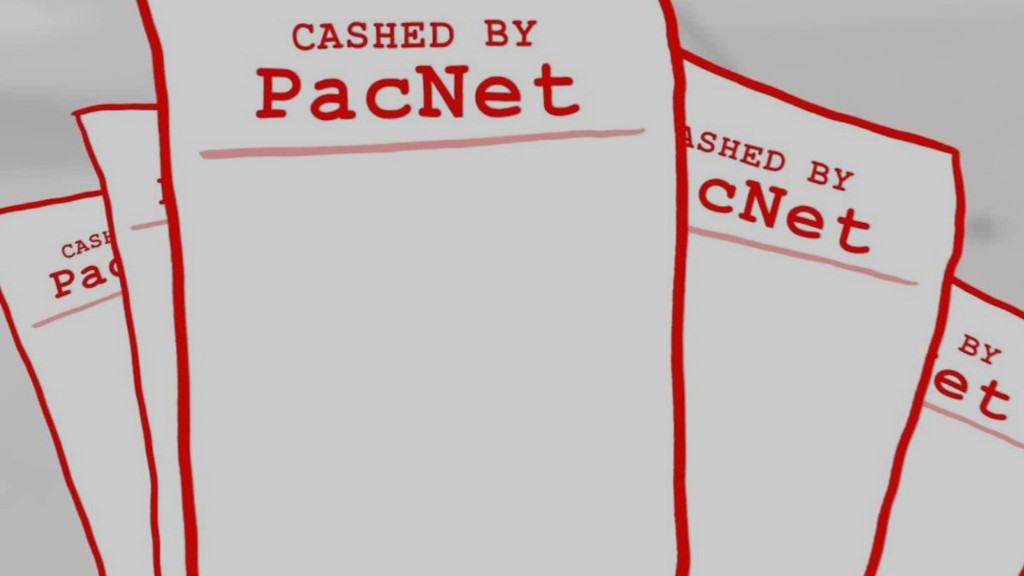 On Thursday, the U.S. government launched a massive crackdown on global mail fraud, including a number of con artists like Burke. And in an unprecedented action against PacNet, the U.S. government seized its funds held at an American bank and added it to a government blacklist of some of the world's most dangerous criminals -- effectively shutting it out of the global financial system. (PacNet has not responded to our requests for comments about this action).
On Friday, PacNet denied the allegations in a post on its Facebook page and said it has decided to stop processing payments for direct mail companies. "We absolutely and categorically reject the allegations made against us regarding our processing for direct mail campaigns. We will vigorously defend ourselves against these unproven allegations," the company wrote.
Authorities say that not only did PacNet repeatedly process payments for fraud schemes, but that the company actively and knowingly helped scammers avoid detection.
And Burke's track record shows just how unethical, predatory and legally questionable some of the operations using PacNet's services have been from the start.
The making of a fraudster
Ever since high school, Burke had his sights set on Las Vegas.
It wasn't hard to track down a number of Burke's former classmates. And from one, we heard that Burke was quiet, a sub par student and really into cars. Spending his high school years in the working class town of Downey, California, Burke was apparently part of a group of teens who would race their cars up and down public streets at night, and he always talked about wanting to head straight to Vegas after graduation.
While it's unclear when exactly he made the move, Vegas was the first place Burke was noticed by law enforcement.
On his Facebook page, Burke claims to have attended the University of Nevada, Las Vegas, yet the university told us it had no record of any students by that name.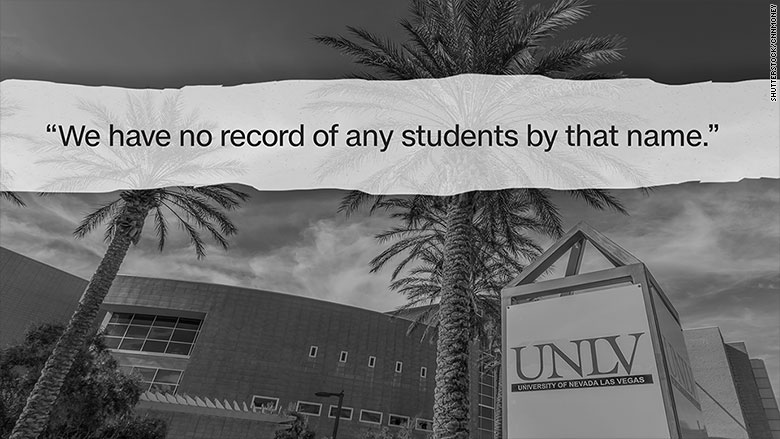 And according to the U.S. government, Burke came under federal investigation in 1991, a little over 10 years after his high school graduation, for running a Las Vegas telemarketing scheme that pressured consumers into buying overpriced vitamins and water purifiers. This same operation was sued the next year by the Wisconsin Attorney General's Office, which claimed Burke's company, Professional Marketing Inc., misled consumers into thinking they could win valuable prizes. In a settlement, the company agreed to pay $19,000 in penalties and forfeitures, and $5,000 in victim refunds, though it did not acknowledge any wrongdoing.
Not long after, Burke came under fire again. In 1996, another one of his businesses was sued by the Federal Trade Commission for duping people into investing in 1-900-number hotlines, which were popular in the '80s and '90s for offering everything from psychic readings to adult entertainment.
That same year, Burke was accused of misleading even more investors when the Securities and Exchange Commission sued him and a publicly-traded company named Tellus Industries, of which he had somehow managed to become president.
A former board member of Tellus says that Burke took over the company in 1990 after Tellus merged with Burke's telemarketing firm, Professional Marketing. The board member said that he quickly resigned from the company because he began to feel uncomfortable about its direction.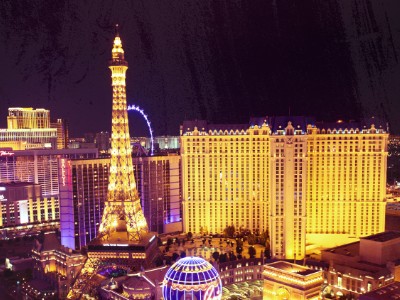 As president of Tellus, Burke was charged by the SEC with failing to disclose to investors the multiple government actions against his telemarketing operation (which was now part of Tellus). The agency also claimed that while president of Tellus, he had personally profited from the fraud -- raking in $1.5 million in salary, loans and other payments from the company. As a result, Burke was hit with a $300,000 judgment in 1997 (which court records indicate was later wiped out in bankruptcy).
Burke was sued again the following year, for hawking an entirely different investment opportunity. The FTC claimed this operation was calling people and convincing them to invest in film rights for movies produced by a family-friendly filmmaker. But promises of 500% returns never materialized, and Burke ultimately ended up facing a lifetime ban from telemarketing.
Unstoppable
We tried to talk to Burke himself. He even answered his cell phone when we called. But as soon as we identified ourselves as journalists, he said, "You guys have a really, really bad connection." The phone then went dead, and we received a call from his lawyer soon after.
While we haven't heard back from Burke's attorney, John Spilotro, about Burke's recent arrest, he previously acknowledged that his client has been the subject of a number of legal actions. But he was adamant that Burke has been misunderstood and has repeatedly been the fall guy for schemes that were far from his own.
"When Bonnie and Clyde were robbing banks, banks were blaming Bonnie and Clyde on robbing banks they hadn't robbed," said Spilotro. "He becomes an easy scapegoat."
Not long after the six-figure judgment from the SEC, Burke filed for personal bankruptcy in 2000 and managed to keep a lower profile for much of the following decade as he avoided any major law enforcement actions.
Instead, his name appeared in various news articles for winning a number of Las Vegas car races, one of his longtime passions.
But the U.S. government alleges that he was soon up to his old tricks again.
Nevada business records show that Burke created a slew of companies throughout the 2000s, with names like Big Cash Sweap Advisor, Warrior Racing and Lawless Engines. An FTC investigator would later write that Burke became the officer of 16 companies and used 68 different "fictitious" names for his various businesses.
Court filings detail how one former employee would later tell investigators that she managed a number of his business operations. She met him in 2006, when her husband remodeled part of Burke's "telemarketing room" -- eight years after he was permanently banned from telemarketing. (Burke's attorney has argued this employee is not a reliable witness since she is a known drug user. He also said she used Burke's name and accounts to send out her own sweepstakes mailers).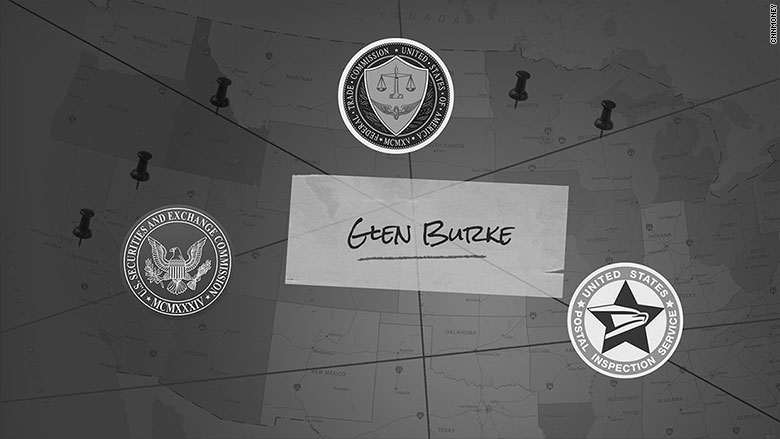 The federal government claims that since at least 2007, Burke stole millions of dollars through two new enterprises, which the U.S. government finally shut down in 2013.
These enterprises, which were detailed in the recent civil case that resulted in $20 million in judgments against Burke, are now the subject of the new criminal case filed this week.
One of the operations was similar to his earliest scheme, with a team of telemarketers tricking consumers into spending hundreds of dollars on vitamins in the hopes of winning a fancy car or other valuable prizes. The other, using a number of different business names, sent out official looking prize notices in the mail, telling victims to send in small payments to claim their massive winnings.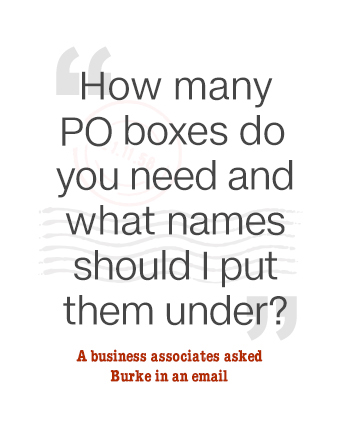 Another former employee, Las Vegas resident Tina Craig, only worked for the Burke operation for a few months before she says she couldn't stand it anymore and contacted federal authorities. While she says she was given few details about what the company actually did, she told authorities that "boxes and boxes of documents relating to various sweepstakes operations filled the room." And she quickly caught on to the fact that it was all a big scam when she began fielding calls from victims who were wondering where their prizes were.
"Many of the people I spoke to were elderly, and some even told me they had turned over their entire Social Security checks to make the payments," she stated in a sworn declaration.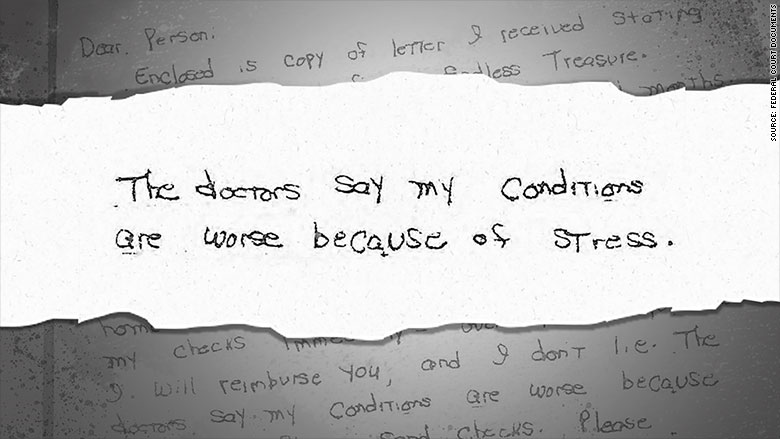 Burke's attorney Spilotro said that Burke wasn't the one sending all these letters, and that people didn't have to send in money.
"Sure he feels bad for someone, but it's like everything else -- you gotta read the whole thing," he said.
How he did it
From the outside, Burke's schemes seem simple, but the federal government says it was a complicated network of shell companies, rented mailboxes, secret bank accounts and front people that allowed him to continue churning out new scams and keep them going for so long.
Spilotro claims that some of these people were actually the ones running the show. "[Authorities] vilify him pretty badly," he said. "There's definitely not a full story there."
The government disputes this, saying that by using all these layers, Burke was attempting to conceal his role as the mastermind.
Even some of his employees were kept in the dark.
Craig told us she had never actually met Burke, but that she quickly figured out he was in charge.
He called to check in from time to time -- asking for her supervisor. She saw stacks of cash set aside for him. The user names for all the computer programs in the office were "Glen," while the passwords were "Burke." And one time, she even recognized his race car out front. But still she never caught a glimpse of him.
"He was just the man behind the paycheck," said Craig.
According to authorities, Craig was right that Burke was the one pulling the strings all along. And his most recent schemes have followed a very similar pattern, as outlined in the hundreds of pages of documents filed in one of the government's cases against him.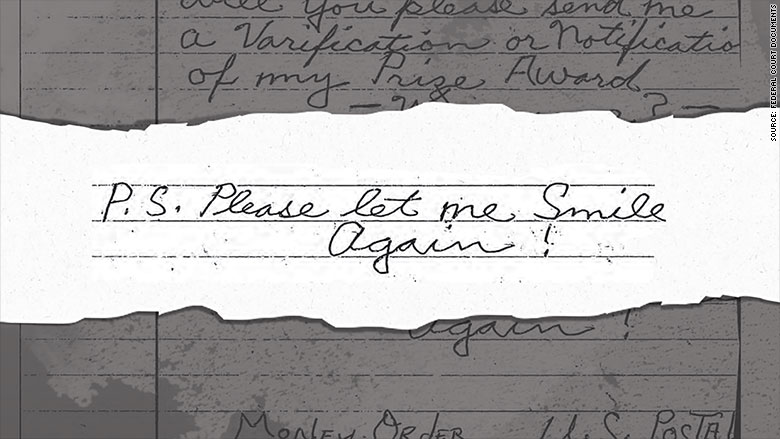 The first step: creating a way to reel in victims.
According to exhibits in the recent FTC action against him, Burke hired copywriters to help him create notifications of massive prize winnings that looked as official as possible. In one case, the letters went through several iterations until they were believable enough for victims to send in their money.
"My girl said they were a little vanilla, could stand a little more heat," Burke told one copywriter about the versions he had created, according to exhibits in the FTC lawsuit against him.
Related: Massive crackdown on global mail fraud empire
In a different email exchange, a designer created an award notification to "look like it came from a law firm, on official paper with borders." And Burke was pleased, responding that "this is more what we're looking for."
Meanwhile, more emails show that Burke was warned by a different vendor that the script his salespeople were using to sell vitamins, which told consumers that their purchase would be accompanied by a valuable prize, could be considered illegal. But Burke argued that the repeated mentions of these prizes were "sales technics[sic], nothing more."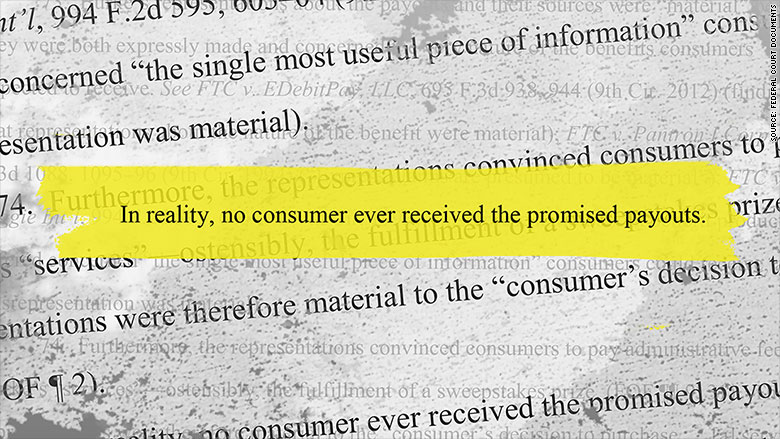 While the items that salespeople told consumers they had won included thousands of dollars, a new car, a boat, or a vacation, no one ended up receiving anything other than bizarre lithograph prints or cheap costume jewelry.
Once the scheme was nailed down, Burke would hunt for victims. Like many other fraudsters, he worked with list brokers to access a goldmine of addresses and phone numbers of consumers likely to send their money to schemes like his. Known as "files," these are key to a successful operation.
"When we hit a file the thing takes off like a rocket!!" Burke wrote in one email. "Keep the the spirits high and let's go find some lists."
With victims hooked, the payments would start coming in.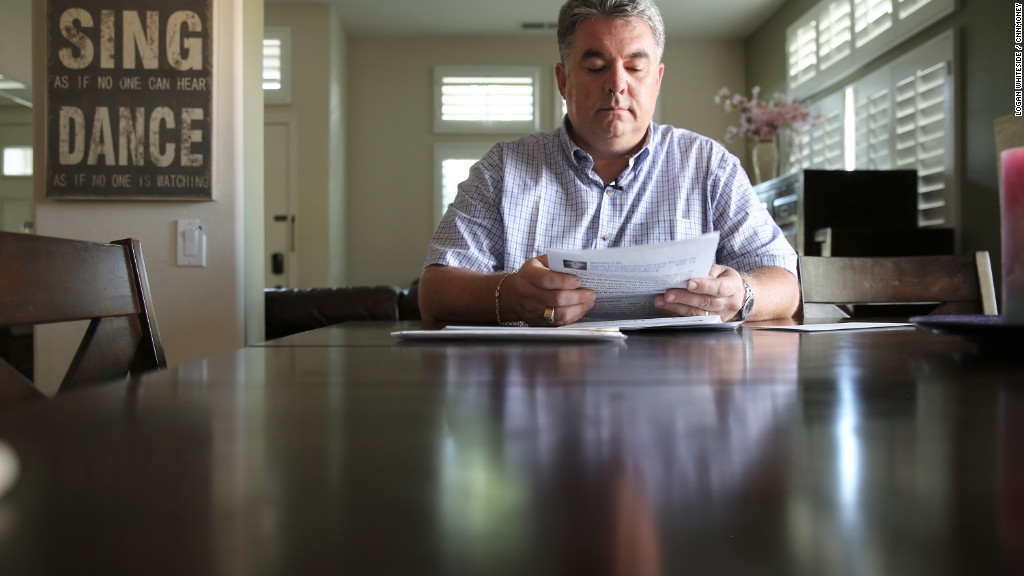 In order to get his hands on this money, investigators say that Burke hired a number of front people to open and maintain mailboxes around the world, from California and New Jersey to Mexico and the Netherlands.
They also claim that Burke was in constant contact with his network of associates. He would manage the mailboxes, opening and closing new ones as needed, in order to further evade detection and make it harder for victims and authorities to trace where the letters were coming from.
"How many po boxes do you need and what names should I put them under and where do you want them to be open (NY, Fla. Hou.)?," one of Burke's business associates wrote to him in an email.
Get updates on this and future investigations by signing up here
After collecting the payments from these various PO boxes, Burke's business associates would transfer money to Burke, according to court filings.
On several occasions, these transfers left his operations in hot water.
In 2009, for example, Burke was stopped by Customs at the Dallas airport after returning from Panama. Officers found $4,000 in cash in his carry-on bag, $8,000 in his leather shoulder bag and $1,585 in his front pants pocket -- the majority of which was seized. Still, his operations were able to continue on for years.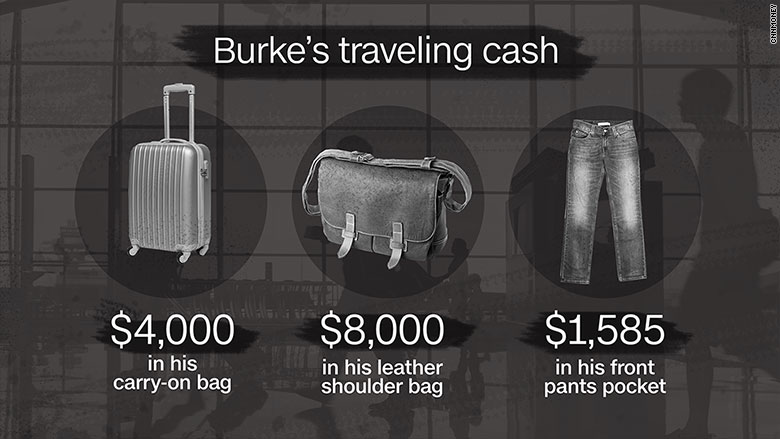 In 2012, a FedEx package containing $12,000 in cash sent to Burke from one of his mailbox managers in the Netherlands broke open in transit. This prompted investigations from U.S. Customs and the FBI around a year before his latest scams were shut down.
Checks, meanwhile, were even more difficult to process. In his earlier years, the government alleges that Burke arranged for associates to open bank accounts that would allow him to deposit hundreds of checks each day. In one case, Burke even agreed to pay a $2,000 "required gift" to open one of these bank accounts in Panama.
But then, federal investigators say Burke "found a much more streamlined check processing solution -- a foreign payment processor" called PacNet, which deposited checks into bank accounts in its name on Burke's behalf.
In court documents, PacNet acknowledged that it processed nearly $18 million for his various accounts between 2007 and 2013. This was long after his reputation as a fraudster was established.
How he spent all that money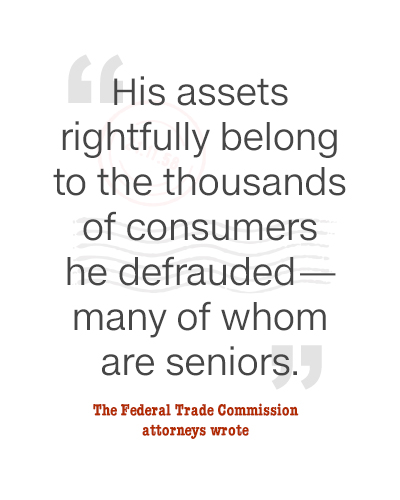 After years of living large, Burke was slapped with $20 million in judgments from the government and has been fighting to keep the valuable assets officials say he bought with the millions he stole.
While Burke's attorney said Burke has suffered from cancer and has been unable to work, the U.S. government hasn't budged.
"His assets rightfully belong to the thousands of consumers he defrauded -- many of whom are seniors and undoubtedly face significant health and financial challenges," FTC attorneys wrote in court filings.
Beyond the 4,600-square-foot home on a palm tree-lined Las Vegas street that he purchased in 1990 for $540,000, Burke is also trying to hold onto a number of fancy toys.
Related: The newest member on the government's blacklist
According to Burke's personal financial statements filed with the court, there's a motorhome called a "Fun Mover" with plenty of room to haul his two Yamaha quad all-terrain vehicles. A Harley-Davidson motorcycle (which Burke claims is owned by one of his companies), an old Jeep Wrangler and a Hummer.
Burke's attorney said in court documents at the time that Burke was battling cancer and unable to work, so it would put Burke in a very "precarious position" to take away all of his assets.
But the government has argued that these are just the beginning of his many assets, calling the financial statement provided by Burke "woefully deficient" and "untruthful."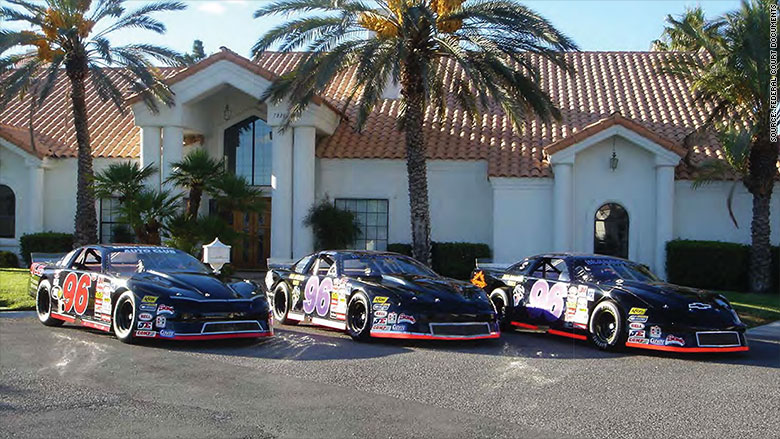 Authorities allege that Burke has owned a fleet of race cars and held multiple bank accounts overseas. They claim he has had a stake in a Florida marina and owned another Vegas property (in addition to his home). And that he allegedly owned a nightclub and other real estate in Panama. Panama also pops up on his personal Facebook account, where there's an album called "panama" with photos of Burke surrounded by scantily-clad women.
Burke and Spilotro have disputed many of these claims. Spilotro said in court filings that Burke currently leases his race cars. And while investigators found a business card listing Burke as the owner of a Panama nightclub, Burke said in a deposition that the card was "a joke."
It's unclear what Burke has been up to lately (before this week's arrest), but we did find a bizarre posting online advertising that Burke is in charge of seeking investors for a new startup. While it could be a coincidence and we haven't been able to ask Burke about it, the minimum investment amount needed just happens to be right around the $20 million in judgments Burke is currently facing.
We can't find who originally put the information out there and when exactly Burke was allegedly seeking investors. But the posting we saw includes Burke's personal cell phone number (which is the same phone number we reached Burke on).
When we called the company named in the posting, the CEO was horrified to hear that Burke might be seeking investments on behalf of his company.
"I did not authorize any of this -- I have no knowledge of this," he said. "I don't want nothing, nothing, nothing, nothing to do with him."