(Business 2.0 Magazine) -- The browser is the new OS. Yes, we've heard this before, and if you're quietly groaning right about now, I can understand why.
It's been 10 years since a barefoot Marc Andreessen graced the cover of Time magazine and trumpeted how the browser would make the operating system irrelevant. By uttering the unthinkable, he brought the ire of Bill Gates down on Netscape. Now, Netscape as a Web powerhouse is gone and Andreessen is no longer a magazine cover boy. Yet his vision of computing through a browser window turns out to have been prescient, if premature.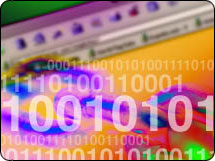 After puttering along for a decade, browser technology is about to undergo a major upgrade, which could once again make the browser the center of the Web action. The biggest change: Soon you'll be able to take your Web applications "to go" and work offline.
The Web as workplace
What's making it possible is a new generation of browsers. Early next year Microsoft (Charts), Mozilla, and Apple (Charts) are expected to release enhanced versions of IE, Firefox, and Safari, the first ones specifically tuned for Web applications. (For those who haven't been following along at home, these are programs that run on the Internet rather than your hard drive.)
What this means is that you'll be able to write your documents in Writely (who needs Word?), e-mail them via Gmail (who needs Outlook?), and arrange appointments to jointly edit those documents via Google Calendar (again, who needs Outlook?). And while you're at it, a Google Talk chat window running inside these applications could let you collaborate (who needs AIM?).
No software will be downloaded to your hard drive, and everything is free. You could be working on a document on an office computer, hit "Save," go home, and resume work. You could be using Windows, Mac OS X, or Ubuntu Linux; the application is agnostic, so long as you have the latest browser.
It's the best of all worlds: Your data lives on the Web (in online storage), and it's still accessible offline in your browser.
Say goodbye to laptops
Of course, that problem is moot once we have seamless broadband connectivity. But for now, the ability to work offline is crucial to overcoming consumer resistance to Web-based applications. The new offline mode will doubtless help with the adoption of many Web-based applications that are debuting right now - and not just from Google (Charts) - such as DabbleDB and RadiusIM.
Things will get more exciting for entrepreneurs when we all start walking around with new Internet-ready portable devices such as the Nokia 770 Internet tablet or smartphones such as the Motorola Q and Nokia E61.
These pocket-size monsters with keyboards, luscious displays, and brisk 3G connections will soon replace laptops. All they need are browsers that can access Web-based software as easily as your desktop can. (I already use a Nokia E61 to help manage my website and write short blog posts from within the phone's browser. Soon I'll be able to run the whole site from my phone's browser.)
If you're a developer or startup, you are suddenly free to write a browser-based application and quit worrying about which operating system, chip, or device your consumers are using.
It's a scary thought for anyone who built a business around proprietary formats. But for the end user, this is the kind of future that Andreessen on his best days - and maybe Gates on his worst - had envisioned.
Om Malik is a contributing editor for Business 2.0 and runs the popular technology blog GigaOm.

To send a letter to the editor about this story,
click here
.