(Business 2.0 Magazine) -- At the dawn of the new century, the toddler known as Google had about 1.5 billion webpages in its index, a manageable enough size to satisfy the curious with its accurate results.
In the six years since, Google's search index has grown to include an estimated 8 billion pages, and there are no signs of a slowdown. Obviously, with so many pages to sift through, finding exactly what someone's looking for on the Web is far from an easy task, even for Google (Charts).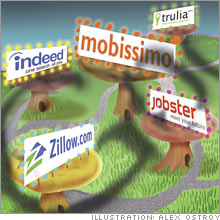 That's why vertical-search-engine startups, each focusing on a narrow slice of the Web, are sprouting up like mushrooms after a fresh monsoon shower.
Perhaps you've already used job searchers such as Indeed and Jobster, or real estate ferrets like Trulia and Zillow. And we all know there are more travel and shopping engines than you can shake a wireless mouse at.
Even Google has jumped in, offering a "custom search" tool that allows you to search your own site or a handpicked collection of sites from across the Web. Google, of course, can monetize all this with its gargantuan advertising machine, but what about the others? With a few exceptions, most of these startups are finding it tough to make a profit and grow.
Copying: the best form of flattery - and profits
So pay attention to what Bťatrice Tarka, co-founder and chief executive of Mobissimo, is doing.
The three-year-old company, based in San Francisco, runs a simple search engine whose primary task is to find cheap fares for travelers anywhere on the planet. Its fastest-growing markets are India and China, and it doesn't even have offices in those countries. With just over $1 million in venture funding, the little-known search company is already profitable and continues to find new users worldwide.
How did Tarka do it? Simple: She studied Google.
Instead of selling tickets, Mobissimo focused on helping people find cheap ones - not just from big names like United (Charts) and American (Charts), but also from the burgeoning ranks of low-fare carriers here and abroad.
The big idea: Crawl the Web, find the best deals, and make money from advertising. The upstart airlines, especially those that have shied away from the expensive reservation systems used as the back end for sites such as Orbitz and Expedia (Charts), loved the idea. After all, they wouldn't have to spend a dime to land new customers.
Playing matchmaker, not manufacturer
Fast-forward two years, and Mobissimo's bet on low-fare carriers is paying off. The company is on track to bring in a few million dollars in ad revenue this year; after paying its 15 employees and settling its other bills, it's modestly in the black.
Mobissimo is doing many things right.
Like Google, it's maniacally focused on the consumer. If you find a cheap fare, you instantly become a loyal customer and are more likely to recommend the service to your friends and family. That's exactly how Google became popular.
And, like Google, Mobissimo ensured that it would be popular with advertisers as well, since rather than competing for customer dollars, its business was all about redirecting traffic to those who had something to sell.
The key lesson: Don't become part of the transaction - it's too much work, the margins are horrible, and it costs too much to run a back-end system.
Tarka says she's now busy partnering with airlines from New Delhi to Nottingham. Advertisers are lining up. The money is starting to roll in. As they say in the airline biz, Clear skies and plenty of visibility - should be a smooth flight.
Other vertical searchers looking for a quick takeoff would be wise to follow her flight plan.
Om Malik is a contributing writer for Business 2.0 and runs the popular technology blog GigaOm.

To send a letter to the editor about this story,
click here
.