(Business 2.0 Magazine) -- An instant message from a friend popped up on Lane McConnell's computer in September, telling him to check out a YouTube video of a cat chasing a remote-controlled toy helicopter.
He watched it. "I said, 'Oh, yeah, that's the coolest thing,'" recalls McConnell. "'I have to get it.'" Hours later the 39-year-old software salesman from Richmond, Ill., drove to a RadioShack with his two children in tow to buy the $30 Picco Z helicopter.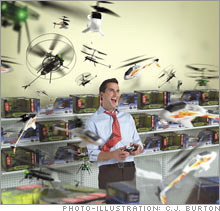 The proud new owner of that toy? McConnell, not his kids.
Success without the 30-second spot
The $500 million radio-controlled toy industry just got YouTubed. TV ads and pitches on the Today show are no longer the only road to a holiday hit for the makers of remote-controlled toys, which count on grown men as much as kids to drive make-or-break seasonal sales.
Buzz from bloggers, viral videos, instant messaging, and subtle product placement in TV shows and movies are proving to be just as effective for some products. For instance, Silverlit Toys, the Hong Kong manufacturer of the Picco Z, has shunned traditional advertising. But thanks to bloggers' enthusiasm for the chopper, the company is shipping 150,000 units this holiday season - a whopping number for a radio-controlled toy.
By October, YouTube-fueled demand allowed many retailers to sell the Picco Z for more than its $30 suggested retail price. RadioShack (Charts) raised its price to $40; some online stores were asking $99. On eBay (Charts) the Picco Z has been selling for an average of about $50.
Cathy Shull, president of Silverlit's U.S. unit, says she's never before taken so many calls on one of the company's 50 toy products. "The only thing I can point to is the Internet," she says.
When old school no longer applies
Ryan Miller, a 28-year-old tech worker who lives in Chicago, has become an unpaid virtual sales force for Silverlit.
Miller bought the Picco Z in June after reading about it on hobbyist message boards. A few months later, he loaded a video of his new toy (the one that inspired McConnell's purchase) on YouTube. Within two weeks, 15 friends had bought the product.
Internet retailers did their part in pumping up the Picco Z craze by dropping videos on their websites and trolling online conversations to add links to the clips. WorldTrading23.com, an online radio-controlled-toy outlet in Los Angeles, posted its own Picco Z video and within two weeks sold 18,000 toy helicopters, says owner Kevork Kouyoumjian. "It's the hottest item we've ever sold."
Word of mouth - amplified by the Internet - has never been bigger for the $21.3 billion toy industry. Before the Web explosion, toymakers followed the Tickle-Me-Elmo formula: Unveil a holiday gizmo at a spring trade fair, run endless TV ads during cartoon prime time to hook the tykes, watch their parents duke it out in the aisles of Toys R Us, and wait for the resulting media coverage to drive more sales.
Then came Furby. In 1998, holiday demand for the electronic gremlin was spiked by online discussion groups (the proto-blogs of their day) and the first generation of Internet retailers.
An insect becomes a bestseller
This year Interactive Toy Concepts abandoned TV ads in favor of YouTube to promote its $70 Micro Mosquito radio-controlled helicopter. Like the Picco Z, the Mosquito flies from the palm of your hand indoors, but it looks like an insect with two green LED lights for eyes.
The company, based in Toronto, pushed the Mosquito at toy shows, loaded corporate videos on YouTube, and issued news releases that wound up on blogs such as Slashgear.com and on hobbyist forums including Hackedgadgets.com. One YouTube video of the Mosquito was viewed 103,429 times during just one week in September, making it at that time the No. 1 science and technology video on the site and the 43rd most popular overall, according to the toymaker.
Dozens of homemade Mosquito videos have popped up on YouTube and on message boards and blogs. The result: The Mosquito is on track to be Interactive Toy's best seller. "We're shipping 100,000 this year," says product development manager James Elson, "and it comes down to how many we can get built before we miss the Christmas season."
The double-digit growth of radio-controlled toys has been spurred by better technology and falling prices. The new remote-controlled helicopters are cheaper, smaller, and more durable than those of years past, and they can be flown indoors by beginners.
At RadioShack, toy choppers sold so well last year that the retailer added the Mosquito as its second exclusive helicopter line this season. The retailer knew it had made the right move when journalists attending RadioShack's June holiday product show in New York City gravitated to the room with the toys.
"Guys kind of salivate," RadioShack spokesman Charles Hodges says. "They're thinking of ways they can use this thing in their homes and apartments."
Turning admirers into agents
If the online videos don't attract enough attention, toy companies are looking to an even bigger screen. Interactive Toy hired a product placement agency to get the Micro Mosquito on the popular TV show 24 and plans to keep demand booming after the holidays with the helicopter's appearance in Homeland Security, an upcoming movie starring Meg Ryan and Antonio Banderas.
Jay May, president of product placement firm Feature This, says his business increasingly caters to toy companies. At $36,000, a half-dozen cameos on TV shows cost a fraction of a typical $2 million holiday commercial.
And many of those shows will end up - where else? - on YouTube.
The Internet is an interactive medium, of course, and toymakers are also tapping fanboys for product ideas they can turn into must-have gadgets. Toronto toy company Spin Master stumbled across its hot holiday seller, the Storm Launcher, when managers saw a YouTube video of a radio-controlled airplane posted by hobbyists Ernest Butler and Michael Connally. The Fort Worth, Texas, pair invented a plane that could fly, rumble over rocky terrain, and glide across water.
Within 48 hours of seeing it, Spin Master executives had Butler and Connally on a real plane to the company's headquarters, where they quickly negotiated an agreement to buy the rights to the toy. "We wouldn't let them leave without doing a deal," says Harold Chizick, a Spin Master marketing executive. "We knew if we didn't get it, someone else would."
The company needed to do no more than buy an ad in a toy magazine announcing the Storm Launcher's July debut; someone scanned the ad and posted it on Wattflyer, a radio-control-hobbyist blog.
The company sold out of its initial stock of the $100 toy in just three days. "The Internet has been vital to this product and how it got to market," Chizick says.
With demand continuing to rise, he expects to sell more than 150,000 Storm Launchers by year's end. (Spin Master also recently added to its arsenal of remote-controlled toys by agreeing to buy the Picco Z line from Silverlit.)
Learning from Wal-Mart's mistake
Toy giant Lego turned to its customers to develop its latest Mindstorms robots. Just a few years ago, Lego wrestled with whether to sue hackers who were modding early Mindstorms; this time executives watched online forums and tapped knowledgeable bloggers to help with product development.
Lego invited four fans to join private online brainstorming sessions with company managers and twice flew them to Lego's Denmark headquarters to meet with developers. The result: a $250 robot that can detect proximity, light, color, and sound.
Lego predicts that the new product, Mindstorms NXT, will make up 3 percent of the company's sales - all without spending a krone on traditional ads. The Lego fanatics do the work, showing off their robots at toy stores and holding online bot-building contests. "They have a passion to tell others about it," says Lego spokesman Michael McNally.
But such viral serendipity has its own pitfalls.
Trends on the Internet disappear just as quickly as they appear. That poses a quandary for manufacturers: Do you ramp up production for what may be a fad? Then there's the risk of sparking a backlash if a company tries too hard to create a buzz on blogs and video sites.
"You can't pretend you're a consumer to start the buzz online. People will figure you out," says Emily Riley, an advertising analyst at JupiterResearch in New York. Witness the mess Wal-Mart (Charts) found itself in when its paid blogger was smoked out in October. Companies should just admit that they're selling something, Riley says.
Men and their toys are only the beginning for toymakers' Internet marketing plans. Children ages 8 and older are spending twice as much time online as they did a few years ago, and they're quick to instant-message friends when they see something cool.
Toy companies like Spin Master are already seeking out kids online and counting on them to be the chief marketers of future products. "This is where the market is going," says Spin Master's Chizick.
Babes in toyland, indeed.
Jennifer Alsever is a writer in Denver.

To send a letter to the editor about this story,
click here
.