(Business 2.0) -- Picture the scene: It's the holiday buying season, and ever since summer, consumers have been itching to get their hands on a 6-inch-tall robot with a quirky personality that evolves as its owners interact with it. The creature goes on to sell 50 million units, earning a stunning $1.2 billion.
That all happened in 1998, with a toy called Furby. But if its co-creator Caleb Chung has his way, a similar story will unfold this year. After many delays, Chung's sequel to Furby -- a robotic dinosaur called Pleo -- is scheduled to go on sale this summer. This time, however, the company waiting to reap the rewards is not toy giant Hasbro (Charts). It's Chung's 35-person startup, Ugobe.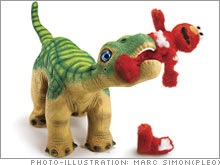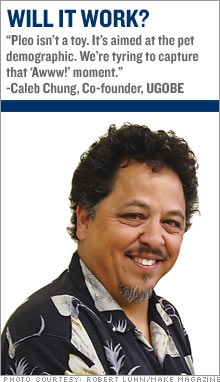 Will Pleo follow in the profitable footsteps of tech-enabled predecessors like Tickle Me Elmo and Furby?
The dinosaur, supposedly a week-old camarasaurus from the Jurassic era, makes even Furby -- once banned from the offices of the National Security Agency for fear it would learn and repeat classified information -- look like a sock puppet.
Pleo's surprisingly realistic movements are created by 14 motors and six processors. (Furby had one of each.) Thanks to a nose-mounted camera and 30 sensors, it's clever enough to avoid walls and table edges. It's also sensitive to touch, noise, movement, and even other Pleos. Its personality is so complex that Chung says it'll take years for each individual dino to come into its own.
Also more evolved, however, is the price tag - $300, compared with Furby's $40. That's a bargain next to Sony's ill-fated robot dog, the $2,000 Aibo, but it's a couple hundred more than most toy retailers would like. So Chung is bypassing them, selling Pleo on Ugobe's website and through high-end retailers like the Sharper Image. Last year the company had more than $18 million in purchase orders.
"Pleo will have more impact than Furby," predicts the ever optimistic Chung.
If so, it will be because of a growing demographic: early adopters. "For mass consumers, $300 is too steep," says Tim Bajarin of Creative Strategies, a San Jose-based market research firm. "But Pleo will be a big hit with the tech crowd."
That demo -- young professionals with enough disposable income to pick up the latest hot gadget -- has swollen from 5 million in the 1990s to 20 million now, Bajarin estimates. "They tend to be very driven by reviews," he says.
So it helps that Chung has spent two years sweating Pleo's details. He's gone through four versions of the polymer skin. He's tweaked the tail until it can wag with the same torque as the neck. He replaced metal gears with plastic ones halfway through the manufacturing process so Pleo would move more quietly.
The delays were worth it, Chung insists. "If we were Mattel, we would have shipped this last Christmas," he says. "But that's not how you start a world-changing company." Ugobe, financed to the tune of $11 million, is raising another $10 million to develop the half-dozen designs Chung has up his sleeve, including robots that could crawl the earth long after Pleo has gone extinct.
Will Pleo roar, or go the way of the dinosaurs? Send us your comments.

click here
.