(Business 2.0 Magazine) -- Let's be honest: Most performance reviews are a joke. Too often goals are ignored, hard work is overlooked, and in the end it's the kiss-ups who get promoted. A recent survey conducted by Salary.com is telling: Only 39 percent of employees think the process actually improves the way the job gets done.
But what if bosses could instantly monitor worker performance -- objectively, through a well-tested online scorecard -- and see which employees' efforts really help the company?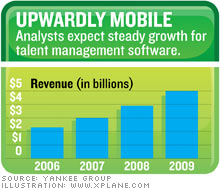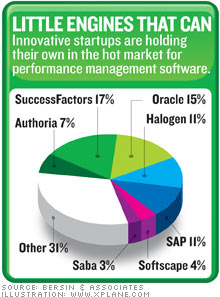 That's what insurance giant Aetna (Charts, Fortune 500) has begun to do, with impressive results.
Seven years ago the company was melting down. "We were in trouble, losing a million dollars a day," says Deborah Kelly, head of learning services at Aetna. "No one was loving us." The company's performance review system was also in shambles; if managers completed reviews at all, the formats varied widely and didn't provide a thorough overview of employee performance.
Today, thanks to a new executive team and a new breed of management software from Authoria, Aetna believes that it has turned things around.
Supervisors across the 30,000-employee company can pull up a secure online dashboard to rate employee skills and competency, assess career growth and training needs, and even pinpoint key players who need an incentive to stay.
"It gives us a lot more data to manage our workforce," says Kelly, who developed Aetna's performance strategy and pushed for the software. In 2006, 98 percent of the company's employees completed their scorecards on time. And in an anonymous survey, 83 percent said they understood how they "contribute to the successful implementation of Aetna's strategic/operational goals," up from just 59 percent in 2002.
Says Kelly, "We know this is working."
Stories like Aetna's could signal a real change in how companies manage their workers. There's no shortage of software to handle functions like payroll and benefits, the number-crunching side of human resources. But the big office management software packages from Oracle (Charts, Fortune 500) and SAP (Charts) aren't as good at helping companies decide which employees to train, which to promote, and which to fire -- in other words, how to actually manage their people.
That has allowed smaller companies to rush in to fill the gap, serving a market that's expected to surpass $3 billion this year.
Demand for their software is rising because whatever the official unemployment rate, truly talented workers are always scarce. Factor in the impending retirement of the baby boom generation, and the skills needed to sustain a growing business are likely to be in woefully short supply for quite a while. By 2010 there will be 10 million difficult-to-fill job positions in the United States, according to Bersin & Associates.
But there's a more immediate talent crisis. A report from research firm IDC found that nearly 50 percent of companies surveyed currently experience a shortage of IT workers, 34 percent can't find enough candidates for finance jobs, and 21 percent can't fill middle-management positions.
Lars Dalgaard created a small crisis himself 13 years ago. Tabbed as "high-performance talent" at pharmaceutical giant Novartis (Charts), he enjoyed the praise but was never clear about his career path within the company. "If you don't understand what you're really supposed to be doing or where you're going, it's pretty frustrating," he says.
When Dalgaard informed Novartis's human resources department that he'd been recruited by a headhunter for Unilever, he was told that Novartis had plans for him to head up a business line in Portugal in two years. "Too little, too late," he remembers thinking, and the next day he boarded a plane to his new job in Amsterdam.
That experience was in Dalgaard's mind in 2001 when he launched the performance-and talent-management software firm called SuccessFactors (See "The Next Net 25: Startups to Watch"). He was convinced that workers would be more inclined to stay with a company if both managers and employees shared access to online tools for tracking business goals and measuring performance -- which is exactly what his software does.
"It's an efficient communications platform for developing your people," Dalgaard says. Over the past six years, SuccessFactors has steadily added features; now it tracks not just performance but also compensation and succession planning, goal management, recruiting, and nearly a dozen other tasks.
The company seems to have found a niche. Dalgaard says his roster of customers grew from 350 to more than 1,200 during one 12-month period and is now growing five to six times faster than those of the rest of the industry.
That's not to say SuccessFactors doesn't have plenty of rivals. By some accounts, there are at least 25 other vendors focused on talent management, including Authoria, Kenexa, Saba, Taleo, and Vurv Technology.
Most management software is delivered as an online service. A typical package provides a resume-like profile that workers and managers can update anytime. When a review period rolls around, employees rank themselves on skills and competencies listed by the company. (Aetna, for example, has 43 for each position, ranging from "Can program C++" to "Performs case reviews.")
Managers can adjust the employees' self-ratings up or down and then, during face-to-face reviews, discuss and finalize them. Employees who need improvement can use the software to find online courses, completion of which is recorded by the system.
Meanwhile, managers and the human resources department have a consistent view of each employee's skills and performance and can spot in advance any gaps in their succession plans.
That's what Hilton Hotels (Charts, Fortune 500) needed. The company's recent expansion began to sputter because Hilton wasn't sure who could fill executive positions in eight hotel divisions. A Western region vice president might keep a spreadsheet on her most talented employees, for example, but there was no easy way to pull out that information to help hotels in other locations.
And on the opposite side of the desk, employees found their careers stagnant because the divisional silos impeded movement across the hotel chain.
"There wasn't any one place we could go within our organization to find our best people," says Anthony Chen, director of succession management for Hilton.
Now Hilton uses SuccessFactors to determine the strengths and weaknesses of some 2,500 employees and where they might best be deployed across all divisions, from a Doubletree in Dayton, Ohio, to an Embassy Suites in Denver.
"We can quickly find who's willing to move to these open positions," Chen says. "And who needs to move on."
Michael Myser is a writer in Morristown, N.J.

click here
.