(Business 2.0 Magazine) -- Cadillac tried a novel approach last year to get young male car buyers excited about its tricked-out V-Series Collection luxury vehicles. Rather than make its pitch through magazines, TV commercials, or online display ads, the automaker took its campaign to the Xbox 360.
Through an arrangement with Xbox Live, gamers were invited to download and put through their paces three virtual V-Series cars in a popular high-speed driving game called Project Gotham Racing 3. In less than six months, more than 240,000 players snagged the game. All told, they raced the cars more than 1 million times.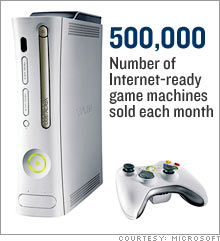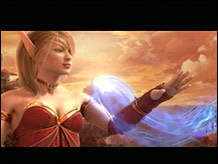 CNN's Kristie Lu Stout examines the future of online gaming.
Play video

At a time when advertisers are struggling to get the attention of the mass audiences they used to reach so dependably through broadcast and print media, successes like Cadillac's offer a beacon of hope.
Not only do videogames give advertisers a way to reach the free-spending 18- to 34-year-old demographic they so covet, but in-game ads -- when done properly -- can hold a viewer's attention a lot longer and a lot less expensively than a 30-second TV spot.
It's not a new idea. In 1983, Anheuser-Busch (Charts, Fortune 500) paid Midway Games to make sure the beers served by the overworked bartender in a game called Tapper were Budweisers.
But in-game ads have come a long way since then, and this could be their breakout year. Internet-ready machines like the PlayStation 3, Wii, and Xbox 360 are selling at a rate of more than 500,000 a month; by year's end 8 million consoles could be plugged into the Net.
And because the devices are online, advertisers have enormous flexibility in terms of what they're pitching and how they do it. In Tapper's day, Budweiser marketers had to work with developers while they were creating the game to get the company's logo hard-coded into the action.
By contrast, the terrain of a console connected to the Internet is as ad-friendly as a webpage; pitches placed there can be updated to reflect a company's latest branding campaign, targeted for certain geographic areas, or tracked to see where and how often players pause for a closer look.
That bodes well for companies like Massive, one of a new breed of ad brokers specializing in messages that change dynamically as the game is played. "Ad units take many forms," says Massive CEO Cory Van Arsdale. "Billboards and posters, vehicles, pizza boxes, soda cans, screensavers and TV screens, audio and video units."
In the Ubisoft game Tom Clancy's Splinter Cell: Chaos Theory, for example, the agent passes a Diet Sprite Zero vending machine while infiltrating a terrorist operation.
Justin Townsend is another adman who saw the segment's potential early. In 2003 he was managing digital strategy in Berlin for ad agency McCann Erickson when large clients began asking about getting their brands and products placed in popular games.
At the time there was no structured way to do it. Then a media consumption study by Nielsen Media Research caught Townsend's eye. It showed that young men were ditching network prime-time TV -- the three-hour slot that attracted $15 billion in ad spending last year -- in favor of games. TV viewing during those hours for males ages 18 to 34 dropped 12 percent from 2002 to '03, while their videogame play increased 20 percent.
That provided the inspiration Townsend needed to co-found IGA Worldwide, the in-game ad brokering agency where he is now CEO. "In the early days, companies would spend about $50,000 on an in-game ad to experiment with the model," Townsend recalls. "Now half of our clients are making significant six-figure deals for in-game ads."
IGA isn't the only player watching those trends; some of the biggest names in digital marketing are betting heavily on the genre.
Last year Microsoft (Charts, Fortune 500) bought Massive, the leading in-game ad broker, for a reported $200 million. Earlier this year Google (Charts, Fortune 500) snapped up in-game ad shop Adscape Media for $23 million. Massive and other ad brokers, like IGA, allow agencies to buy space in many games at once, much as they would TV time.
Meanwhile, major agencies like Ogilvy, Omnicom (Charts, Fortune 500), and Publicis (Charts) are focusing more on games. Publicis has recently expanded its games ad group from two people to 10. These moves aren't just for bragging rights; Parks Associates estimates that the in-game ad market will be worth more than $600 million in three years, up from $120 million last year.
The latest console games provide fertile ground for product tie-ins. Gamers this season who take to the increasingly photo-realistic fields of NCAA Football 08 on the Xbox 360 will get more than just accurate football plays; thanks to a partnership with the Weather Channel, they'll play in authentic stadiums where the in-game weather matches that day's real conditions. Old Spice sponsors the game's "Red Zone Report," and as fans stream out of the stadium after the contest, gamers can watch a clip honoring the Pontiac Game Changing Performance.
"Next-generation games allow Old Spice to take consumer engagement to a level not currently achievable in traditional print or TV," says Jay Gooch, technical communications director at Old Spice parent Procter & Gamble (Charts, Fortune 500). "Online gaming is, at its core, a social activity."
T-Mobile has also been active in this arena with titles like Midway's NBA Ballers Phenom, which integrated the wireless carrier's Sidekick phone into gameplay, and Electronic Arts's Need for Speed Carbon, which displays a T-Mobile button on a simulated car dashboard that gets text messages.
Vijay Rao, who oversaw the projects as an associate director at ad agency Optimedia, has been impressed with the results. "A gamer spends, on average, 40 hours with a title, and games provide an opportunity to position your brand front and center with a really elusive target," Rao says. "The opportunities afforded by videogaming, if done correctly, can't be beaten."
The in-game ad push seems to be paying off. According to EA research, gamers who played Need for Speed Carbon were more likely to consider and recommend the T-Mobile brand than those who didn't. Half of the gamers who saw the promotions said the ads actually added to their enjoyment of the game.
Still, this approach can backfire.
The billboards in Battlefield 2142 and Counter-Strike prompted customer rebellion in recent months when players felt they sullied gameplay. Fans posted angry messages on forums, along with tips on how to disable the ads. And research by Parks Associates shows that some gamers still aren't convinced that ads won't spoil the fun.
But if the new crop of ad brokers can strike the right balance, it could open up better ways to reach a prime audience.
John Gaudiosi is a writer in Raleigh, N.C.

click here
.