(Business 2.0 Magazine) -- Marian Goodell, 44, is a no-nonsense blond with a voice that sounds like it's barking orders out of a walkie-talkie. She's a veteran of seven industries, including law, advertising, software development, and Department of Defense contract work.
Today she's seated at a large, polished conference table with an antique gavel, taking inventory of her current endeavor. "We rent buildings, trucks, light towers, cranes, boom lifts, Bobcats, forklifts," she says. "We've got four properties in Nevada, totaling more than 200 acres. And three full-time people in accounting managing a budget of $10 million."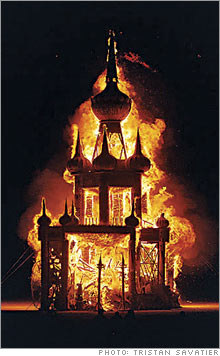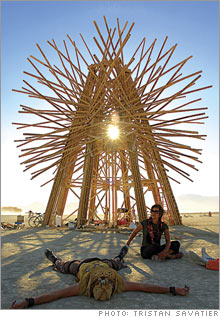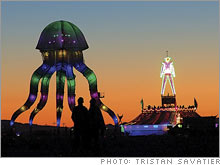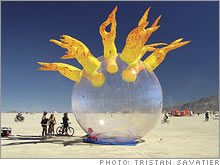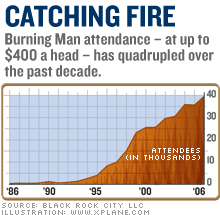 It sounds like a modestly successful construction company in Las Vegas or Reno. But then you look out the door and see a psychedelic caterpillar perched atop a giant mushroom. Where Good-ell works is, in fact, the global headquarters of Burning Man. Yes, that Burning Man, America's premier counterculture festival, the one that makes headlines every Labor Day.
But while most of us were looking at the pictures of people in body paint, Burning Man did something it wasn't supposed to do. It grew up. It became a sustainable business. How it did that says a lot about both the Silicon Valley culture that helped spawn it and where that culture is heading.
Burning Man started as a half-baked idea in the fevered mind of Goodell's boss, Larry Harvey. A reclusive man who favors long pauses between his gurulike pronouncements, he's a legend among burners, as Burning Man devotees call themselves.
In 1986, Harvey and his friend Jerry James built a giant wood man on San Francisco's Baker Beach, and then set it on fire. The gathering drew such interesting people that Harvey has repeated it every year since. When the event outgrew Baker Beach, he moved the whole thing to Nevada's Black Rock Desert, the largest stretch of flatland in the United States, for a weeklong jamboree.
Harvey, however, is almost never in the office. "Larry's no Steve Jobs," Goodell says. "He's not running the business. He didn't even have a checking account until a couple of years ago." In his absence, Goodell manages the money, the business side, the construction, the communications. Marian Goodell - known to burners as Maid Marian - is Burning Man's resident adult. Think of her as its CEO.
This is the year Burning Man comes of age. It's 21 years old as a festival and 11 years old as a limited liability company now called Black Rock City LLC. In that time it has learned more lessons than many companies three times its age. It has beaten threats of shutdown from government officials, both local and national, coped with two fatal accidents, and suffered weeklong "whiteout" dust storms. It has staved off bankruptcy three times. And it has found the magic formula for creating a temporary city of 40,000 souls from scratch and running the whole thing - from security to sanitation - almost entirely with volunteer labor.
But no challenge has been greater than dealing with the complaints from veteran burners - the hypernetworked old-timers at the core of the community - that Burning Man has grown too big and has lost touch with its anticommercial roots. That it is too much like, well, a business.
The event is supposed to run on what participants call a "gift economy." They have no truck with U.S. currency once inside the event's trash fence. Even bartering is frowned upon. The fact that the organization sells coffee and ice is controversial enough. Imagine the reaction, then, when Burning Man makes the riskiest business move in its history: It's going to allow companies to exhibit products at the 2007 event.
Each Burning Man has a different theme, chosen by Harvey. This year's theme is "The Green Man." Burning Man, an extravaganza characterized by the consumption of huge quantities of fossil fuel, has discovered environmentalism. It is attempting to offset the 28,000 tons of carbon it estimates the event generates (counting all those flights and long drives for its far-flung attendees), and the organization is belatedly switching to biodiesel generators to provide most of the event's electricity.
Most controversially, the organization wants to bring as many green-energy companies as possible into what Harvey calls a world's fair of clean tech. Google (Charts, Fortune 500) is going to help produce an online 3-D search service called Burning Man Earth.
A venture capitalist is bringing a vast solar-power array. Four wind-power companies will be placing turbines around the Man. PR maven Melody Haller of the Antenna Group will be bringing a campful of her clean-tech CEOs. "We're inviting the Greeks into the heart of Troy," says Tom Price, Burning Man's new environmental director. "Burning Man may have to destroy itself to save the planet."
Destroy itself? Well, possibly. Those 40,000 attendees are Burning Man's only tangible asset. Without their entry fees - $250 in January, $400 at the gate in August - there's no $10 million budget. "It's a good business," says one venture capitalist who has examined the company's financial record, "but it's even more seasonal than a ski resort." Other than those tickets, the organization has no real source of revenue. The coffee just about pays for itself - it's more an excuse for newcomers to mingle than a vending enterprise - while the proceeds from the sales of ice are donated to charity.
In other words, as Harvey says, Disneyland this ain't: "Theirs is a spectacle entirely for consumption; ours is based on interaction and communal effort. It's Disneyland turned inside out."
Nevertheless, the Burning Man community is an unusually smart, well-knit, and well-heeled social network. Larry Page and Sergey Brin of Google are regular attendees; they chose Eric Schmidt as their CEO because he was the only candidate for the job who had been a burner.
So many VCs show up that Silicon Valley entrepreneurs like to joke that you can't get any funding during the week of Burning Man. Celebrities like Robin Williams, Sting, and Joan Baez often arrive incognito. Thousands of lesser-known artists spend up to 10 times the ticket price, mostly drawn from their own pockets, to create the spectacles at the center of the experience: the Burning Man art, in all its neon-lit, fire-spewing glory.
You really have to want to be there to truck yourself and your gallons of drinking water in and out of the desert, an environment so extreme that dehydration and other serious bodily harm are real possibilities. As it says in large letters on their tickets, attendees voluntarily assume the risk of death. (Indeed, since 1996, two have died in art-car accidents.)
But not only do people still come, they create content and provide their own services with an enthusiasm that puts even Wikipedia to shame. According to Black Rock City's annual census, 80 percent of attendees volunteer at some point during the event. Burning Man, it seems, was Web 2.0 before that label existed.
Burner volunteers solve their own disputes (through the Black Rock Rangers) and light their own gas lamps (through the Lamplighters). A few hundred even stay to clean up the desert for at least a month after the event. "Our budget is in the millions," Harvey says, "but if you include everything people give to the city, it's three times what we invest."
It's just as well that there's all this goodwill and free labor. Black Rock City has already suffered three times from cost overruns that threatened to bury it in debt, and not just to pay for all those rented portable toilets. The federal Bureau of Land Management charges $4 per person per day for use of the desert. Nevada's Washoe County makes the organization cover the cost of all the extra police it insists on bringing to the event.
Those charges alone add up to roughly $800,000. This year the Denver office of the BLM is threatening to add on a 19 percent fee, or $120,000, for administrative costs. Burning Man is currently protesting this new surcharge in Washington. (Since it is the largest single customer on federal land, the organization usually gets a sympathetic hearing in the halls of power - especially with San Francisco's Nancy Pelosi and Nevada's Harry Reid.)
You can think of the economics of Burning Man as a delicate ecosystem in itself. Goodell won't reveal exactly how much profit the event clears, only that most of the money is spent on donations to artists, and the remainder has been "comfortably above $50,000" since 2005. If the corporate experiment triggers a drop in attendance, Burning Man could find itself in debt for a fourth, and perhaps final, time.
This community is a dream for anyone looking at demographics," Goodell says. "We have kids who work in coffee shops and we have billionaires. To ignore the value of our brand, the buying power it has, is silly. But it's a ritual for these people, which is why it's going to be hard for them seeing businesses out there." Burning Man's customers keep coming back to Black Rock precisely because it's so far outside the scope of the corporate culture - and its incessant marketing - that most of them live with the other 51 weeks of the year.
So the organization decided that the companies that come this summer will have to play by Burning Man's rules. The first letter inviting corporate participants was pulled off the website after only a few days; Harvey says it made the event sound too much like a trade fair. The revision stated explicitly that no marketing whatsoever would be allowed at the event.
Clean-tech companies can exhibit their technologies, but their products can't display a logo. No marketing material will be allowed. Company reps can't even demonstrate their wares in the pavilion; they have to turn them over to Burning Man, which will demonstrate the technologies in whatever artistic form it chooses.
Given these restrictions, why would a company want to come? For one thing, there's evidence that simply bringing your product to Burning Man and letting it speak for itself can pay rich rewards. Goodell cites the example of Current TV, the San Francisco video content company that came to the event in 2006 and did a show every day but didn't display its brand. The response, both at Burning Man and from viewers afterward, was overwhelmingly positive.
"Branding's important, "Goodell says," but there's a middle ground between having it all over the place and just knowing that it's Current TV and feeling good about the way they're treating you. That's a very interesting potential for companies that see a value in Burning Man culture."
Plenty of companies do, it seems, and at the front of the line this year is Google. Its engineers are building software for unbranded kiosks at the pavilion where participants can zoom in to a virtual version of Burning Man. Just click on a given technology or art project and Google will take you directly to its website.
"A lot of Google people come to the event, and the reason is that their corporate culture has similarities to ours," Harvey says. "They do what they're interested in. They have fun and worry about monetizing it later."
After the invitations went out in May, Burning Man started getting inquiries from about three corporations a day. Some executives were slow to understand exactly what kind of event they were dealing with. At an early meeting, one CEO was surprised to learn that there's no cell-phone service in the desert. (The organization, however, does supply Wi-Fi.) But most are optimistic. "I'm curious to see what happens at the intersection of art and technology," says B.J. Stanbery, CEO of Austin-based Heliovolt, a maker of thin-film photovoltaic solar cells.
Then there's Matt Cheney, CEO of MMA Renewable Ventures, which funds clean technologies around the globe and offered to provide Black Rock City with enough solar cells - 270 kilowatts' worth - to light the Man and power the pavilion. After the event, those solar panels will be installed at no cost - remember that free Burning Man labor? - in the nearby town of Gerlach.
Cheney will be getting very generous rebates from the state of Nevada. Not enough to cover the $1.5 million tab, he says, but the good publicity will more than make up the difference. "There's a tremendous alignment here," Cheney says. Enough, he adds, to do it again in future years.
Still, some attendees fear that the arrival of corporations - even without business cards - is the death knell for Burning Man. "I'm sure the corporations are thinking, OK, this year those are the terms," says one prominent Burning Man artist involved in building the Man itself. "But now the door's open. In the end, the money wins."
Other erstwhile naysayers, however, have embraced the green theme. Jim Mason and Chicken John are two artists who led a rebellion against what they saw as Burning Man's arrogant arts patronage at the event two years ago. Now both are building art cars that use gasification technology - meaning they can turn trash into hydrogen gas, which they run on. Chicken John's car was a showcase exhibit at Cleantech 2007, an industry conference held in San Jose in May.
And what of Burning Man itself? Harvey sees the event continuing for another decade or so, at which point spinoffs - the so-called regional burns - can take over. By then, he says, there'll no longer be a need for a single, central Burning Man organization. But Goodell demurs. "The business model can totally function without Larry Harvey," she says. "As long as the LLC exists, the event exists." As if to underscore her point, the enigmatic sign above the door to her conference room reads, "Larry Harvey does not exist."
Chris Taylor is a senior editor at Business 2.0 and a seven-time burner. He blogs at business2.com/futureboy.

To send a letter to the editor about this story,
click here
.