(Business 2.0 Magazine) -- Even this far into the digital age, one vital part of business remains stubbornly analog: the legal contract. Almost every corporate obligation and partnership requires reams of paper and at least a couple of lawyers. Internet-based, do-it-yourself contracts tend to be relegated to the level of eBay sales - and even they are notoriously difficult to enforce if something goes awry.
Now a Spanish startup called Negonation hopes to raise the profile of the online contract - and disrupt the entire legal landscape in the process. In July it launched Tractis, the first Web platform that lets users create, manage, and execute contracts online - no lawyers required. The service is stocked with a database of contract templates from around the world, and its contracts are legally enforceable in the offline world, even if the parties are in different countries.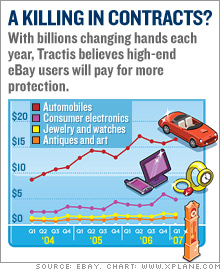 Tractis, its creators say, is no less than a comprehensive legal system for the Internet nation. "The biggest problem with online contracts now is enforcement," says David Blanco, the Madrid-based CEO of Negonation. "If you reach an agreement with another person and something goes wrong, how do you enforce the contract and in which jurisdiction? How do you know the true identity of someone calling himself snake69@hotmail.com?"
To solve that kind of problem, Tractis will offer a comprehensive range of trust and verification systems - and take advantage of controversial national ID cards. There are already 600,000 of the cards issued in Spain; similar ones are compulsory in Belgium, Germany, and Portugal. The United Kingdom is set to roll them out in 2010. Insert your ID card into a smartcard reader and Tractis will instantly verify it with your country's database.
That doesn't mean citizens of countries without national ID cards, like the United States, are left out. Tractis can also authenticate online identity via OpenID, a security standard now supported by Microsoft Vista, Firefox, and AOL. The final agreement can carry a digital certificate that in most countries, including the United States, has the same legal weight as a handwritten signature.
Even better, Tractis offers a contract enforcement guarantee on the credit card model, reimbursing any user who's a victim of fraud as a result of a valid online contract. During the next few months, Tractis intends to roll out a reputation system, letting users rank each other after completing a transaction. The company charges each user 1 euro for identity authentication.
Initially, Negonation is setting its sights on the European market. Before its public launch, Tractis was beta-tested by nearly 700 users, including several large European law firms and Spanish telecom giant Telefůnica.
Negonation says its most lucrative target market is major eBay (Charts, Fortune 500) transactions such as cars, jewelry, and real estate. It's betting that high-end eBay users want the additional layer of security provided by a separate enforceable contract.
eBay says the loss to the company due to fraud in the first quarter of 2007 amounted to less than 0.1 percent of its revenue - but with net revenue of $1.8 billion, that still leaves plenty of transactions that could have been better protected. Last summer, for example, a Manhattan company that auctioned thousands of pieces of jewelry on eBay agreed to pay $400,000 to settle charges that it inflated prices by bidding in its own auctions.
Blanco and his co-founders, Manuel Santos and Diego Lafuente, think the opportunity is huge. Blanco expects Tractis to be pulling down $90 million in revenue and $40 million in profit by 2012 - in part by stimulating the entire market for goods and services on the Internet. "There's definitely a lot of room left to move commerce from offline to online, once we solve the identity problem," he says.
In theory, Negonation faces competitors in each part of its business. You could, for example, hammer out a contract in Google (Charts, Fortune 500) Docs, execute it on Echosign, and rank your contractor's trustworthiness on iKarma. But Blanco is betting you'd much rather use a single platform for one-stop contract shopping.
The Tractis dashboard displays the entire timeline of negotiations, permissions, invitations, and comments. Users can invite other parties to edit working drafts, or lock others out of the negotiations. And contract templates include software licenses, rental agreements, warranties, and financial services.
The biggest obstacle Tractis faces, of course, is the industry it's trying to disrupt. "The legal profession is very conservative, and it hasn't moved online the way the financial profession has," says Ethan Katsh, director of the Center for Information Technology and Dispute Resolution at the University of Massachusetts. "Most people still place more faith in a handwritten signature on a contract, even though a handwritten signature is actually easier to forge than a digital one."
Some Web-savvy legal eagles are intrigued. Says attorney Curtis Smolar, managing partner at Bay Capital Legal Group in San Francisco, "Moving the contract process online is an interesting idea." The sheer complexity of contracts is, he says, "frankly, one of the reasons lawyers remain employed." In some cases, perhaps, they won't for much longer.

To send a letter to the editor about this story,
click here
.