1 of 15
Google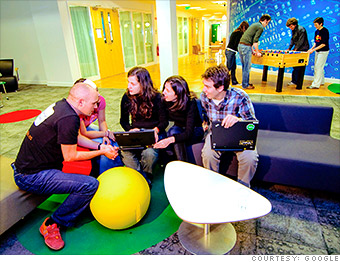 1
% of MBAs who want to work there
: 28.38%
Headquarters
: Mountain View, CA
What makes it great: Google is still the company where MBA students -- and everyone else -- most want to work, topping CNNMoney's list for the seventh straight year.
One reason? Employees are encouraged to pursue big ideas and innovate in every aspect of the business. Just consider Google Glass, one of the most-hyped technologies in years. Or the new Google Maps, which got rebuilt from the ground up rather than merely tweaked.
Over-the-top perks -- like complimentary massages and fantastic free food -- don't hurt either.
What they're looking for: The search giant keeps on growing, adding 16% to its employee base in the last year, not even including the 15,000+ workers gained through its acquisition of Motorola Mobility, which was completed last May.
The company is always looking for exceptional applicants with the "Googley" factor. Its careers site explains: "Googlers thrive in small, focused teams and high-energy environments, believe in the ability of technology to change the world, and are as passionate about their lives as they are about their work."
MBAs work on projects in areas ranging from product management and sales to finance, marketing, and operations -- and everything in between.

Get the complete lineup of ideal MBA employers, in an exclusive CNNMoney.com list.
Search All Jobs from Across the Web
Think of it as a popularity contest for companies: Every year research firm Universum USA ranks the most desirable employers in the world, based on where MBA candidates say they'd most like to work.
More