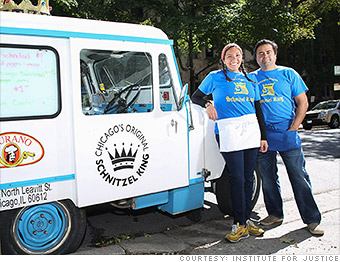 Business

: Food truck

The rule

: Stay 200 feet away from restaurants

Rule maker

: City of Chicago

Penalty

: $2,000 fine
The biggest problem for Chicago food trucks used to be finding an open space. To secure a coveted lunchtime spot downtown, for example, Greg Burke would park the family Camry there overnight.
But last year, the city made it illegal to park within 200 feet of established restaurants, making nearly every lucrative spot downtown off limits.
Now, police often force Burke to drive off just as dozens of hungry customers gather around his Schnitzel King Food Truck. He used to sell 100 pork schnitzel sandwiches a day. Now it's more like 50. He estimates he's lost about $25,000 in profit since August.
"It's definitely hindering us from making a profit. We can't go where people want us to go," Burke said.
What's more, food trucks must now install GPS devices, so that city officials can track their movements.
"It feels like a criminal ankle bracelet," Burke said.
Jen Lipford, a city spokeswoman, said the law ensures public areas remain clear for people and traffic to move.
"We make sure we're not jumbling businesses on top of businesses," she said.