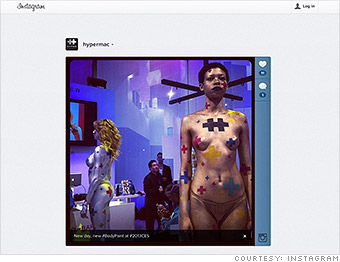 Bikini-clad "booth babes" are (sadly) nothing new at CES, but gadgets retailer Hyper took it one step further with body-painted women.
And what were those nearly naked models hawking? Hard drives, of course.
The painted ladies stood atop white platforms at the Hyper booth, their expressionless faces staring ahead vacantly. They ignored the crowds leering and snapping photos, barely blinking, and didn't interact with any booth visitors.
Perhaps Hyper should have been housed in the robot section of the CES floor.
The company responded to the online backlash with a blog post saying "we are not apologetic for anything." -Julianne Pepitone