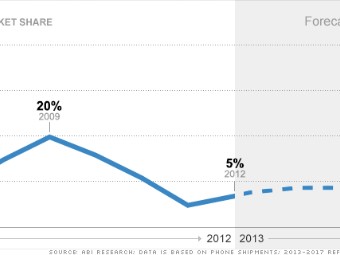 Power users who once clutched BlackBerrys like corporate totems have abandoned them for iPhones or the latest Android devices. RIM's smartphone market share sank from 20% in 2009 to just 5% in 2012, according to ABI Research's estimates.
RIM (RIMM) is counting on BlackBerry 10 to revive its fortunes. "We have to win back our customers one by one by one," CEO Thorsten Heins told Fortune.
Just getting the software out the door was a major challenge: RIM switched CEOs midway through the development process and delayed the release by more than a year.
With BlackBerry 10 finally finished, RIM is preparing a major marketing blitz to trumpet what it hopes will be a phoenix-like emergence from the ashes. The campaign kicks off Sunday with the company's first-ever Super Bowl commercial.