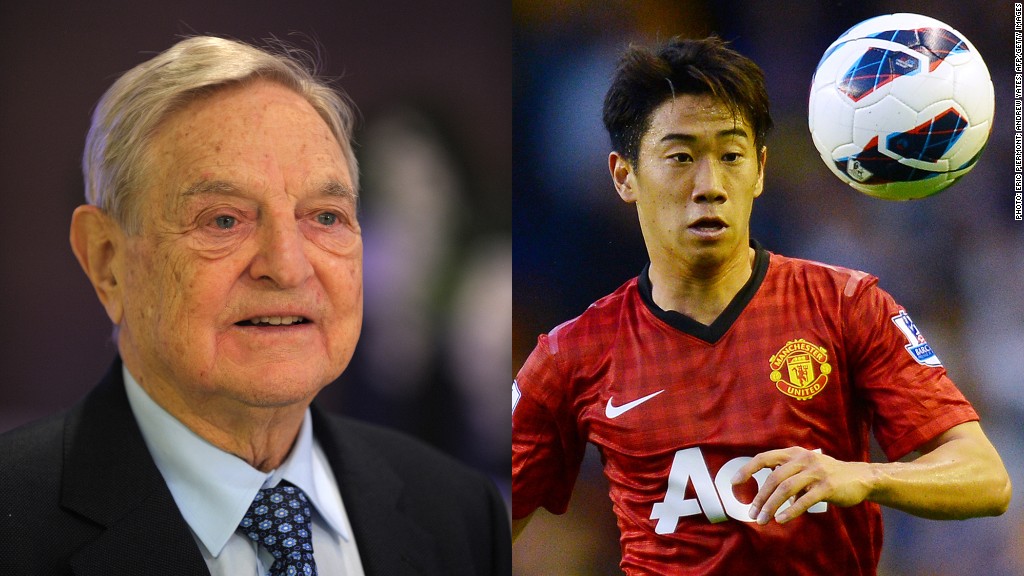 The man who broke the Bank of England has taken a piece of Manchester United.
Hedge fund titan George Soros's investment firm revealed a stake Monday in Manchester United (MANU), the British soccer team that debuted on the New York Stock Exchange earlier this month. According to a filing with the Securities and Exchange Commission, Soros Fund Management owns 3.1 million Class A shares of the team, a stake worth about $40.7 million at Monday's closing price of $13.06 a share.
Manchester United and its principal owners, the Glazer family, sold 16.6 million shares at $14 apiece in the club's IPO earlier this month, though the stock has fallen 6.7% since then.
Soros's firm now owns 7.85% of the team's Class A shares, though because of ManU's dual-class share structure, the stake equates to just under 2% of the club overall.
The Glazers hold 100% of the team's more powerful Class B shares, which are not publicly traded. They retain complete control in voting matters, thanks to the dual-class stock structure.
Soros is best known for his bold bets in the currency market, including a 1992 trade against the British pound that won him an estimated $1 billion. Last week, he revealed that his firm had purchased 341,000 shares of Facebook (FB)