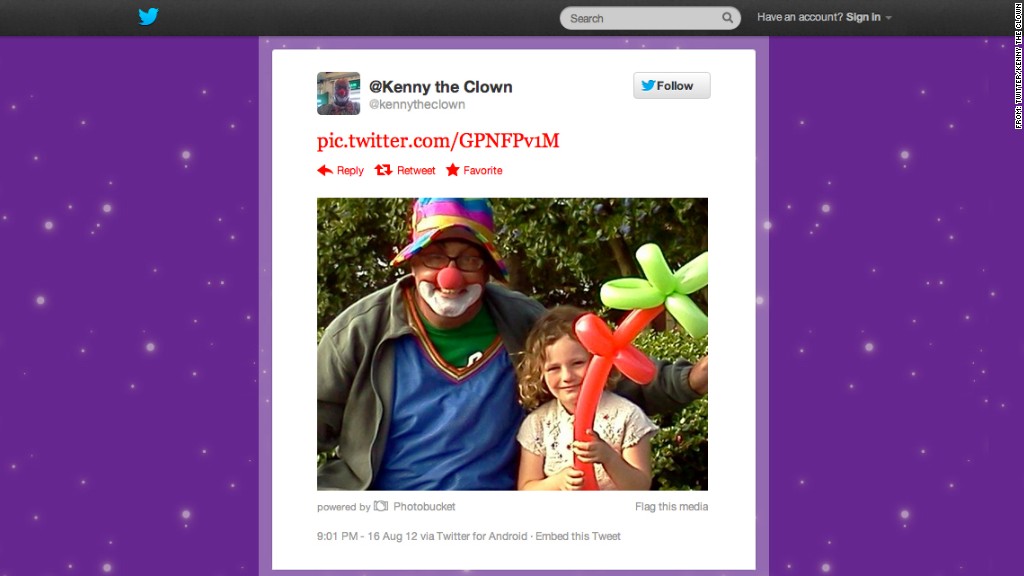 Kenneth Kahn, the California clown who temporarily possessed Steve Jobs' allegedly stolen iPad, is no stranger to irony.
Kahn, known by his professional moniker Kenny the Clown, said the police showed up at his door in Alameda after he used the iPad to download Michael Jackson's song "Smooth Criminal." It was only then that he learned it was stolen.
"If it wasn't tragic, it would be comical," said Kahn, who makes his living as a street performer and a birthday clown.
Kariem McFarlin, the suspected burglar who , is scheduled to make an appearance Monday at Santa Clara county criminal court to enter his plea. He is accused of stealing more than $60,000 worth of computers, jewelry and other personal items on July 17 from the Palo Alto home of Apple co-founder Jobs, who died last year. He faces charges of burglary and selling stolen property.
Kahn, who has not been charged with a crime in connection with the Jobs case, said he was planning a trip to Hawaii with McFarlin, who he has known for 15 years. He gave McFarlin $300 to buy the plane tickets, but they canceled the trip after fares to Hawaii increased. Kahn said McFarlin eventually gave him the iPad instead of the $300.
"I would not have bought it if I had known it was stolen, not to mention stolen from Steve Jobs," said the clown, who also used the device to download the "Pink Panther" theme and Jackson's "Man in the Mirror." "You can imagine the shock that I'm going through right now."
Related: Apple sold 5.7 million iPads in the U.S. last quarter
Kahn, an aspiring politician who has run unsuccessfully for mayor of Alameda and San Francisco, where he garnered only three votes, said he thought McFarlin was a medical supplies salesman who wanted to unload his old iPad after buying a new computer.
"He was obviously leading a double life," said Kahn. "If I knew he was doing that, I wouldn't associate with him. I really work hard for my money. The one thing that I just can't tolerate is a thief."