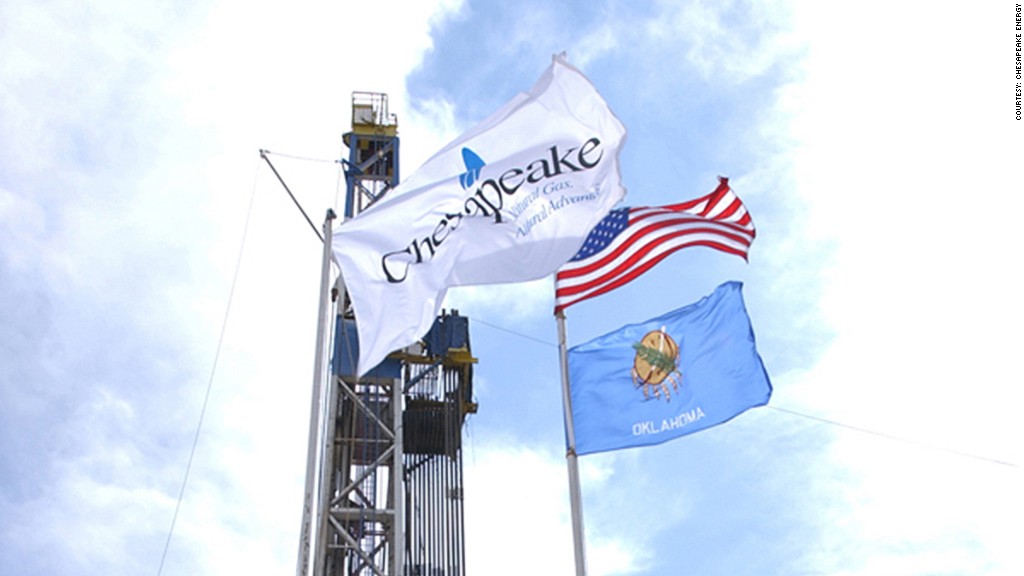 John J. Licata is the founder and chief energy strategist for Blue Phoenix Inc., an independent research and consulting company focused on next generation energy. Neither Licata nor his firm owns shares of Chesapeake Energy.
Shares of Chesapeake Energy have rebounded sharply since the news in mid-May that CEO Aubrey McClendon had been mixing business with personal investments.
But even with a more than 50% jump from the lows of three months ago, the stock may still have some more room to run. Why? Just look at the pump the next time you refill your car. The price of gasoline has suddenly crept higher. And with prices getting close to $4 a gallon, conversations about gas alternatives are again making the rounds.
This should help Chesapeake (CHK), which has a growing presence in compressed natural gas, a type of fuel that is expected to be used more by consumers. Chesapeake formed a relationship with General Electric (GE) in March to work on more natural gas solutions in the transportation industry.
The Department of Energy is increasingly giving larger amounts of funding to organizations in major cities that support lowering emissions—something compress natural gas can deliver.
And since this type of gas costs roughly half the price for regular gas at the pump -- prospects for this fuel source seem bright. Currently, Honda (HMC) is the only major automaker that manufactures light-duty vehicles running on compressed natural gas in the US. But it may soon have more competition.
Mick Cornett, mayor of Oklahoma City, has publicly endorsed the use of compress natural gas lately. So Chesapeake, which is based in Oklahoma City, may be in the enviable position of having home-team advantage in the state as new planning and permitting go into effect.
Gaining local contracts and proving compressed natural gas is a real business will only validate it as a fuel source that this country clearly needs to offset dependence on foreign oil while also reducing emissions. This may be why 22 states are joining forces to solicit American carmakers to build compressed natural gas-powered vehicles for state fleets.
Related: How the U.S. can avoid a blackout like India's
Of course, Chesapeake still faces some big risks, namely depressed natural gas prices remaining near multi-year lows. The company may also be forced to take some charges due to bad hedging strategies. There may also be further fallout from the McClendon scandal. What's more, the infrastructure build-out for compressed natural gas fueling stations is still in its infancy.
However, I do believe natural gas prices may have finally bottomed out. And with more people talking about using natural gas a "bridge fuel" to move away from crude oil, prices could actually surprise to the upside in coming months.
And if Oklahoma's embracing of compressed natural gas can be the template, other cities and states around the country may follow. And that could mean that more vehicles running on compressed natural gas will actually come to market sooner rather than later.
This would put Chesapeake, the 2nd largest producer of natural gas in the United States behind Exxon (XOM), in the enviable position to generate substantial revenue and profits. That makes the recent deal with GE an even more intriguing development to keep an eye on -- and it may mean that the worst really is over for Chesapeake and its investors.