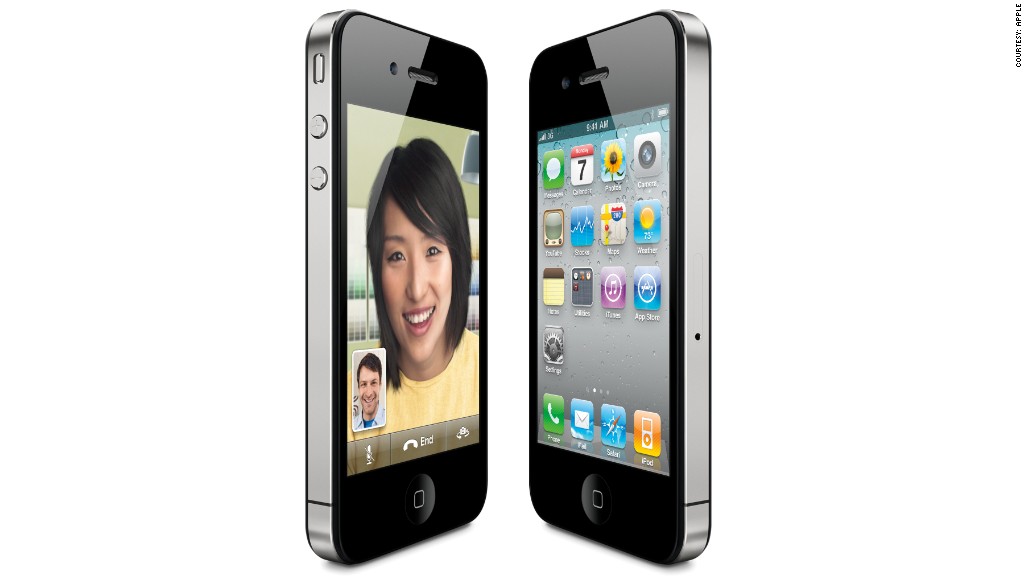 AT&T is vigorously defending its controversial plan to restrict wireless access to Apple's FaceTime app for certain iPhone customers.
The heated battle between the carrier and its critics could have broad implications for how cell phone companies can control bandwidth-intensive apps in the future.
The public brouhaha started last week, when AT&T (T) announced that it would allow access to the upcoming version of Apple's FaceTime video chat app over the cellular network only to customers with AT&T's new "Mobile Share" data plan.
When carriers restrict apps, consumer advocates get twitchy. Several accused AT&T of violating the government's net neutrality regulations, which are designed to prevent carriers from placing certain restrictions on mobile apps.
AT&T's chief legal officer, Bob Quinn, lashed out at the company's critics in a blog post on Wednesday, saying opponents "rushed to judgment" with a "knee jerk reaction."
AT&T is limiting FaceTime "out of an overriding concern for the impact this expansion may have on our network and the overall customer experience," he said.
All AT&T customers can use FaceTime on Wi-Fi, but those with Mobile Share -- a new billing structure that AT&T is trying to migrate customers onto -- will have cellular access. That restriction is within AT&T's legal bounds, Quinn claimed. As long as AT&T is transparent about its FaceTime policies and does not block a competing app, it's in the clear, he said.
He also said that the Federal Communications Commission's net neutrality rules "do not regulate the availability to customers of applications that are preloaded on phones." Since FaceTime is installed on the iPhone by Apple, it is outside the purview of the FCC's regulatory authority, according to Quinn.
"Therefore, there is no net neutrality violation," he said.
That's a jaw-dropping argument. Your average consumer isn't going to draw distinctions between apps they've downloaded and apps that come already installed on their phone.
"AT&T is trying to invent a loophole in the rules," said S. Derek Turner, research director of Free Press, a tech policy advocacy group. "FaceTime allows people to reduce their use of voice services, but AT&T is making you buy unlimited voice in order to use FaceTime over mobile."
The FCC declined to comment on the issue.
AT&T's legal justification has a few glaring holes. The company's tiered data plans are set up so that heavy data users pay more for their usage. So why restrict them from using a bandwidth-intensive app like FaceTime if AT&T already has safeguards in place to manage heavy downloads? If someone gobbles up lots of FaceTime data, they'll be paying AT&T for every bit of it.
An AT&T spokesman declined to comment beyond the blog post.
AT&T's Mobile Share plans allow customers to share one allotment of data across multiple devices. That can be cheaper for heavy users than AT&T's tiered plans, but for the lightest users, the new plans are generally more expensive.
Cell phone companies are pushing customers to migrate to the new data-sharing plans to stabilize their revenues and shore up their bottom lines. Critics suspect that AT&T is using FaceTime restrictions as a stick to get customers to join.
Carriers are developing a pattern of playing chicken with regulators when they want to test the lines.
The Federal Communications Commission recently smacked Verizon (VZ) for blocking its customers from accessing "tethering" apps, which let customers share Internet across multiple devices. Verizon agreed to pay a $1.25 million settlement and drop its blockade -- but by then, it was a moot issue for most customers. Verizon's new metered, billing plans had already ended the carrier's need for tethering restrictions.
If the FCC doesn't challenge AT&T -- or if AT&T's legal argument prevails -- public advocacy groups worry that this will open the door for wireless carriers to restrict other Android, Apple (AAPL) or Windows applications. Apps like FaceTime compete with the carriers' voice and texting options, they note.
Other wireless providers have so far stayed mum on the issue.
It will come to a head in a few weeks, when Apple is widely expected to release the latest version of its iOS mobile operating system. Apple announced in June that the update would open up FaceTime to cellular networks for the first time. Previously, the app had only been available over Wi-Fi networks.