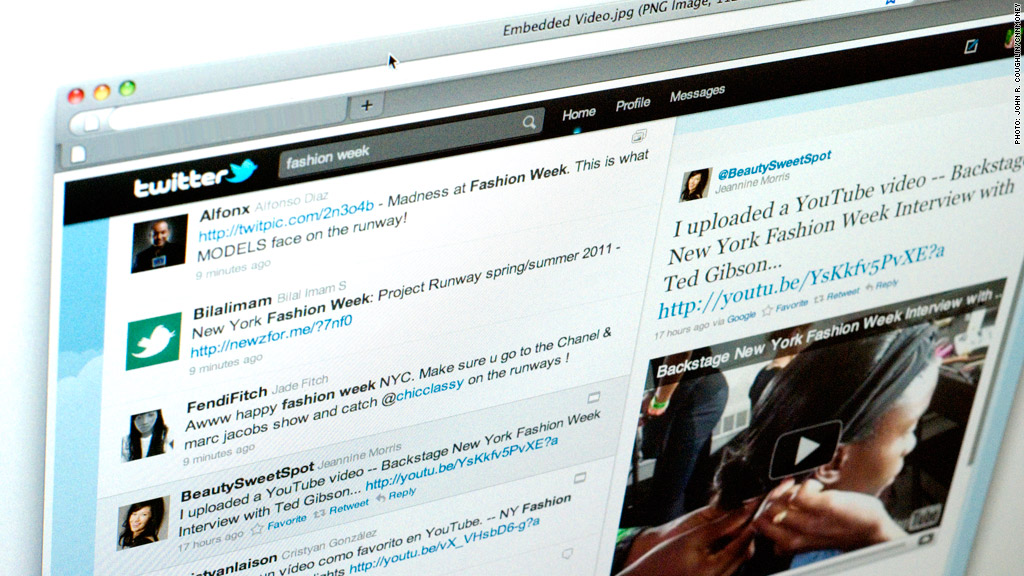 Twitter is cracking down on how developers use its content -- and many popular apps are getting caught in the crosshairs.
Twitter warned in June that "stricter guidelines" were coming for use of its application programming interface (API). That's the software link that grants access to tweets and other data.
A blog post published last week detailed those changes -- and it immediately set off a firestorm. Among other new rules, the policy requires developers to get permission from Twitter in order to grow their user audience and tightly limits access to Twitter's map of user connections. The new mandates even dictate that a tweet must be displayed almost exactly how it appears on Twitter.
As a result, users are starting to see changes -- and even disappearances -- in some of their favorite Twitter-linked apps. Blogging site Tumblr found its Twitter API access revoked late Wednesday, effectively shutting down the site's "Find Twitter Friends" option. Photo app Instagram lost the same feature last month, shortly after Twitter ended its tweet-syndication deal with LinkedIn (LNKD).
Developers have been complaining about the new mandates in blog posts and, somewhat ironically, tweets. They're frustrated that after years of encouraging third-party app development, Twitter is yanking the rug out from under many of its partners.
"They have a right to do what they want with their own API, but it changes what Twitter is about," said Burt Herman, co-founder of social curation site Storify. "Twitter was built up on the backs of developers. And some apps are arguably a better use of Twitter for users than Twitter is itself."
Even some of Twitter's own employees are vocally displeased. "This @tumblr business just stinks," Twitter engineer Alex Choi tweeted Wednesday night.
Twitter did not immediately respond to a request for comment about the changes.
Among the new rules: Apps will now be limited in how many times per hour they can access Twitter's API. Some apps that attract more than 100,000 users will need permission from Twitter to add more users. And tweets that are grouped together in a timeline cannot be included with "non-Twitter comment" -- a problem for popular apps like Flipboard and Storify that combine multiple social-media streams.
Twitter made it especially clear that it doesn't want anyone copying its core business. It took specific aim at "'traditional' Twitter clients" like Tweetbot and Echofon, which aim to replicate what Twitter does but add an easier user interface.
Twitter signaled last year that it didn't like those kinds of apps. It bought out the most popular independent client app, TweetDeck, and suggested that it would start cutting off the oxygen supply for the rest.
"Nearly eighteen months ago, we gave developers guidance that they should not build client apps that mimic or reproduce the mainstream Twitter consumer client experience," Michael Sippey, Twitter's director of consumer product, wrote on the company's blog last week. "That guidance continues to apply today."
For apps that aren't traditional Twitter mirrors, things are more confusing. For example, the "no grouping content in a timeline" rule flies directly in the face of Storify's model. But, in response to tweeted outrage, Twitter's product director Ryan Sarver later tweeted that Storify is "a good example" of what Twitter wants to see in outside apps.
Related story: Pop went the social media bubble. Now what?
That confusion fueled a post from Instapaper creator Marco Arment, who took to his influential blog to detail his take on the new guidelines. He had particularly harsh words for the 100,000-user limit before app makers require special permissions from Twitter.
"Translation: 'Once you get big enough for us to notice, we're going to require you to adhere to more strict, unpublished rules to make sure you don't compete with us or take too much value from our network,'" Arment wrote.
He's concerned about the new rules' murkiness. "Effectively, Twitter can decide your app is breaking a (potentially vague) rule at any time, or they can add a new rule that your app inadvertently breaks, and revoke your API access at any time," he wrote.
Others said the criticism was overblown. Tech writer Anil Dash wrote a post calling the changes "mostly pretty reasonable," though he conceded that the rules were written vaguely enough to make developers uneasy.
"The people who most eagerly participate in the pile-on usually have the least skin in the game — they just want to complain," Dash wrote.
Hunter Walk, the director of product management at Google (GOOG), said Twitter did developers a service by at least finally releasing the rules: "Regardless agree/disagree w new @twitter API requirements I'm glad they ripped band aid off, gave clear guidance to devs," he tweeted.
But that isn't enough to keep developers from feeling shafted, said Herman, the Storify co-founder: "They can do whatever they want with their API, but it's clearly sparked a lot of bad feelings."
"The Twitter founders always talk about freedom of expression, but it seems like that has somehow shifted," he added. "You can't control freedom of expression on the Internet."