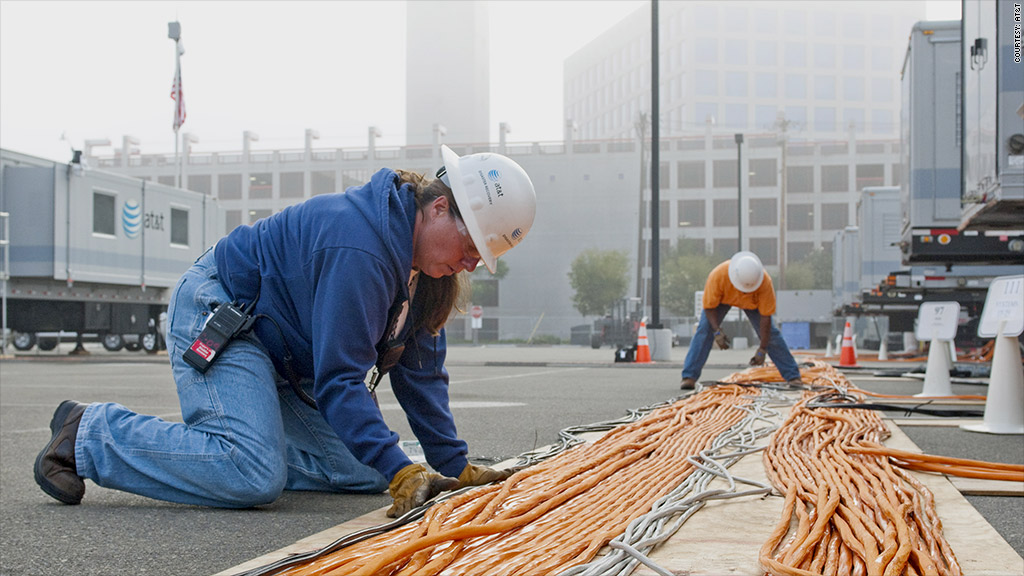 With Tropical Storm Isaac heading towards Florida, wireless carriers are once again getting ready to ensure their networks stay up and running.
Punishing winds and blackouts could knock out cell towers, which serve as the only mode of communication for an increasing number of Americans as well as a crucial tool for police and first responders. Each cell phone company has similar ways to deal with major storms.
As a storm approaches, carriers ready a fleet of emergency equipment with some peculiar, farm-like names: COWs (Cells On Wheels), COLTs (Cells On Light Trucks), and GOaTs (Generators on Trailers). Then the waiting begins.
These temporary cell towers, generators, diesel trucks and sand bags are stationed along the storm's edge, and action teams are on standby to roll in with them as soon as something goes down. Once the storm hits, the carriers' monitoring centers look for any signs of trouble.
Related story: Haiti sits in strengthening Isaac's path
Flooding and winds can sometimes threaten cell towers, but most are strong enough to handle the worst that a Category 5 hurricane can bring. Sprint's (S) towers, for instance, are built to withstand winds of up to 110 miles per hour, a company spokeswoman said.
Power outages are by far the biggest threat to cell towers during a hurricane. That's why many towers in frequently hit storm areas have battery backups, which can power the cell for a day or two. Many also have backup diesel generators if the battery fails, and cell phone companies typically have contracts with local diesel providers to refill generators.
"When something happens, we want to make sure we're first in line for diesel, so we can continue to provide wireless signal to our customers," said Tom Pica, spokesman for Verizon (VZ).
AT&T (T) maintains two fueling partners in each strategic location, just in case one should be unavailable in the thick of a storm. Pete Cornell, head of AT&T's core network field operations, said that to be extra sure AT&T and its partners are prepared for outages, the carrier runs all of its suppliers through quarterly "Hurricane Phantom" exercise drills.
In particularly bad storms, however, sometimes cells that have gone dark become unreachable. That's when the cell phone companies roll out the COLTs and COWs, forming makeshift cell towers in an attempt to maintain constant coverage.
That's crucial for first responders. Each of the biggest carriers also has a special team that works directly with law enforcement to ensure they have capacity to communicate in a disaster. Sprint's Emergency Response Team is a group of about 20 to 30 engineers, most of whom have military training. They provide first responders with special cell phones and help prioritize network recovery for emergency workers.
Carriers even have contingency plans for the massive switching stations that all the towers connect to. For instance, Verizon built its Florida switching stations with impact-resistant windows, hardened concrete, reinforced steel roof grids and redundant backup power generation. If the workers stationed directly in the hurricane's path are in harm's way or stranded, the stations also serve as shelters.
All those precautions may sound unnecessary, but sometimes they pay off in big and unexpected ways.
When Verizon was first established 12 years ago through a merger of Bell Atlantic and GTE, the newly formed company did an assessment of its infrastructure, and it found that the switching center in New Orleans was below sea level and dangerously susceptible to flooding in the event of a major hurricane. One of the company's first decisions was to move that center out of the city and onto higher ground.
When Hurricane Katrina devastated the region, the switching center remained operational.