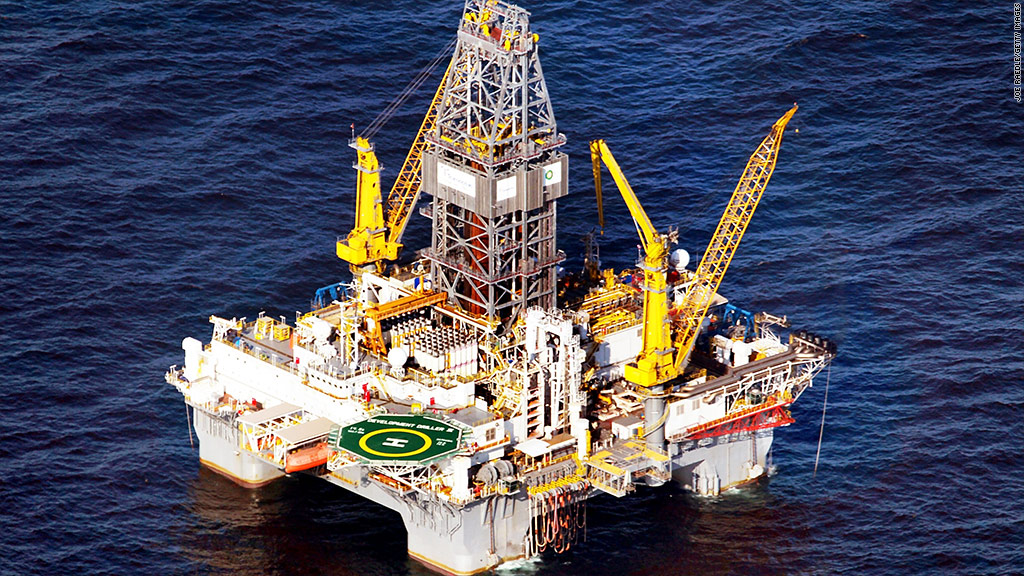 Tropical Storm Isaac is curtailing oil production along the Gulf of Mexico and threatening refineries, which could send already rising gasoline prices up another 10 cents in the coming week.
The U.S. Bureau of Safety and Environmental Enforcement, which oversees offshore oil production, said Monday that 78% of the current daily oil production in the Gulf of Mexico has been shut, with 346 platforms and 41 rigs evacuated. In addition, more than 48% of natural gas production in the Gulf has also been halted.
BP (BP) said it is evacuating workers and temporarily shutting down output at all of its production platforms in the Gulf. Royal Dutch Shell (RDSA) said it is evacuating its platforms in the eastern Gulf, and has started to remove nonessential workers from the central Gulf area. Chevron (CVX) has started to remove some staff from its offshore facilities as well, though the company said its production and refinery output has not yet been affected.
Apache Corp. (APA) and Anadarko Petroleum (APC) also confirmed they were evacuating staff from their offshore facilities. Exxon Mobil (XOM) said it is monitoring forecasts to determine which facilities it may need to shut, and is already evacuating nonessential personnel from offshore locations.
Related: Cell phone carriers get hurricane ready
But it's not just the offshore platforms being shut down.
Four refineries in Louisiana, which between them account for more than half of the state's 2 million-barrels-per-day of refining capacity, were in the process of being closed.
Valero (VLO) said it is shutting two refineries: one in Lake Charles, La. that can handle 270,000 barrels a day, and one in Meraux that has capacity for 140,000 barrels a day. Marathon (MRO) is shutting its 490,000-barrel capacity refinery in Garyville, La., and Phillips 66 (PSX) announced its 247,000 barrel-per-day Alliance Refinery in Belle Chasse, La., should be completely shut by the end of the day. But Phillips' 239,000 barrel-per-day Lake Charles Refinery in Westlake, La., remains unaffected at this time.
"There's panic right now that this could stage a direct hit on New Orleans or the Chevron refinery in Pascagoula [Mississippi]," said Tom Kloza, chief oil analyst for the Oil Price Information Service. "The refineries, once they're within 24 hours of either tropical storm or hurricane force winds, they have to start a shutdown. You can't just flip a switch. But this should not be a Katrina-like event."
Depending upon where Isaac comes ashore, it could lead to additional refinery shutdowns along the Gulf Coast, which would result in higher gasoline prices and hurt drivers who have already been dealing with gas prices at their highest level since early May.
While the average price of a gallon of regular gas is still down nearly 9% from its record high of $4.114 in July 2008, prices could shoot up another 10 cents fairly quickly depending upon the extent and duration of the refinery shutdowns, according to Kloza. But prices could just as quickly come back down within a week or two after Isaac passes through.
The average prices of a gallon of regular gas hit $3.75 Monday, according to motorist group AAA. Gas prices have gained more than 7% in August. Refining and transportation problems across the Midwest and West Coast account for some of the rise, and worries about Iran and chaos in Syria haven't helped. The latter worries have pushed up oil prices, which have gained 11% from the end of May.
Expectations by some investors that the Federal Reserve might announce a new round of stimulus is also to blame for the recent rise in oil prices. U.S. crude prices eased Monday, sliding $1.23 to $94.92 a barrel.
Isaac follows Katrina's path: CNN
While the eye is expected to pass well west of Tampa, site of this week's Republican National Convention, the National Hurricane Center issued a tropical storm warning from Intracoastal City, La., to Morgan City, La. That means the storm is on track to possibly hit much of the refining capacity near and around New Orleans, following a path very similar to that of Hurricane Katrina in 2005.
When Hurricane Katrina swept through, the average price of regular gas quickly spiked to what was then a record high. And while it took about two months for gas prices to come back down, most hurricanes don't reach Katrina's magnitude.
Isaac hit Cuba and the Florida Keys Sunday before moving into the Gulf of Mexico.
--CNN's Katy Byron contributed to this report.