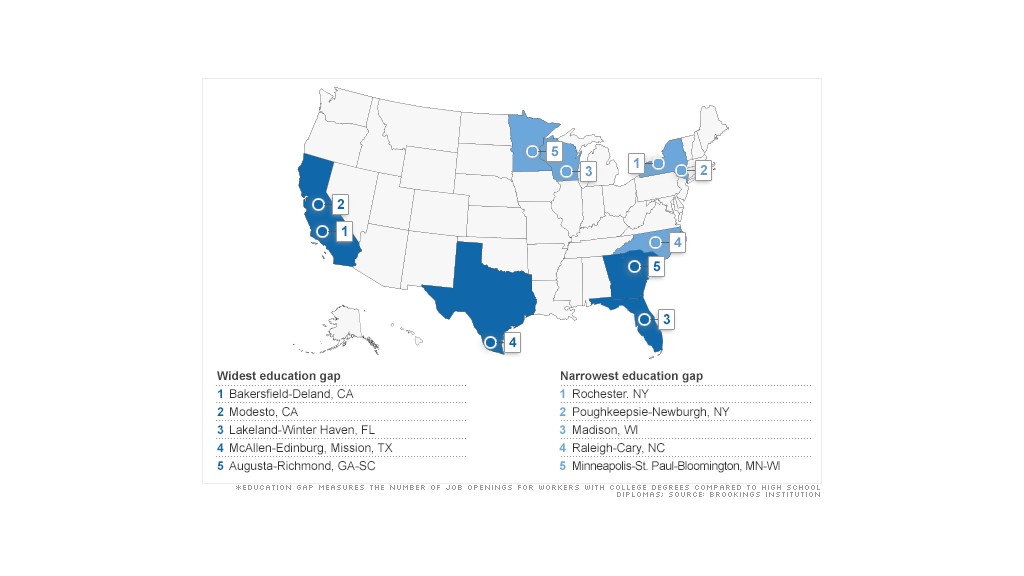 Having a college degree can give you a leg up on those with only a high school diploma, but just how much of an advantage depends on where you go.
Some of the widest gaps between job openings for workers who have college educations and those who don't are in central California, according to a new report by the Brookings Institution's Metropolitan Policy Program.
In the Bakersfield, Calif., metro area, there were 18 times the number of job openings for college grads versus those with high school diplomas or less in 2010.
One of the main problems there is that the residents have little education so they don't have many opportunities. Most of the jobs are in agriculture or oil production.
"A high school degree is no longer going to cut it," said Richard Chapman, head of the development organization, noting that companies are looking for skilled workers. "The worst thing is to have a job opening and no one to fill it."
Related: Best places for job growth
The Brookings report analyzed the educational requirements for new jobs in the nation's 100 largest metro areas. It found that places with a greater concentration of college graduates have better job prospects for both those with degrees and those who just finished high school.
That's because educated workers tend to be paid more and spend more on restaurants, shopping and personal services -- all of which are often staffed by people who didn't go to college, said Jonathan Rothwell, senior policy analyst at Brookings, who authored the report.
"Metro areas with highly educated workers create opportunities for less educated workers," said Rothwell.
For example, upstate New York had the narrowest gaps. In the Rochester and the Poughkeepsie metro areas, the differential between jobs for the college educated and the non-college educated was only 1.7 times.
That's due in part to the University of Rochester and affiliated Strong Memorial Hospital, which both offer jobs that require a lot of education and not a lot of education.
"You need a lot of support staff in addition to doctors and professors," said Ryan McDevitt, an assistant economics professor at the university's Simon Graduate School of Business.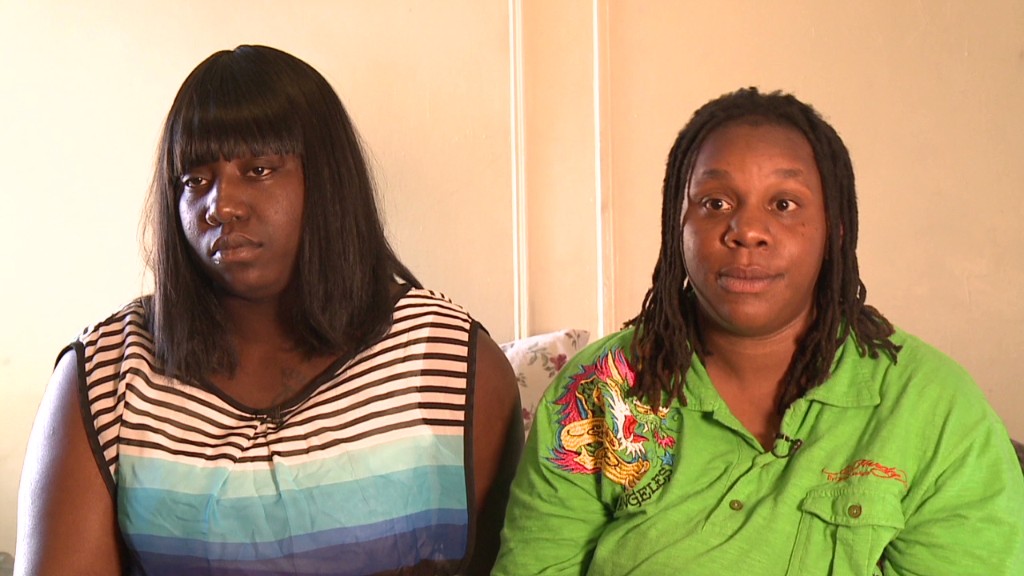 American workers' education levels have come into the spotlight as the nation struggles to pull itself out of the Great Recession. Many employers have complained that they have job openings, but can't find workers with the skills needed to fill them.
Those without a college education have many fewer jobs to apply to, the Brookings report found. Only 24% of jobs in 2012 were available to those in this category, as opposed to the 43% of postings open to those with college diplomas.
"The problem is that there aren't enough job openings for less educated workers," Rothwell said.