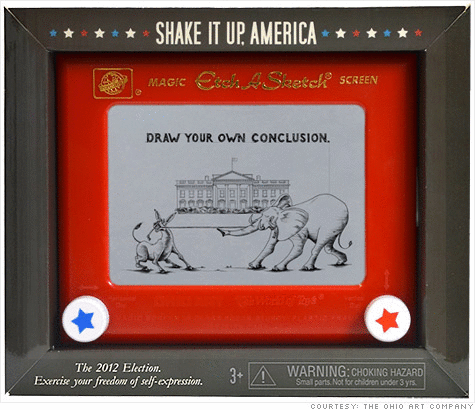 Months after an aide to Mitt Romney made his now infamous "Etch A Sketch" gaffe, the company that makes the iconic toy is still trying to cash in on it.
The Ohio Art Company has started selling limited-edition election versions of its Etch A Sketch for $19.99. The products come in two colors: red and blue, with a cover sticker showing a donkey and an elephant in a tug of war in front of the White House.
The new products, of course, were inspired by comments
during a CNN interview in March by Eric Fehrnstrom, a Romney senior campaign adviser. Fehnrstrom suggested that the campaign could "like an Etch A Sketch," change its tone and "shake it up and restart all over again" as the general election neared.
The remark drove a 30% spike in Etch A Sketch sales the following week, said Martin Killgallon, the company's senior vice president of marketing. The Killgallon family holds a majority ownership of The Ohio Art Company.
"We never thought something of this magnitude would happen," he said. "I got hundreds of calls about it that day. Etch A Sketch was also the most-tweeted that week."
Related: 5 back-to-school buys
Killgallon said the company immediately started plotting ways it could capitalize on its unintended fame during the fourth quarter -- when toymakers make a bulk of their sales and profits for the year.
Earlier this month, Ohio Art revamped its Etch A Sketch website as ShakeitupAmerica.net. Visitors to the site can buy the special election Etch A Sketch or cast votes in an informal presidential poll.
The company is also selling the election products in independent toy stores and boutiques.
The promotional push includes bumper stickers, lawn signs, T-shirts and social media ads.
Among the slogans: "Etch A Sketch is a lot like politics. There's a lot of gray area" and "We have a left knob and a right knob for each political party."
Since Etch A Sketch debuted in 1960, the company has sold more than 150 million of them.
"It's our flagship brand," said Killgallon. He hopes the company's cheeky strategy will remind consumers about Etch a Sketch as they prepare this year's holiday gift lists.
His other wish: "Maybe the candidates will say they are Etch A Sketch candidates and they're ready to shake things up."