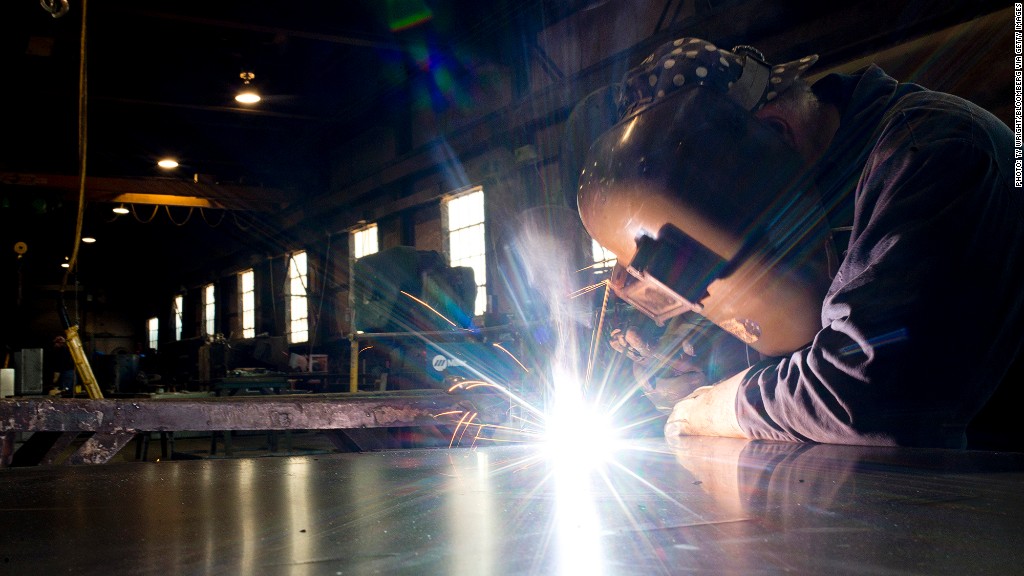 Manufacturing activity in the U.S. slumped again in August, contracting for the third straight month.
The Institute for Supply Management reported Tuesday that its monthly index slipped to 49.6.
Economists had been expecting the index to come in flat with a reading of 50, according to Briefing.com consensus.
That's compared to an ISM index reading of 49.8 in July. June's reading of 49.7 ended what had been a 34-month-long growth streak.
Any reading below 50 represents contraction, while any reading above it shows growth.
The ISM report also showed that new orders declined, with that reading dropping to 47.1 in August from 48 the prior month.
"When we talk to manufacturers, they tend to be very anxious about slowing sales globally," said Chad Moutray, chief economist for the National Association of Manufacturers.
Wall Street soured on the news, and stocks fell after the report was released.
Related: Manufacturing isn't just a man's job
But the contraction in manufacturing seems to run counter to the employment part of the index, which showed a growth in hiring. The index for employment slipped to 51.6% in August, from 52% the prior month, but still showed expansion.
Manufacturers in the United States are having trouble finding qualified workers for their job openings, despite high unemployment.
"Almost every manufacturer I talk to says they're having trouble hiring workers, so they're trying to fill the gap," said Moutray.
Robert Kavcic, analyst for BMO Capital Markets Economics, said the employment index is at its lowest level since November 2009 "and hints at more subdued growth in manufacturing jobs ahead of Friday's much-anticipated payrolls report."
The stagnant manufacturing industry isn't just a U.S. problem. The ISM report follows recent data on Chinese manufacturing that showed weakness in Chinese factories.
On Monday, a closely followed report from the bank HSBC said that export orders for Chinese factories slid at their sharpest rate since March 2009. On Saturday, the Chinese government said its official manufacturing index fell to 49.2 in August, from 50.1 the prior month.