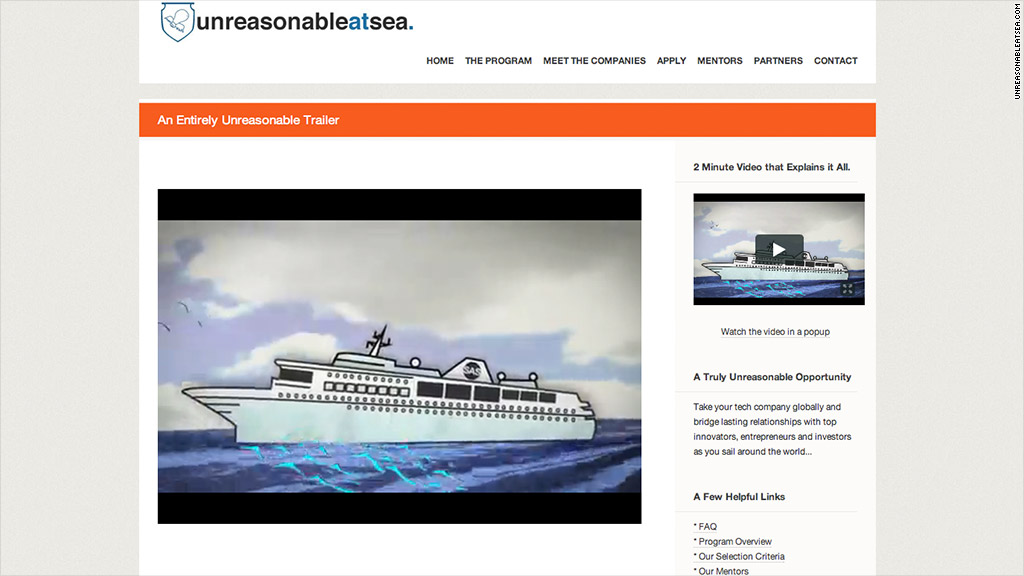 When you combine one boat with 26 hackers and 100 days at sea, what do you get?
The voyagers hope it adds up to real-world solutions for the globe's most pressing issues -- from climate change to poverty.
Unreasonable At Sea, a new program aimed at creating technology to solve big problems, will put 11 teams of hackers, scientists and entrepreneurs from 16 countries onto a ship in January to see what bright minds in a confined space can come up with.
The teams include a water purification startup, a company that is developing technology to give sight to the blind, a group that makes digitally programmable and rechargeable hearing aids, and a company building affordable and fuel-efficient stoves.
Sailing 25,000 miles across the sea on a a 590-foot MV Explorer boat is just part of the equation. The program's DNA is based on a hacker mentality: get the idea out there to see how it sticks. The boat will dock at 14 ports, including parts of China, India, and Spain, giving the entrepreneurs the opportunity to bring their ideas to land.
Entrepreneurs will be given a short amount of time to meet with local tech giants, government officials, and influential investors before heading back to the boat for the next leg of the trip.
Related story: 3 startups that want to make your life easier
Entrepreneur Daniel Epstein, who's spearheading the project, calls it "a grand experiment in transnational entrepreneurship."
Exploring vastly different cultures and financial systems around the world will give the startup founders the ability to fine-tune issues a company may face when bringing an international product to market, Epstein noted.
To help fuel their innovations, the ship will house a number of influential mentors at various legs of the journey: Archbishop Desmond Tutu will board for eleven weeks, Wordpress founder Matt Mullenweg plans to jump on the boat, and Behance founder Scott Belsky will drop by for the China leg of the trip.
"I thought it was a bold idea," Belsky said. "Sometimes when you get a bold task, you think ... they're on to something."
The atypical structure of the program sets it apart from other efforts with the same goal. It's a big change from the string of typical tech conferences, accelerators and incubators, he noted.
But will four months at sea really help solve some of the world's most pressing problems?
"It just seemed crazy enough to work," Mullenweg said.
According to the event planners, the name 'Unreasonable' defines the premise of the journey. It comes from a famous quote from playwright George Bernard Shaw.
"The reasonable man adapts himself to the world; the unreasonable one persists in trying to adapt the world to himself," Shaw wrote. "Therefore, all progress depends on the unreasonable man."