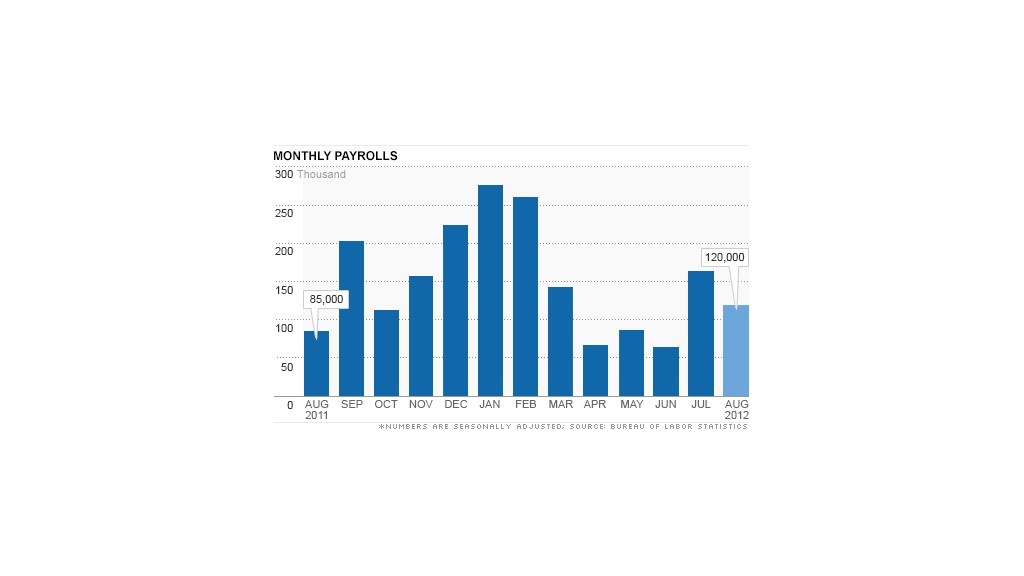 The stakes are high and the forecast is gloomy, ahead of the August jobs report scheduled to be released Friday by the Labor Department.
A month ago, that report showed businesses added 163,000 jobs in July. Job gains at that level were the strongest in five months, but still were not robust enough to keep up with population growth. The unemployment rate ticked up to 8.3%.
Unfortunately, August doesn't look like it fared much better.
Employers probably added about 120,000 jobs, keeping the unemployment rate at its current level, according to economists surveyed by CNNMoney.
The August jobs report is a critical one, given the Federal Reserve meets less than a week later.
The balance seems tipped in favor of doing more to stimulate the economy, after Fed Chairman Ben Bernanke said last week that the job market remains a "grave concern" causing "enormous suffering and waste of human talent."
Related: Bernanke paves the way for more stimulus
As long as hiring remains at its current sluggish pace, one month of data is unlikely to change Bernanke's diagnosis.
Meanwhile, job growth around 120,000 is also unlikely to give President Obama a boost before the election. There are only three more monthly jobs reports scheduled before the election, and while Obama is close to breaking even on jobs, it's highly unlikely the unemployment rate will fall below 8% by then.
"The soft economic environment that we're having, is not going to be good for any incumbent," said Sam Bullard, Wells Fargo senior economist. "It's a tough sell for anyone in office."
So why was hiring likely slower in August? Economists point to several one-time factors.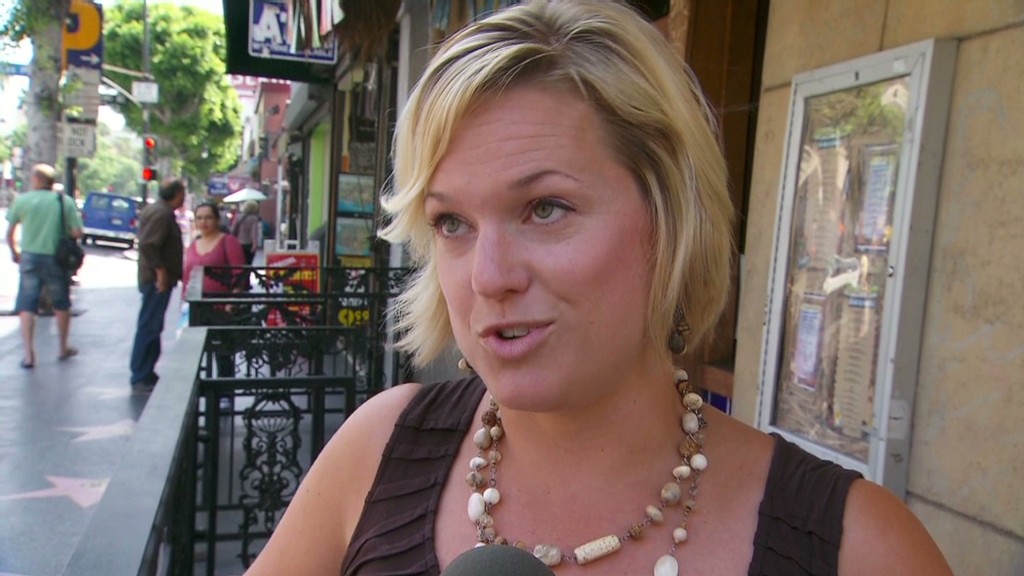 Fewer summer layoffs at auto factories likely distorted the Labor Department's seasonal adjustments and made hiring look artificially strong in the manufacturing sector in July. As a result, there could be a pullback in auto jobs in August.
"The strength we saw in July is just not going to be able to hold up," Bullard said.
Meanwhile, hiring at bars and restaurants also spiked in July, but given consumer confidence has tumbled since then, economists are expecting weaker job growth there too.
"It's one of the first items households will cut out of their budget," said Ellen Zentner, senior U.S. economist for Nomura.
Related: Check the unemployment rate in your state
Adding to the discouraging signs, recent reports have pointed to a three-month slowdown in the manufacturing sector. Hiring at factories had been a strong point in the recovery, but could be subdued in the August jobs report.
Health care, education and professional services are likely to remain some of the strongest sectors for job growth, while the government is likely to continue cutting jobs.
But no matter the outcome, one month will make relatively little difference in a job market still haunted by the financial crisis.
Roughly 12.8 million Americans remain unemployed. And of the 8.8 million jobs lost, only about 4 million have been added back.
"'There's more work to do' -- that seems to be the mantra after every jobs report," Zentner said. "We're still growing jobs, but it's not enough. It never seems to be enough."