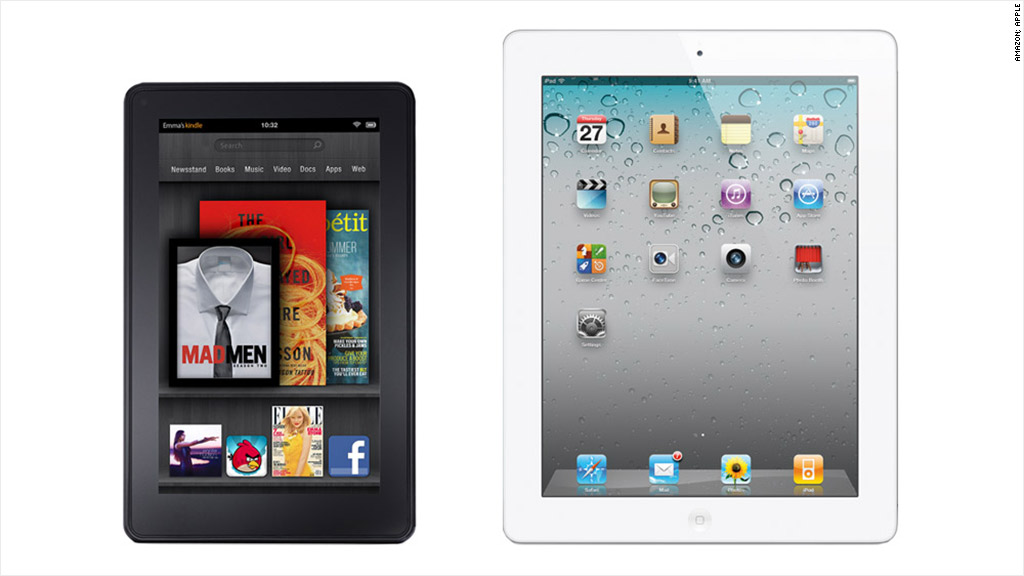 Amazon is expected to release a new version of its Kindle Fire tablet on Thursday -- but if Apple releases a similarly sized and priced iPad this fall, Amazon's tablet may be doomed.
The iPad has absolutely dominated the tablet market since its 2010 release. Its huge app library and best-in-class features have given would-be tablet rivals little room to grab even the tiniest slice of the market.
Of all the tablet makers, Amazon has enjoyed the most success in competing against the iPad. Its strategy: Amazon attacked a smaller segment of the tablet market and went for the jugular on price, undercutting the iPad by $300 with its 7-inch $199 Kindle Fire.
Amazon will likely unveil an improved Kindle Fire 2 at an event in California. But the company's size and price advantage could quickly vanish: Apple (AAPL) is widely rumored to be announcing a similarly sized "iPad Mini" for close to the same cost in October.
Without a key differentiator from the iPad, Amazon (AMZN) will have to re-think its strategy for battling Apple.
"So far the customer's choice is deciding between high end, Apple, and low end, Amazon," said Aaron Kessler, senior research analyst at Raymond James & Associates. "If Apple releases a price competitive [iPad] Mini, that could completely change the low-end market."
The Kindle Fire's eye-popping price and smaller size helped Amazon carve out as much as 14% of the market during the 2011 holiday season, according to IHS iSuppli. The iPad still held 57% of the market that quarter, but taking away that much share from Apple was a minor coup for Amazon.
But if the low-end/small tablet market mirrors that of the full-size devices, Amazon could be in big trouble. Other tablet makers -- like Hewlett-Packard (HPQ), Motorola, and Research in Motion (RIMM) -- learned the hard way that when customers have $499 to spend on an iPad or another tablet for the same price, they're almost always going to choose the iPad.
"Apple [iPad] has been the tablet of choice when people can afford it," Kessler said. "So if pricing were equal, Apple would have the edge. Amazon has to add value in other ways."
Laura DiDio, principal analyst at research firm ITIC, thinks Amazon needs to step it up on both features and price.
"The Kindle Fire is well regarded, but now the question becomes, what are you adding to it?" DiDio said. "Amazon doesn't have to match Apple feature-for-feature, but it does need to run at the iPad hard. Amazon customers love a discount, so I'd love to see them do some promotional pricing."
Related story: 7 best gadgets and gizmos coming this fall
If Apple's iPad Mini is priced at $249 as rumored, DiDio said that's probably enough of a margin that Amazon could keep the Fire at $199. But if Apple matches the $199 price point, Amazon could be forced to drop the Fire's price by $50 or more.
"That could easily happen -- we all know Apple is ruthless," DiDio said. "And they have the deepest pockets in the industry."
Price isn't all that the Kindle Fire has to offer; Amazon could battle Apple with its massive content library of e-books, magazines, videos and streaming music. Amazon has ramped up those offerings recently, by expanding its e-book catalog and inking streaming video deals with Epix and Comcast's (CMCSA) NBCUniversal.
Apple boasts its own strong media platform, but it can't go tit-for-tat with Amazon's platform.
If Apple does come at Amazon with a smaller and cheaper iPad, The Kindle Fire may not be dead on arrival. Yet Amazon's tools to defend its territory are simply blunt compared to Apple's cache.
"The short of it is that an Apple iPad [Mini] will take significant share," said Victor Anthony, analyst at Topeka Capital Markets. "But Amazon never set out to dominate like Apple did, and it doesn't have to. Getting even a small part of this big market is really a success."