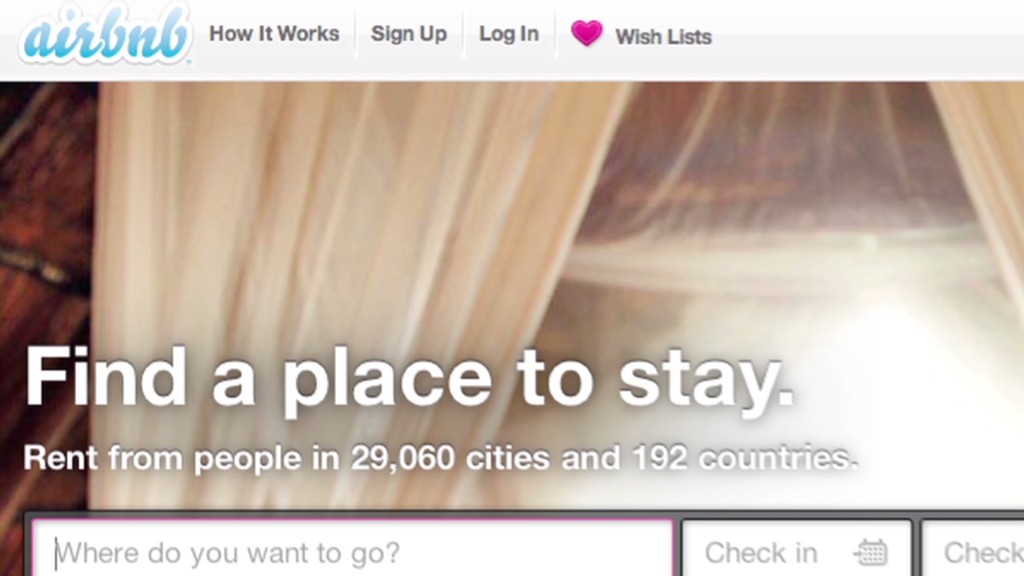 In 2008, when the Democratic National Convention switched from Denver's Pepsi Center to the larger Invesco Field for then-Senator Obama's nomination speech, many were left wondering where the onslaught of visitors would stay.
For Airbnb co-founder Brian Chesky, that was a Eureka moment
"We were thinking to ourselves ... light bulb's going off," he said. "That's where they're going stay: They're going stay at Airbnb homes."
In a matter of weeks, hundreds of people started listing their Denver apartments on Airbnb for visitors to rent. Airbnb allows users to rent out everything from an extra room to a separate home.
"Had it not been for the DNC, it's hard to know what Airbnb would be today," Chesky told CNNMoney. "These things, it's hard to get them going and you need a big kind of pop."
Today, Airbnb is in 192 countries, over ten million nights have been booked, and it has been valued at $1 billion, according to sources close to the company. It has collected $119.8 million in funding from top Silicon Valley investment firms Andreessen Horowitz, DST Global, and General Catalyst. And the service has expanded from the strictly utilitarian: The site has close to 1,000 boats listed for rent, a few hundred castles and over a hundred tree houses.
That's a stark change from 2008, when it was unthinkable to build a successful business on the scary premise of renting your home out to strangers.
Initially shunned by investors, the nearly-broke Chesky and his co-founder, Joe Gebbia capitalized on the political momentum and their Rhode Island School of Design educations by launching a line of branded cereals -- Obama O's and Cap'n McCain.
The crew sold the political collectables for $40 a box in an effort to fund their idea. Raking in $30,000 in funding from those sales, the crew laid down the roots for expansion.
The company's exponential growth hasn't been without speed bumps. In 2011, Airbnb committed to more stringent safety measures after a San Francisco user's home was ransacked. The company now offers 24-hour customer service as well as up to a million dollars to cover damages incurred.
Airbnb also raises a host of legal concerns: Many apartment leases restrict tenants from renting out their homes. Rules vary in apartments, co-ops, even cities and states.
Real estate attorneys have also noted that the people renting out their homes could face liability issues. Most insurance policies do not cover renting out an apartment or house commercially, which is what Airbnb essentially is. Renting out a home could even violate terms on homeowners' mortgages.
Chesky says it's up to users and hosts to understand their agreements.
"Ultimately we see ourselves as a platform," Chesky says. "We ask our host to have a very open, transparent relationship with the people they live with to make sure they can do this."
Nevertheless, Airbnb is now growing 400% year over year. With 10 offices around the world, the company is now facing a whole host of new concerns: global expansion and building a mobile platform.
Much has changed since Airbnb's early days, but Chesky's background in design still rules the way he takes on business and his view of the company and its future.
"You have the ability to design the world you live in and that is incredibly powerful," Chesky says.