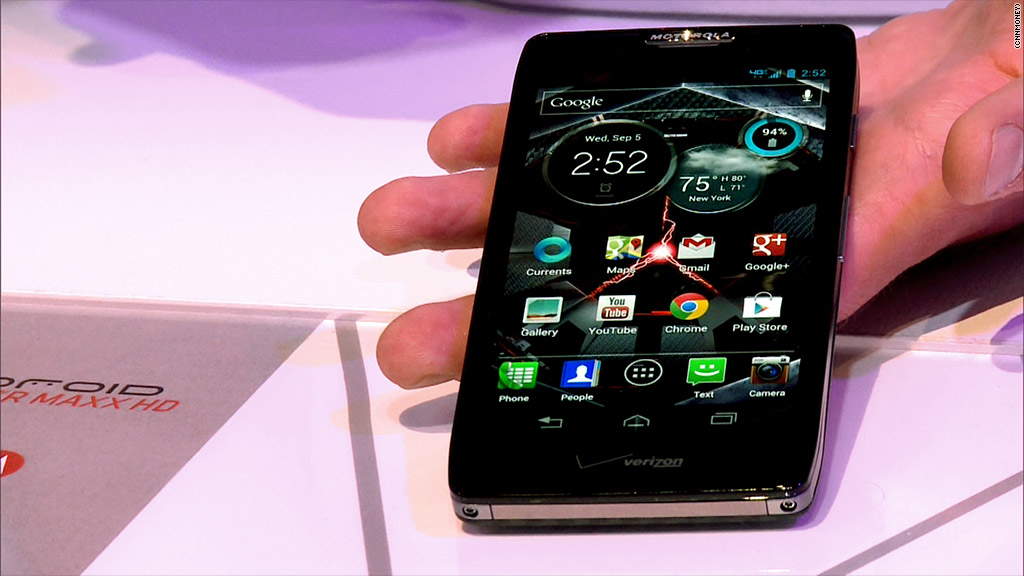 Google's Motorola division unveiled three new smartphones on Wednesday with a clear message to Apple: Get off our lawn.
With Apple's (AAPL) historic $1 billion smartphone patent victory over Samsung still fresh in the minds of the tech industry, Google (GOOG) made sure to note how well insulated it believes it is from an Apple legal assault -- by pointing out just how far Motorola's innovations date back.
At a showcase presentation in New York, the company brought Marty Cooper to the stage -- a former Motorola engineer who headed up the division that developed DynaTAC, the world's first cellular telephone. If that wasn't enough of a reminder of whose coattails the cell phone industry is riding, Motorola CEO Dennis Woodside presented a list of smartphone features that first appeared on the Android mobile operating system - including notifications and turn-by-turn navigation.
Motorola "built the technology that underpins the entire cellphone," Woodside said, in a blatant warning to Apple to keep its legal battle away from Google. The search giant completed its $12.5 billion purchase of Motorola in May, gaining the rights to the cell phone company's portfolio of 17,000 patents.
Related story: Motorola's 83-year history of invention
Battling Apple was the theme of Motorola's entire presentation Wednesday. When unveiling the Droid RAZR M, the Droid RAZR HD, and the Droid RAZR MAXX HD, Motorola took great care to emphasize which aspect of each device was better than Apple's iPhone 4S.
For instance, the company says the Droid RAZR HD has 85% "more color saturation" than Apple's flagship phone, while the Droid RAZR M has "40% more screen area than the iPhone 4S." Motorola also claims that its browser is up to 40% faster than Safari on the iPhone 4S.
With Apple expected to unveil a larger, faster iPhone on Sept. 12, however, those stats might not even matter.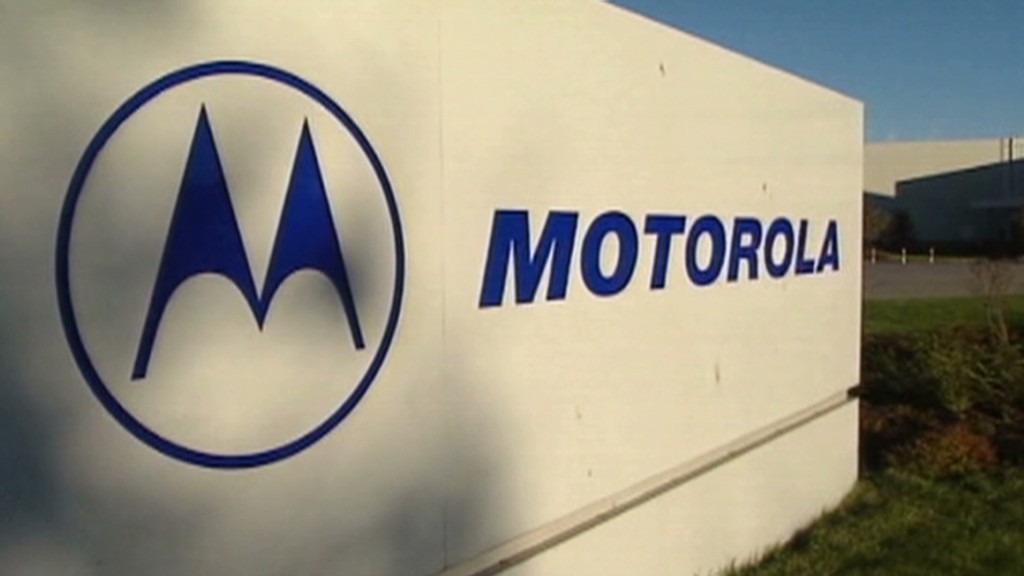 Still, Motorola noted at least one feature certain not to be available on the new iPhone 5: The company is making $550 versions of the phones available for sale called "developer editions," which will enable users to make modifications to the Android code to customize their phones. That's something iPhone users are not able to do without "jailbreaking" their devices and voiding their warranties.
The RAZR M will be available to consumers starting next week, with the other two RAZR phones expected to hit shelves "before the holidays."
How the devices will perform compared to the iPhone remains to be seen. What's clear is that the siren has been sounded: Google believes that with Motorola, it has brought its cavalry to the battlefield -- with its sights set squarely on Cupertino.