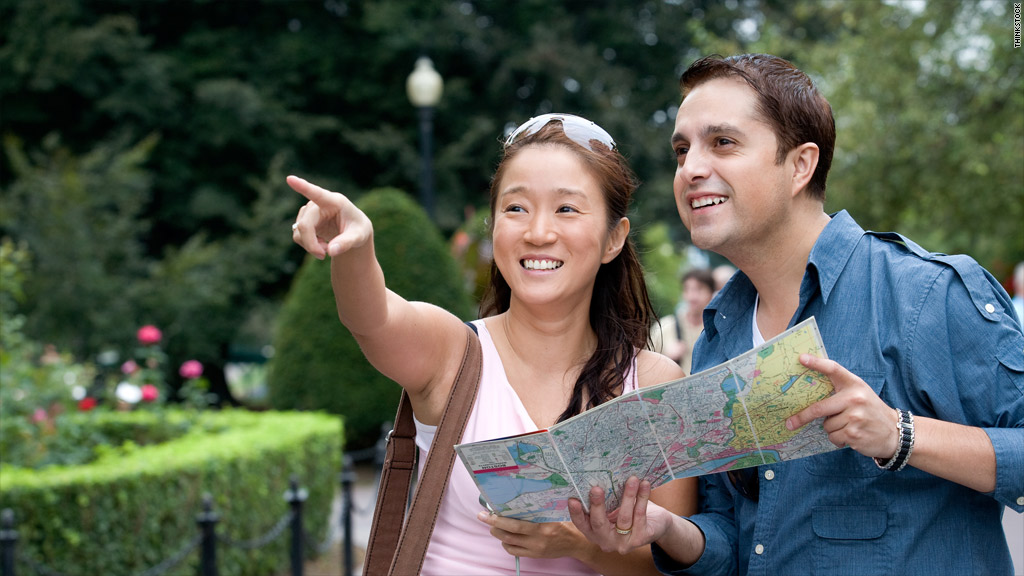 The economic recovery remains sluggish, but that isn't stopping tourists from visiting the United States.
Tourism is on pace to set a record in 2012, as tourism and related sales increased by 2.1% in the second quarter, after a 4.9% increase in the first quarter, according to a Wednesday report from the U.S. Department of Commerce.
Travel and tourism-related activities also increased, on average, more than $1.1 billion a month during the first seven months of 2012, the agency reported separately.
"The travel data released today shows that tourism remains one of the bright spots in our economy, and the travel and tourism industry is on pace to reach record export levels this year," said acting U.S. Commerce Secretary Rebecca Blank.
Tourism has been strong for the past several years, especially when compared to other economic benchmarks.
The Obama administration trumpeted the news, crediting the president's directive to speed up the visa process. The State Department reported that 85% of visa applicants were now being interviewed within three weeks of submitting their applications, compared to 57% in July 2011.
But analysts credit a long-term drop in the dollar's value as the main lure for foreign travelers.
"When the dollar's competitive, it makes the spending power of visitors from other countries coming to the United States stretch further," said David Huether, senior vice president of economics and research at the U.S. Travel Association, a trade group.
The travel industry's growth is responsible for 12% of the economy's overall export gains so far in 2012, as opposed to 6% in 2011, Huether said. When foreign tourists buy goods in the United States and bring them back home, it's considered an export.
New York Mayor Michael Bloomberg told a group of Washington economists that tourism is at record highs in New York, due in part to his efforts to expand tourism offices in 18 countries. In 2011, 10.6 million tourists visited New York City from foreign countries, up from 6.8 million in 2000. Bloomberg said that the tourism increase had created thousands of jobs for the city.