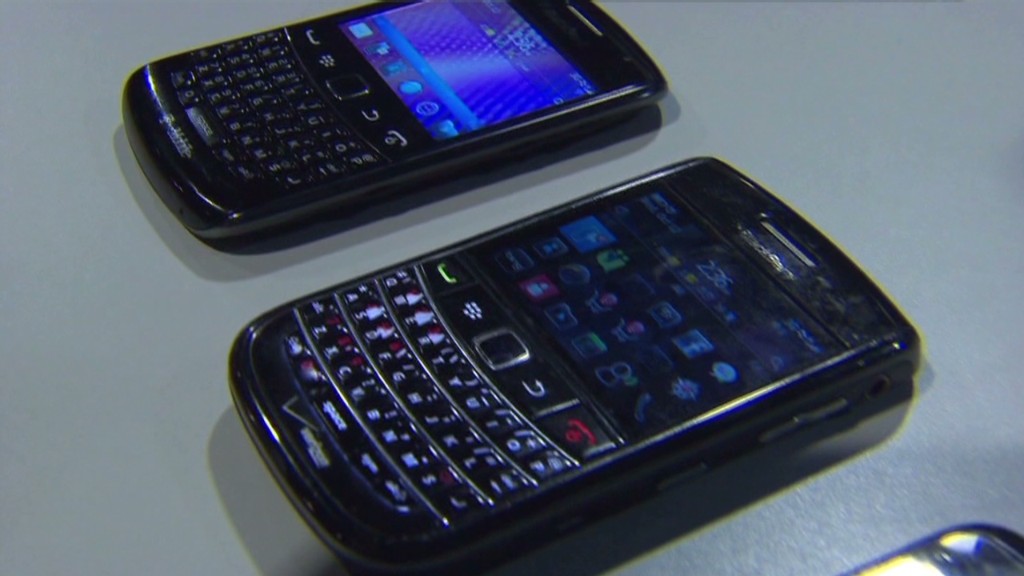 Research in Motion's sales slumped 31% from a year ago, and the BlackBerry maker also swung to a loss. But the results weren't as bad as feared, so investors sent the stock 17% higher in Friday premarket trading.
RIM (RIMM) booked a net loss of $235 million, or 45 cents per share, on sales of $2.9 billion for its fiscal second quarter. RIM turned a profit of $329 million in the same period last year.
Still, the results released Thursday beat the consensus estimate from analysts polled by Thomson Reuters. Wall Street expected a loss of 46 cents per share on sales of $2.5 billion.
The question on everyone's minds is the BlackBerry 10 operating system, which had been slated for release later this year. In June, RIM revealed that BlackBerry 10 wouldn't hit the market until the first quarter of 2013. The news was so damning that critics wondered aloud if RIM could even survive long enough to launch new devices.
RIM mentioned BlackBerry 10 just once in its financial results release, reiterating that it's on track for the early-2013 launch window. But CEO Thorsten Heins conceded that the company is facing many challenges: "Make no mistake about it, we understand that we have much more work to do."
Many analyst questions on a Thursday evening conference call revolved around BlackBerry 10. Heins said the company "plan[s] to be relentless in ensuring the success of BlackBerry 10," and he revealed some details about the rollout plan. The first devices to launch on the OS will be in the mid- to high-end price range. Entry-level phones could also come out next year.
Heins continued the we-have-work-to-do theme while on the call, saying the company is "committed to making difficult choices and significant changes" in order to make it permanently stronger.
Those changes -- which include costs related to headcount reduction, coupled with marketing expenses for BlackBerry 10 -- mean that RIM is expecting an operating loss for the current quarter.
On the positive side, the BlackBerry maker increased its cash position last quarter to $2.3 billion, up $100 million from its fiscal first quarter. The number of BlackBerry subscribers grew 2 million during the past three months to 80 million worldwide.
RIM also broke out sales percentages for each sector of its business. Hardware made up 60%, service revenue comprised 35%, and software rounded out the last 5%.
Although hardware still represents the majority of the company's sales, RIM is stuck in a holding pattern until BlackBerry 10 arrives. The company shipped just 7.4 million BlackBerry smartphones and approximately 130,000 PlayBook tablets during the second quarter.
Meanwhile, everyone from Apple (AAPL) to Nokia (NOK) to Microsoft (MSFT) has released shiny new gadgets recently.
RIM's main problem is its lost stronghold in the corporate market, where it once dominated. Rather than issuing company BlackBerries, many employers now have workers bring their own devices into work. Those workers usually choose Apple's (AAPL) iPhone and Google's (GOOG) Android devices.
Investors are also worried. Before Thursday's big pop after hours, RIM shares had lost half of their value in 2012 alone.