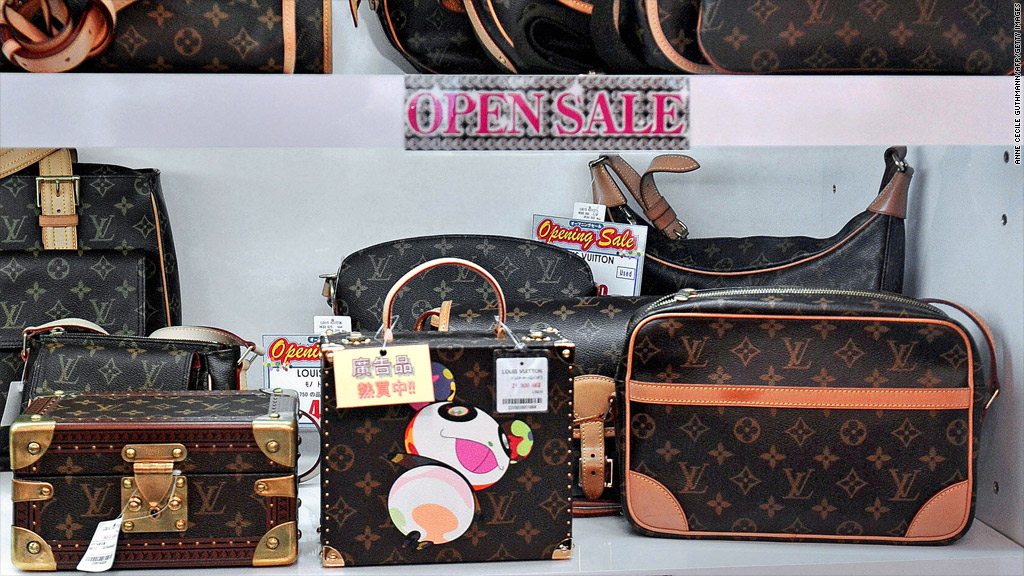 At first blush, it looks like luxury has a China problem.
After a blockbuster 2011, major upscale brands Burberry and Louis Vuitton recently shook up this rarefied world by reporting a slowdown in their China sales.
But the China luxury story is murkier than it appears. That's because sales remained strong at key fashion rivals Prada (PRDSY) and Hermes (HESAF), both of which expect the momentum to continue for the rest of the year.
Retail experts say a shift in the Chinese shopper might be behind these mixed signals.
Chinese consumers are becoming "more sophisticated" in their tastes, and that can hurt overtly luxurious brands, according to a report by HSBC's head of consumer brands, Erwan Rambourg.
"A few years ago, it was common for Chinese men to leave the label sewn to the sleeve of their suits so that people knew what brands they were wearing," Rambourg wrote. Now, he says, these same buyers are moving into more subtle, albeit high quality, designs.
Paris-based luxury brand conglomerate PPR is a good example of this split. Its in-house brand Bottega Veneta sells leather goods without overt logos. Bottega sales soared 62% in the first half of this year.
PPR's other brand Gucci, with its prominent "G" label, had a strong 17% increase in sales, but it paled in comparison with its other in-house brand.
The trend hit other well-known brands particularly hard.
Burberry Group PLC (BBRYF), purveyor of the easily identifiable classic check trenchcoat, issued a profit warning in September. LVMH (LVMHF) Moet Hennessy Louis Vuitton, the world's largest luxury goods group and owner of the famed LV brand, reported its slowest quarterly growth since 2009 this summer. Each company cited China as a reason for its weakness.
Analysts are already taking note of the shift in China. Rambourg cited these taste swings as a reason for upgrading the understated brands Prada and Hermes, and downgrading LVHM Moet Hennessy Louis Vuitton last month.
Related: China's hottest companies
Chinese shoppers' habits are closely watched by luxury brands. That's because China accounts for a quarter of global luxury sales today, compared to 5% just five years ago, according to HSBC.
Luxury shoppers in China want to flaunt their wealth but in more subtle ways, according Patricia Pao, CEO of the Pao Principle, which consults with luxury brands in China. But she said there's more to the story.
Pao said China's one-child policy has also contributed to this shift, since it has led to a generation of "little emperors" among the rich who want to look unique.
The key for luxury brands is their ability to capitalize on these changes. Pao and other experts expect luxury spending to continue to be strong even as the country's economy continues to cool off.
"The luxury market is still moving very quickly," she said. "There's still a lot of money for people to spend, and they're going to be taking a more sophisticated approach. They don't want to just walk around with big LVs anymore."