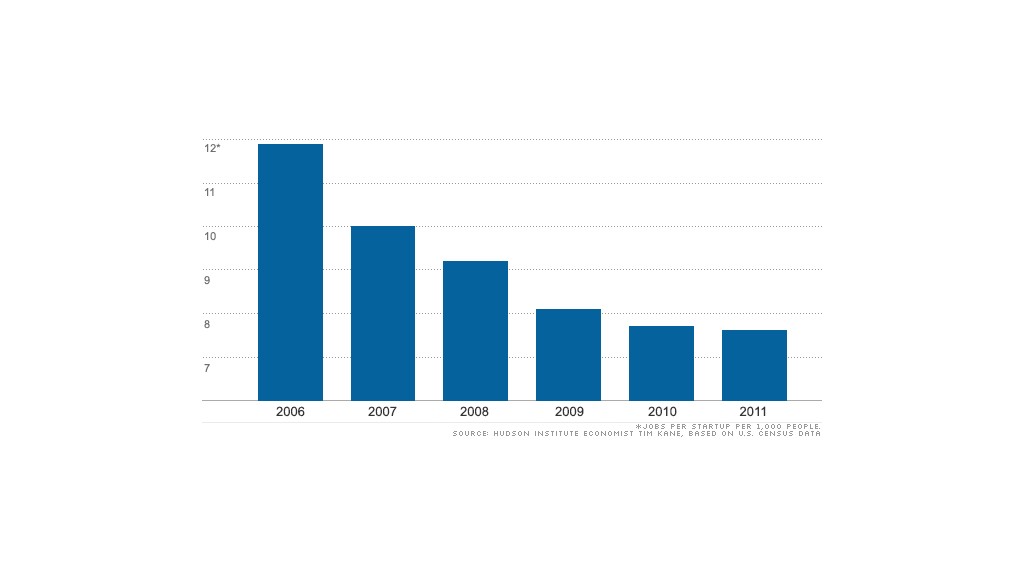 Despite glimmers of good news for job creation, the state of America's startups presents a troubling sign: There are fewer of them, and those that exist are hiring fewer workers.
It's a one-two punch that poses a serious threat to the workforce, because studies have shown that startups are America's true job creators.
Historically, new companies have generated 3 million net new jobs every year. That fell to 2.5 million during the recession, and recent government figures suggest it's only gotten worse.
As for how many jobs they create, Tim Kane, an economist at the Hudson Institute, found a sharp decline.
Related: 9 hot businesses you can start now
Using data from the Labor Department, Kane looked at how many startup jobs were created for every 1,000 people. In the 1980s and 1990s, it held steady at about 11. Kane's estimates show that in 2010 and 2011, it dropped below 8.
"The state of entrepreneurship in the United States is, sadly, weaker than ever," he said in the report.
What's causing the decline? The report doesn't say for certain, although there are some clues.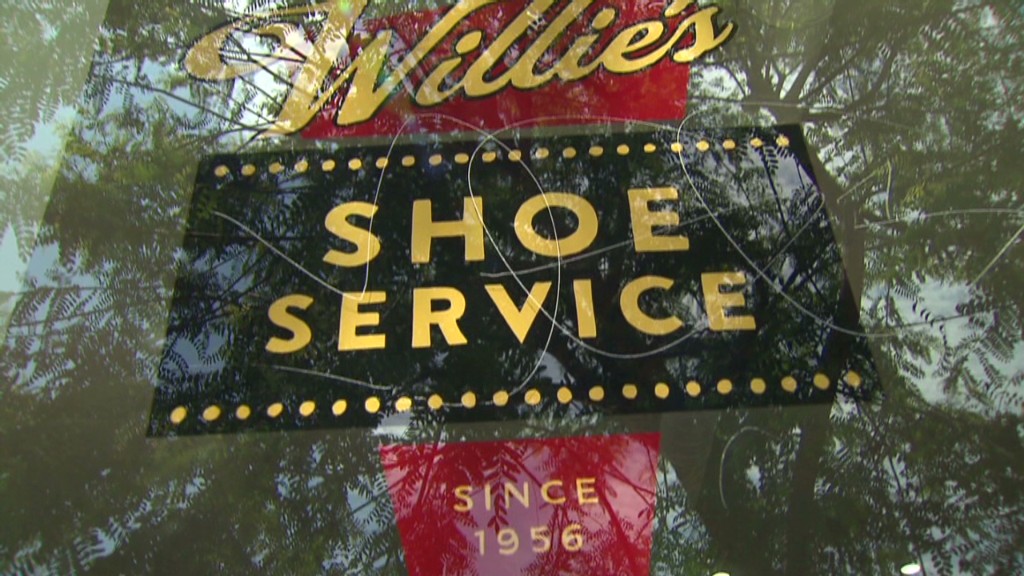 Local regulations have steadily become a growing barrier for entrepreneurs. Opening a barber shop or a day spa isn't what is used to be. City officials, local boards and state governments have ratcheted up regulation and demanded entrepreneurs get licenses to operate.
It's an issue that Kauffman Foundation scholar Brink Lindsey points out in his book, Human Capitalism. He says the burden is destroying opportunities for entrepreneurs in the lower and middle classes.
Meanwhile, workers in the United States are more frequently competing on the global stage. To new companies that don't need employees in the office, it's often cheaper to hire freelancers in less developed nations than hire American workers. Kane said hiring someone abroad requires less paperwork and costs less in taxes.
Related: Obama's tax plan catches small employers too
Online services, like Elance, connect companies with freelancers around the world. By making it easier for companies to post jobs -- and hire independent workers to take them -- it's greasing the axles.
But Kane doesn't object to Elance's service. Instead, he argues that government hiring obstructions on employers must be lifted.
"I'm worried the environment is pushing jobs overseas at a micro level," Kane said. "I don't know the answers, but we need to know it exists."