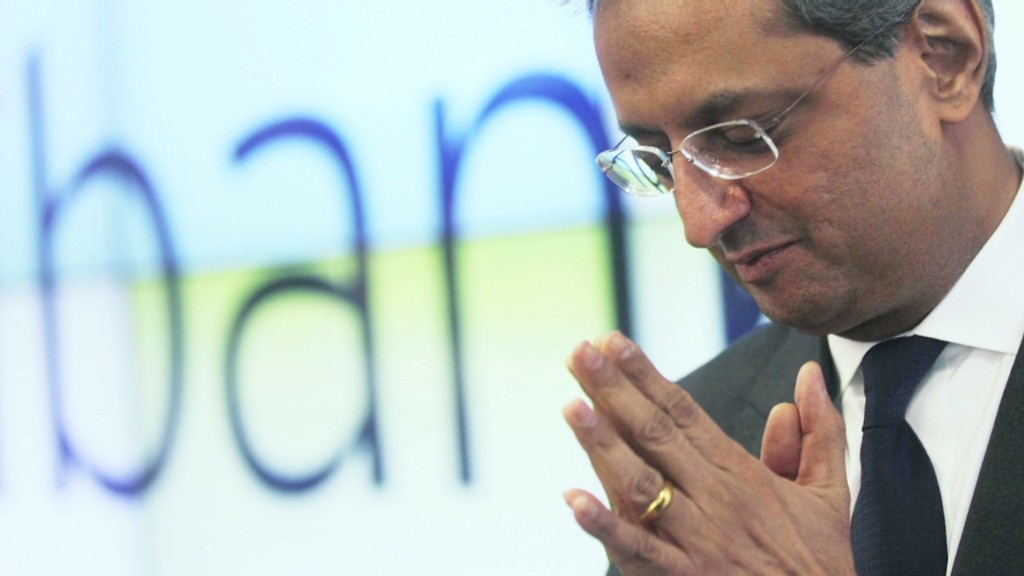 For all the bitterness over Wall Street pay in the past few years, only one CEO of a major bank has been publicly rebuked by shareholders for his compensation: Vikram Pandit.
After his abrupt exit as Citigroup CEO on Tuesday, people are again talking about Pandit's pay.
Under the Dodd-Frank Wall Street reform law, shareholders can now vote their displeasure about executive pay. Citigroup (C) investors did just that last April. A majority of shareholders recommended that the bank's board reject Pandit's $15 million pay package for 2011.
The status of the board's decision is unclear. Citigroup has said little publicly about the issue. During a conference call Tuesday, Citigroup Chairman Michael O'Neill declined to comment on the "say-on-pay" vote. He said the company would offer more information next year.
Related: Shareholder Spring is now Silent Summer
Shareholders and analysts had been critical of the board's silence.
Pandit took over as CEO in late 2007 and was soon awarded stock and options worth $37.2 million. Citigroup's share price has since plummeted nearly 90% -- diminishing the value of those options.
After getting a 2008 pay package valued at $10.8 million at the time, Pandit said he would take a $1 salary until the bank returned to profitability. Citigroup was one of the largest recipients of TARP bailout funding from the U.S. government in 2008 and 2009.
Pandit was paid $1 salaries in 2009 and 2010.
Related: Occupy boardroom: Shareholders revolt
While Pandit was the only bank CEO to forgo a salary after the financial crisis, his 2011 pay was in the middle of the pack.
In 2011, Jamie Dimon of JPMorgan Chase (JPM) received $23.1 million, making him the highest-paid bank CEO. Brian Moynihan of Bank of America (BAC) received $8 million, and Lloyd Blankfein of Goldman Sachs (GS) got approximately $12 million.
All major bank stocks are trading below the high points reached before the financial crisis, but Citigroup shareholders have felt the worst sting.
Shares of Bank of America, the second worst performer, are down 80%. And JPMorgan Chase's stock, even after the bank's "London Whale" trading losses earlier this year, is only 6% below its 2007 highs.
For Pandit, the big payday from Citigroup came in July 2011. That's when he was finally able to cash in a stake worth $80 million from the sale of his hedge fund, Old Lane. Citigroup had purchased Old Lane in July 2007 for $800 million and shuttered it less than a year later.
Pandit's cofounder in Old Lane, John Havens, also took a top executive role at Citigroup and made $80 million from the hedge fund's sale. He resigned Tuesday as Citigroup's president and chief operating officer.
The new chief executive at Citigroup, Michael Corbat, will be paid $1.5 million and "regular incentive awards and benefits for his service," the bank said in a regulatory filing.