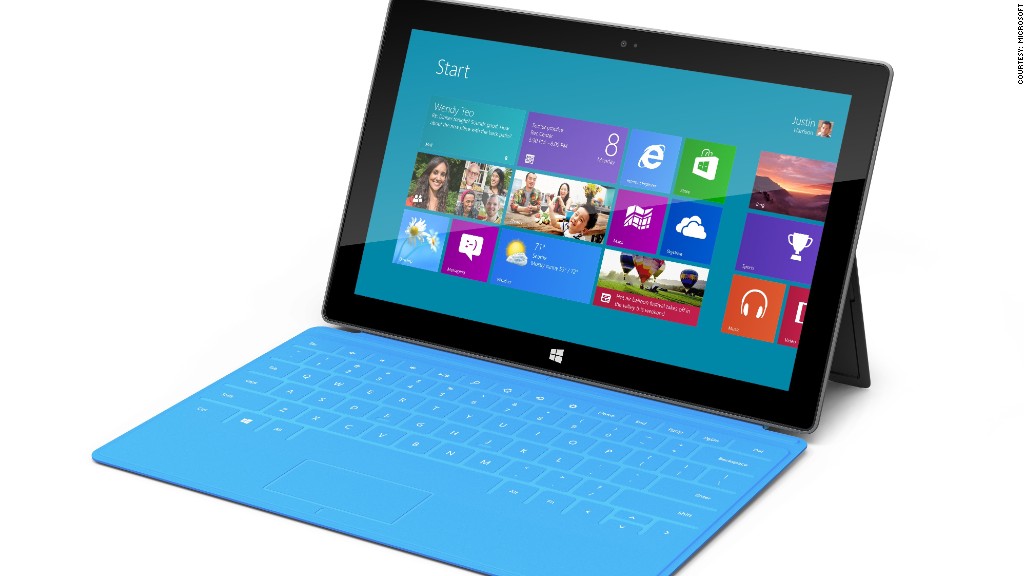 Microsoft on Tuesday unveiled pricing for its Surface tablet, which will go on sale on Oct. 26.
The tablet -- Microsoft's first PC of its own design -- will start at $499 for a 32-gigabyte version, making good on Microsoft's promise in June that Surface would be priced "comparably" to other tablets on the market. The $499 price point is also the entry-level cost for the iPad, though that price will only get you 16 GB of storage on Apple's tablet.
The Surface's most innovative feature, an ultra-thin cover that flips down to become a full keyboard, will be sold for $120 and will be available in several colors, including magenta, cyan, red and white. Customers can also bundle a black version of the cover for slightly less -- the 32-GB Surface with a black cover costs a combined $599 and a 64-GB Surface with a black cover costs $699.
The lineup of Surface tablets that Microsoft (MSFT) is making available this week runs a scaled-down version of the newest Windows 8 operating system, called Windows RT. Those devices won't offer the full Windows experience. They will run on ARM (ARMH) chips, the energy-efficient microprocessors that are in 95% of the world's smartphones and tablets, which means they won't be compatible with any software that runs on Windows 7 (or earlier) desktops except for Microsoft Office.
The only apps available to it will be those on the Windows 8 app store. Though that store is growing and features many of the most popular tablet apps, it's nowhere close to the size of Apple's iTunes App Store, which features more than 250,000 dedicated iPad apps.
Related story: Hands on with Microsoft's Surface tablet
Microsoft said it will introduce Surface tablets in January 2013 that run the full Windows 8 operating system, which will run on Intel (INTC) chips and support all desktop software. Those Surfaces will be available in 64- and 128-GB versions and will cost about the same as most ultrabooks, which typically run around $1,000.
Microsoft's team spent years perfecting the device, which was top-secret until its June unveiling.
The tablet weighs just a smidgen less than Apple's iPad and is slightly slimmer. The Surface's magnesium case is light but incredibly sturdy, and it features an on-board kickstand. When extended and paired with the Surface's 3-millimeter-thick cover, the Surface doubles as an impossibly thin laptop with a keyboard and touchpad mouse.
The hardware is impressive, but the crucial question is whether consumers will opt for a Microsoft Surface tablet with fewer apps over the tried-and-true iPad.
Apple isn't sitting idly by to find out. Next week, Apple (AAPL) is widely expected to unveil an "iPad mini" -- a seven-or-so-inch tablet with a sub-$300 price tag, meant to fend off competition from Amazon (AMZN) Kindle Fire and theGoogle (GOOG)e Nexus 7.