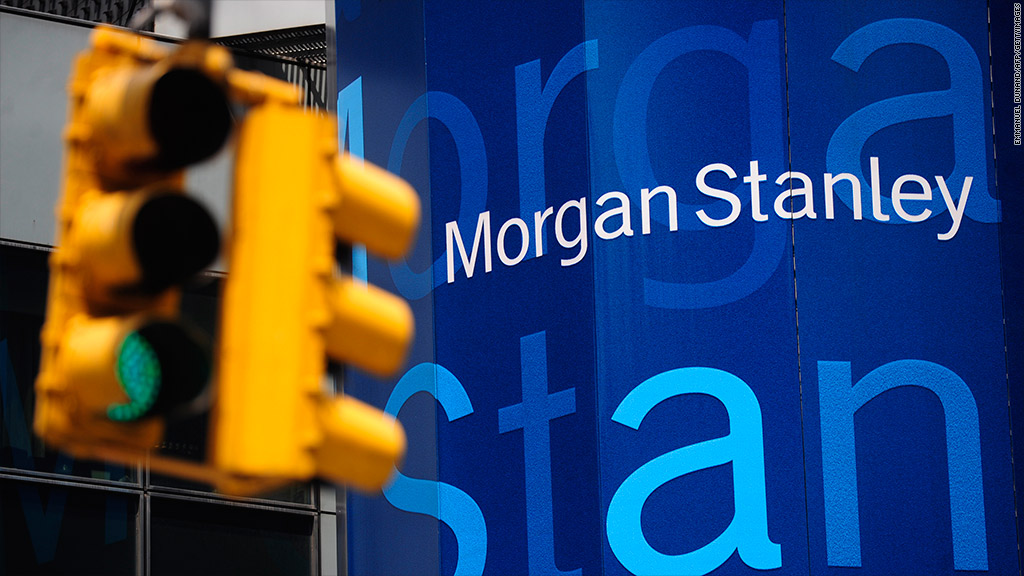 The corporate refinancing boom help drive Morgan Stanley's third-quarter earnings, which handily beat expectations.
During the third quarter, the bank's revenue from underwriting bonds more than doubled from a year earlier to $431 million.
"The rebound in fixed income & commodities sales and trading indicates that clients have re-engaged after the uncertainty of the rating review in the previous quarter," said Morgan Stanley CEO James Gorman in a statement.
Back in June, Moody's downgraded all major banks, but Morgan Stanley's rating took the biggest hit, falling two notches.
Overall, Morgan Stanley earned $561 million, or 28 cents per share, on revenue of $7.6 billion. That's better than the 24 cents a share and $6.4 billion of revenue that analysts had predicted.
Alongside its jump in revenue, the bank increased its compensation expenses by 8% to $3.9 billion.
Morgan Stanley's earnings were adversely affected by accounting quirks that force banks to adjust both revenue and profits to reflect how the market values its debt. In a stronger market, when a bank's credit is considered to be higher quality, the so-called debt valuation adjustment weighs on both earnings and profits.
Including DVA, Morgan Stanley reported a net loss of 55 cents per share and $5.3 billion of revenue.
Bank executives said the slow M&A environment weighed on revenue and profits. On a conference call Thursday morning, CFO Ruth Porat said that merger activity isn't rebounding with the broader markets because companies fear the U.S. fiscal cliff and potential developments related to Europe's sovereign debt crisis.
"We need to have more clarity about the changes here in the U.S. for activity to move forward," she said, while noting that "conversations are ongoing and the pipeline is healthy."
Related: Mortgages helped (and hurt) Bank of America
Like many of its rivals in the banking world, Morgan Stanley remains ensnared in litigation. The American Civil Liberties Union recently sued the bank, saying that it had discriminated against minority homeowners with its risky pre-financial crisis mortgage lending.
Still, over the past several years, Morgan Stanley has made a push to move away from the riskier side of investment banking, which had put the bank in peril during the financial crisis.
The bank is in the process of buying what was once Citigroup's Smith Barney wealth brokerage unit. In 2009, Morgan Stanley bought half of Smith Barney, which it has since renamed Morgan Stanley Wealth Management. It plans to buy the remainder it doesn't own by mid-2015 at the latest.
During Thursday's call, Gorman called the wealth management unit the "key to the future," of Morgan Stanley. He said the unit's deposits will provide a stable and less risky source of funding for the bank.
Under new requirements, banks need to show regulators that they hold sufficient capital reserves relative to the amount of what's deemed risky capital and deposits from Morgan Stanley's wealth management unit will bolster those reserves.
Shares of Morgan Stanley (MS) dropped 1% Thursday. The bank's stock is up 22% this year.
Morgan Stanley is the sixth major U.S. bank to report earnings, following JPMorgan Chase (JPM), Wells Fargo (WFC), Citigroup (C), Goldman Sachs (GS), and Bank of America (BAC). Overall, banks have reported better-than-expected results, driven largely by the rebound in housing and mortgage lending.