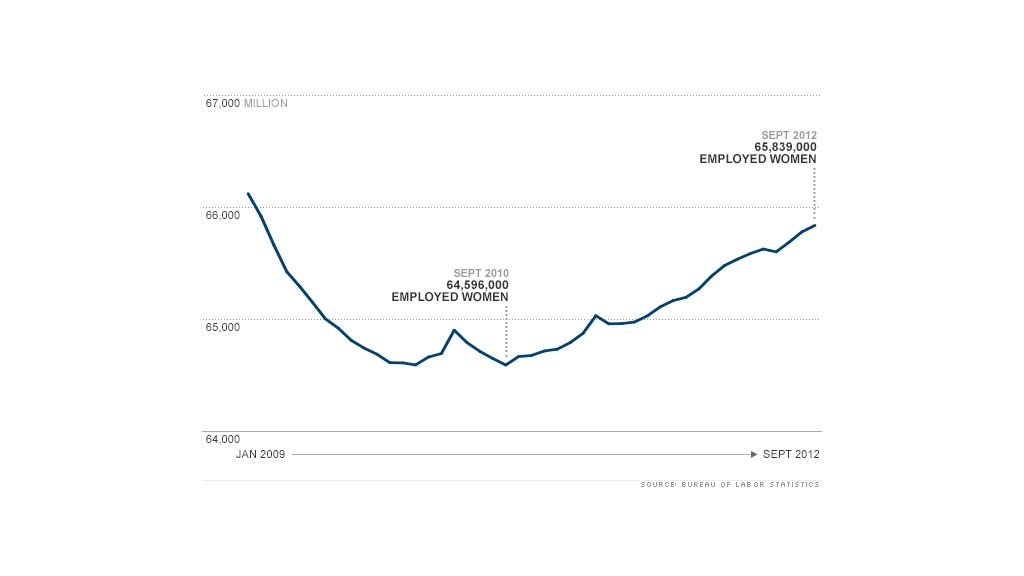 Women are finding their way back into the workforce.
The economic upswing had until recently been a "hecovery," but the revival is now becoming more balanced between the genders. The number of women employees has jumped by 300,000 in the past six months, nearly the same amount as men. And in September, men and women each saw a job gain of 57,000.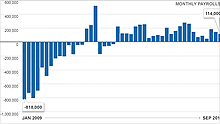 A look at where the economy stood when Obama took office and what's changed since.
"The recovery has definitely picked up for women in the last year," said Joan Entmacher, vice president of family economic security at the National Women's Law Center.
Women's financial well-being over the past four years is a hot topic in this year's election, as President Barack Obama and challenger Mitt Romney each court their vote.
In Tuesday's debate, Obama hailed his signing of the Lily Ledbetter law, which lengthened the time women could sue employers for pay discrimination. Romney, meanwhile, attacked the president's economic record by saying that 580,000 women have lost jobs and 3.5 million more women fell into poverty in the past four years.
Romney would have been right about the jobs figures had it still been spring. Women were hit hard by job losses in the public sector -- particularly in schools -- which accelerated in 2011 after stimulus funds ran out. Governments continued to shed jobs well after the private sector started reviving, delaying women's recovery since they make up 59% of the state and local workforce.
And as governments looked to tighten their financial belts, they reduced funding for job support initiatives -- particularly subsidized child care programs that allow poor women to seek and retain jobs.
Related: 25 highest-paid women
But governments have finally begun to stem job losses over the past year. Local school districts added 79,000 jobs between July and September, the strongest summer hiring since 2006.
At this point, women have recovered 32% of the jobs lost in the recession, while men have gained back 43%, according to Entmacher.
Women are also benefiting from gains in education and health services in the private sector, Entmacher said, as well as professional and business services, which include temp jobs. For roughly every one job lost in the public sector, women have gained three in the private industry since June 2009.
When it comes to wages, women have actually done better than men in recent years. Women collected $684 in median weekly earnings last year, up from $667 in 2008, said Heidi Hartmann, president of the Institute for Women's Policy Research. Men's wages, meanwhile, remained stagnant at around $834.
This could be because women's employment has increased greatly in higher-wage industries like health care, she said. On the flip side, men have lost good paying jobs in manufacturing and construction, which haven't recovered. Also, women are becoming more educated, which often translates into higher wages.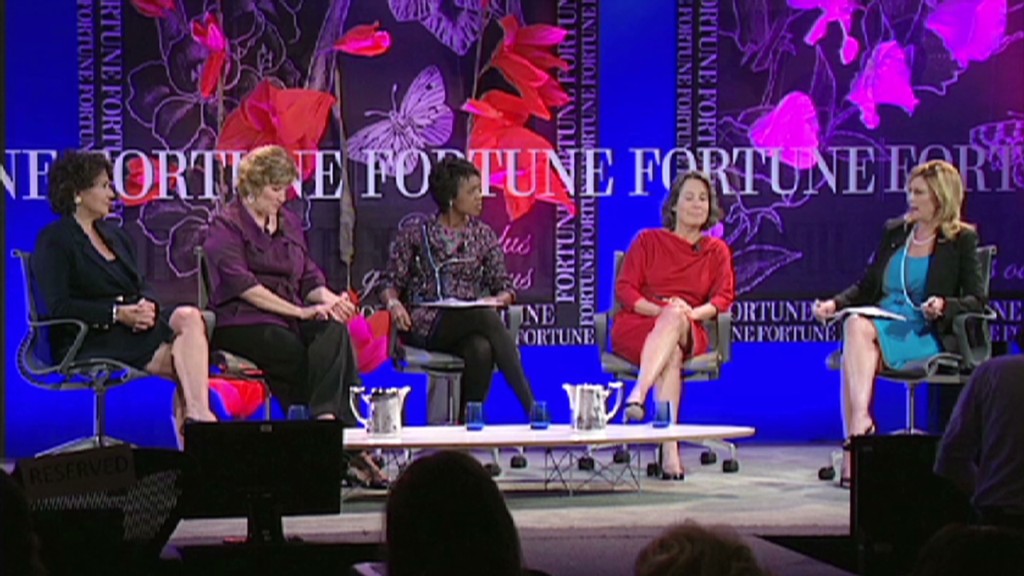 Romney was more accurate about the poverty figures. There were 25.7 million women in poverty in 2011, up from 22.1 million in 2008, according to Census Bureau data. The share of women in poverty has held even at 56% since the overall number of poor Americans jumped as well.
Women's fortunes, however, could soon take another turn for the worse, Entmacher said. If looming federal budget cuts become a reality, women could get slammed by a new round of government downsizing and reduced funding to child care programs.
"The real risk going forward are these public sector job cuts and [the loss] of job supports that have helped poor women," Entmacher said.