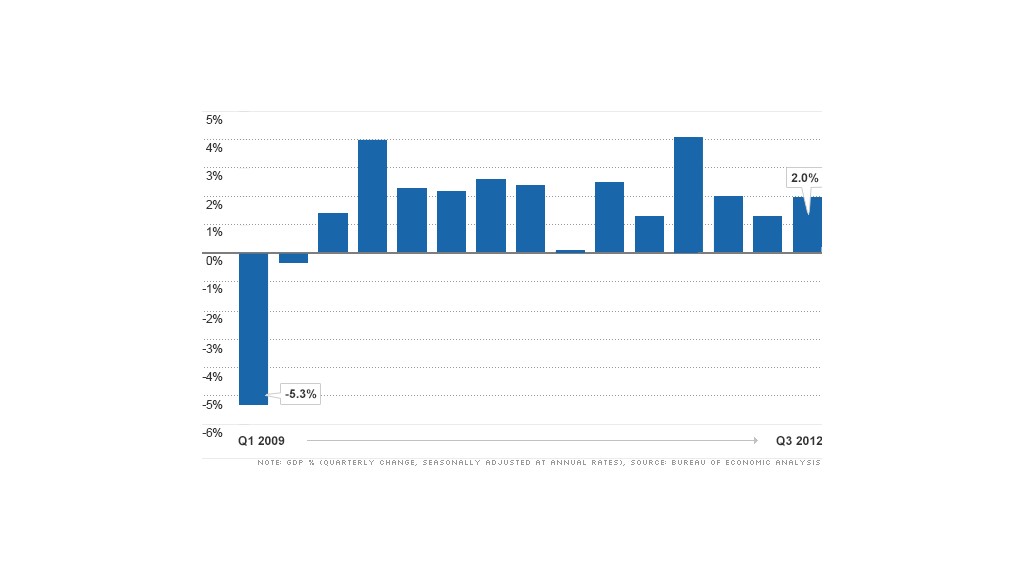 U.S. economic growth picked up in the third quarter, boosted by stronger consumer spending, an improving housing sector and increased defense spending.
Gross domestic product, the broadest measure of the nation's economic health, grew at an annual rate of 2% from July to September, the Commerce Department said Friday, faster than the 1.3% rate in the second quarter.
Economists surveyed by CNNMoney had predicted a 1.7% growth rate for the third quarter, but were still reluctant to celebrate. Growth around 2% a year is in line with the pace of the sluggish recovery, and is hardly enough to lead to robust hiring.
"It's a ho-hum number given the environment we're in," said Sam Bullard, senior economist at Wells Fargo. "We're looking ahead to fiscal cliff, and holiday sales forecasts this year are lower than last year. We're limping into the final quarter this year."
Related: Check the unemployment rate in your state
One major economic theory suggests that the economy needs to grow around 3% a year to bring unemployment down by one percentage point. The unemployment rate was 7.8% as of September.
"Growth rates this low will not reliably lower joblessness in the years to come," said Josh Bivens, research and policy director for the Economic Policy Institute.
Residential construction accelerated at a 14% pace in the third quarter, signaling the housing sector may have finally started recovering. But because housing makes up less than 3% of the entire U.S. economy, the impact was minor.
Consumer spending, which makes up more than two-thirds of the economy, grew at an annual pace of 2% in the third quarter. This was the single biggest contributor to stronger economic growth, and was supported mainly by stronger auto sales.
Related: New-home sales hit 2-year high
Surprisingly, higher federal defense spending also boosted the economy, growing at a 13% annual rate after shrinking in the three prior quarters.
"We can't figure out where that came from," Bullard said. "That category is highly susceptible to being revised, and we expect it's going to get watered down."
State and local governments contracted for the 12th consecutive quarter. Meanwhile, businesses cut back on their spending.
Spending on software and equipment in particular, had previously been a strong point in the recovery, but was flat in the third quarter. Economists point to uncertainty over tax policy and the fiscal cliff as key reasons why businesses are now holding back.
"The ongoing fiscal folly is a major contributing factor to the soft tone of the economy, as is evidenced by the slower pace of investment spending, especially spending on equipment and software, which was flat," said Ward McCarthy, chief financial economist at Jefferies & Co. "The uncertainty generated by fiscal ineptitude has basically shut down investment spending."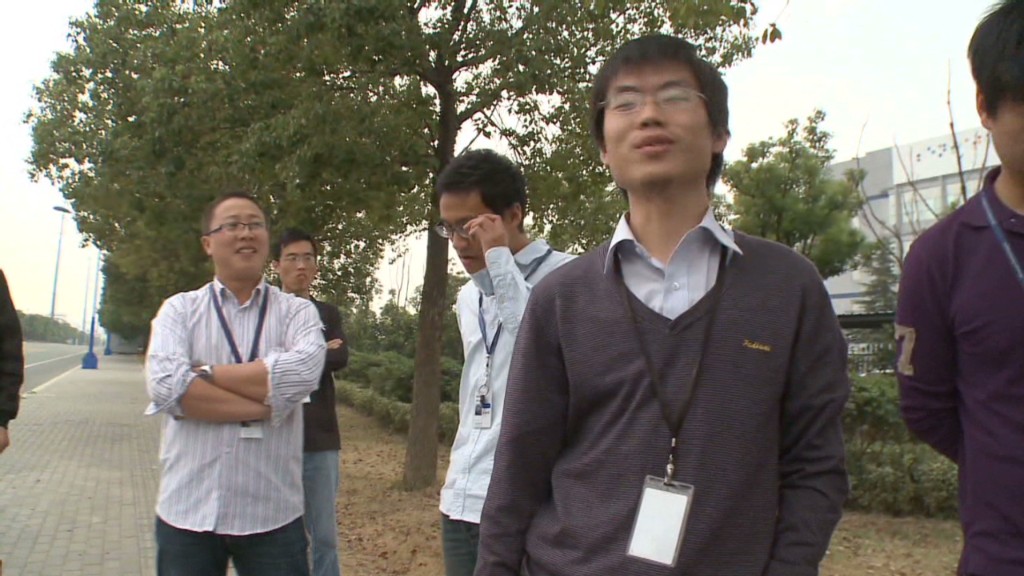 Weak exports also weighed on growth, a sign that global economic weakness is hitting American manufacturers. The world's second largest economy, China has been slowing, and Europe's economy has been shrinking.
Economists are expecting the U.S. economy to slow in the fourth quarter, as uncertainty about the fiscal cliff and weaker growth overseas intensify.
"After the election we expect economic activity to slow and both businesses and consumers to pull back in response to a contentious debate over fiscal policy," said Ellen Zentner, senior economist at Nomura.