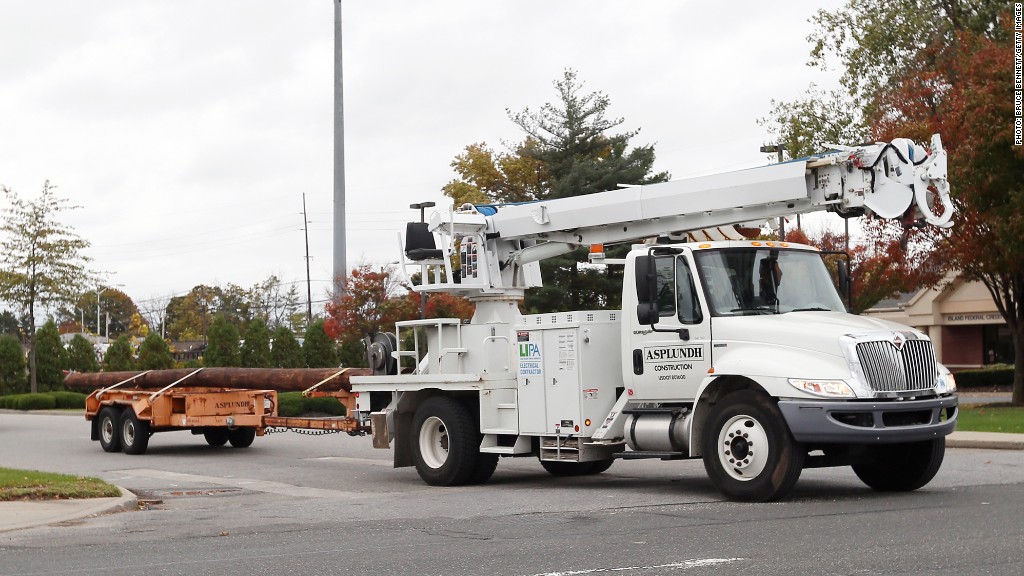 Power plants and other utility infrastructure throughout the Mid-Atlantic region are on high alert Monday afternoon as Hurricane Sandy moves closer to shore.
Perhaps most at risk are the region's nuclear power plants, which are often located close to the ocean and are mandated to close if winds are expected to exceed 75 miles per hour or sea levels rise too high.
The Nuclear Regulatory Commission said Monday it sent additional inspectors to nine power plants on the eastern seaboard to make sure the plants are operating according to code.
The plants are: Calvert Cliffs, in Lusby, Md.; Salem and Hope Creek, in Hancocks Bridge, N.J.; Oyster Creek, in Lacey Township, N.J.; Peach Bottom, in Delta, Penn.; Three Mile Island 1, in Middletown, Pa.; Susquehanna, in Salem Township, Pa.; Indian Point, in Buchanan, N.Y.; and Millstone, in Waterford, Conn.
None of the plants are expected to close, as the winds are not forecast to be at hurricane strength by the time the storm reaches shore, and the storm surge is expected to be well below what the plants can handle, according to NRC Spokesman Scott Burnell.
Related: How close is your home to a nuclear power plant?
Still, the agency and plant operators are keeping a close eye on the situation, including consulting with meteorologists assigned to track weather conditions specifically at each plant.
"We are watching the local weather updates, and everyone has enough information to make decisions well ahead of time," said Burnell.
In Japan, it was flooding that led to a loss of power resulting in the meltdown at the Fukushima Daiichi nuclear power station.
Burnell said U.S. plants have had back up generators both built into the plant and in portable form since Sept 11, 2001.
If the region's nuclear plants had to be shut down, other natural gas or coal-fired power plants could be brought online to cover any power shortfall, said Ray Dotter, a spokesman for PJM, a consortium of utilities that manages the grid in the Mid-Atlantic region.
In addition to the nuclear plants, Dotter said some electric power substations were being sandbagged in New Jersey, although their exact locations could not be revealed for security reasons.
Related: How to keep the power on during a storm
In New York, a spokesman for ConEdison said the company may shut power off in lower Manhattan and in the Brighton Beach section of Brooklyn to protect underground equipment like cables and transformers. Some 69,000 people already lost power, according to the utility's Website.
Power outages have also been reported on Long Island. The Long Island Power Authority said over 600,000 customers have been affected as of Monday evening, and some people may be without electricity for 7 to 10 days.
Like most utilities in the region, LIPA has brought in thousands of utility line workers and tree workers from out of state, some as far away as Texas.
In Washington, D.C., a spokesman for the utility Pepco said the company has been pruning trees since 2010 in an effort to "harden" the grid.
Still, as of Monday evening, about 500,000 customers are already without power in PJM's coverage area, which stretches from from New Jersey to North Carolina.