The October jobs report will come out on Friday morning as scheduled, the Department of Labor announced Wednesday.
With Superstorm Sandy closing federal offices for two days, the department's ability to produce the highly-anticipated report was thrown into doubt. The report will provide a last look at the health of the job market before Tuesday's presidential election.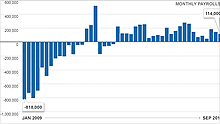 A look at where the economy stood when Obama took office and what's changed since.
The only other time the monthly jobs report has been delayed was in January, 1996, when a deadlock between the White House and Congress over an operating budget led to a shutdown of the federal government. The December jobs report did not come out until Jan. 19.
Related: Check the unemployment rate in your state
Any delay in this week's jobs report would have touched off a political firestorm. Though the report is considered non-partisan, a sharp drop in September's unemployment rate led critics of President Obama to claim that the report was being manipulated by Democrats. Former General Electric CEO Jack Welch tweeted that the numbers were "unbelievable."
The September report showed that the national unemployment rate fell to 7.8%, down from 8.1% the month before. It now stands at the same place as when Obama took office in January 2009. Businesses added 114,000 jobs in September.
CNN Chief White House Correspondent Jessica Yellin and CNNMoney Senior Writer Chris Isidore contributed to this report.