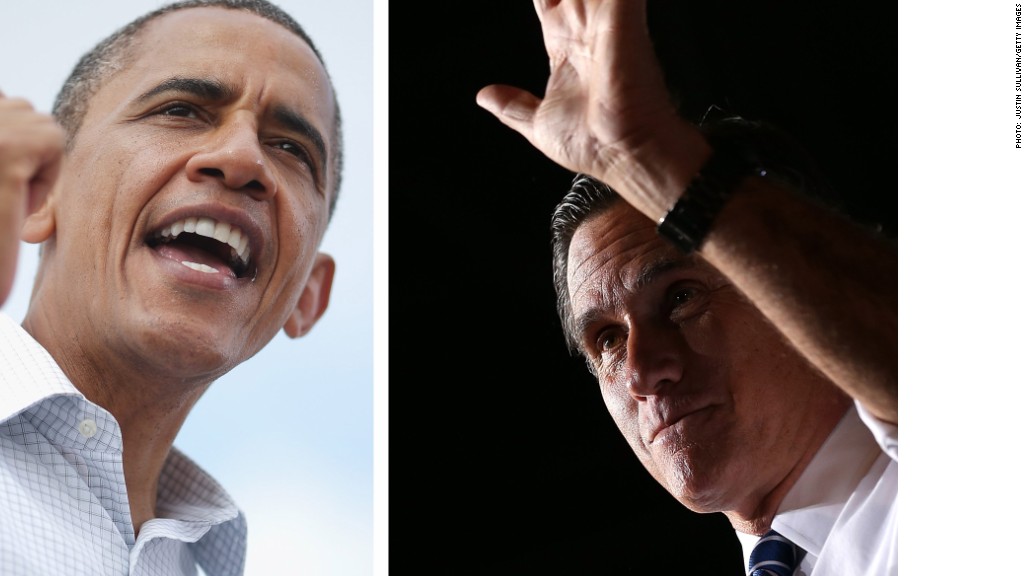 The American presidential election on Nov. 6 and its outcome will be at the forefront driving markets this week.
Investors will likely hit pause leading up to Tuesday's hotly contested political race, and analysts are expecting markets to react as soon as the results are in.
Brian Lazorishak, a senior vice president of Chase Investment Counsel, expects a rally if Republican nominee Mitt Romney is elected, and a possible sell off if President Obama holds on to his seat.
"If you get a Romney win, it could be better for the market in the short-term, knee-jerk reaction, since it could be taken as being a more business and investment-friendly administratoin," he said. "While the market might sell off on an Obama win, it's hard to see how long that would last."
Lazorishak said the outcome of nationwide Congressional elections could play a bigger role in affecting investors' reactions.
That's because the pending fiscal cliff poses a biggest threat to stock market, according 60% of the investment strategists and money managers surveyed by CNNMoney.
According to the Congressional Budget Office and many economists, Washington's failure to address the fiscal cliff -- the simultaneous onset of tax increases and spending cuts that will be triggered on Jan. 1 -- would push the country back into recession and drive unemployment up even higher.
Related: Candidates mum on fiscal cliff
Though the election will garner most of the attention this week, several reports on the U.S. economy are also on tap, including data on mortgages, consumer sentiment and credit, trade and wholesale inventories.
Europe will also take some of the spotlight away from U.S. politics this week, when the European Central Bank's Governing Council meets Thursday. While no major decisions are expected to come from the meeting, investors will be looking for signs of whether the ECB will make the "outright monetary transactions" ECB president Mario Draghi said the central bank was prepared to take in September.
On the corporate front, several companies are expected to report earnings this week, including AOL (AOL), Time Warner (TWC), JC Penney (JCP) and Tesla Motors (TSLA).
Many large money managers who work in New York and the surrounding areas are still reeling from the effects of superstorm Sandy. Trains to the area around the New York Stock Exchange are still suspended and many neighborhoods continue to struggle without power.
The stock market was closed last Monday and Tuesday after Hurricane Sandy flooded parts of lower Manhattan, the financial heart of New York.
Last week, the Dow Jones industrial average and Nasdaq finished down 0.1% and 0.2%, respectively, while the S&P 500 gained 0.2%.